Hierarchical Mn-Co sulfide nanosheets on nickel foam by electrochemical co-deposition for high-performance pseudocapacitors
Abstract
In this work, we report an electrochemical co-deposition of binary metallic manganese-cobalt sulfides with tailored molar ratio of Mn and Co ions on Ni-foam substrates, which show 3-dimensinal (3D) hierarchical porous structure. Benefiting from synergistic effect and dual energy storage mechanism of manganese sulfide and cobalt sulfide, the optimal hierarchical Mn-Co sulfide nanosheet electrode exhibits areal capacitance ~ 1.724 F cm−2 at current density 1 mA cm−2 and excellent capacitance stability (65.15% capacitance retention at the current density of 5 mA cm−2 after 5000 cycles). The superior electrochemical performance might be attributed to highly conductive, 3D mesoporous framework of Ni foam, resulting in fast electron and ion transport from the electroactive materials to current collector as well as large amount of active sites. Furthermore, an asymmetric supercapacitor is also assembled, delivering an energy density of 27.6 Wh kg−1 at a power density of 645.2 W kg−1. The excellent electrochemical performance of the binder-free Mn-Co sulfide electrodes renders them as a promising electrode material for supercapacitors.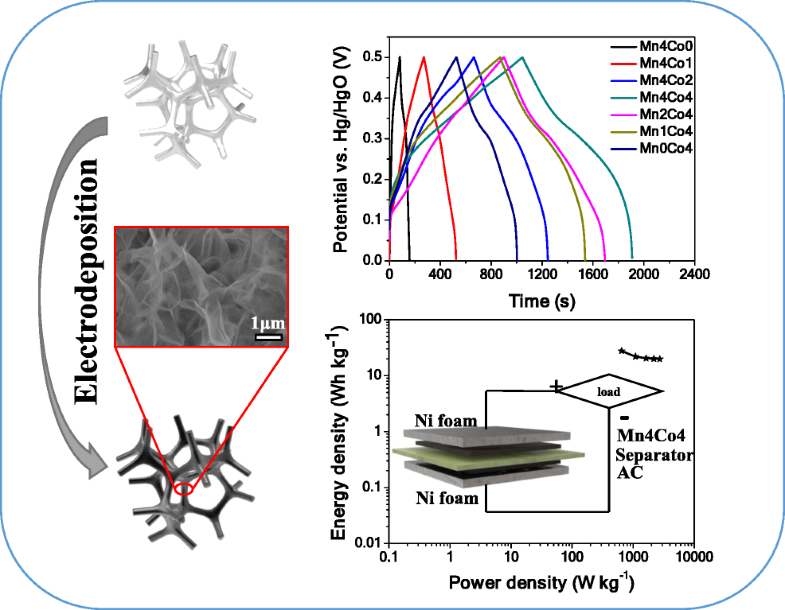 Keywords
Electrochemical co-deposition 
Mn-Co sulfide nanosheet arrays 
Supercapacitor 
Notes
Funding information
This research was supported by the National Natural Science Foundation of China (61674113, 51622507, and 61471255), Natural Science Foundation of Shanxi Province, China (2016011040), and Scientific and Technologial Innovation Programs of Higher Education Institutions in Shanxi Province, China (2016138).
Copyright information
© Springer-Verlag GmbH Germany, part of Springer Nature 2019