Aniline-mediated synthesis of carboxymethyl cellulose protected silver nanoparticles modified electrode for the differential pulse anodic stripping voltammetry detection of mercury at trace level
Abstract
Single-pot synthesis of carboxymethylcellulose-protected silver nanoparticles (CMC@AgNPs) was investigated using aniline as a reducing agent. Polymer matrix-embedded nanoparticles were synthesized by two different experimental conditions, namely under reflux and at room temperature. Similarly, a control experiment was carried out using polyvinylpyrrolidone as stabilizing agent under identical experimental conditions. Resulting AgNPs were isolated and characterized by UV–Vis, FT-IR, and SEM to identify shape, size, and type of capping action. CMC-capped AgNPs were octahedron-shaped whereas PVP-capped exhibited a core–shell kind of capping similar to a nested protection of AgNPs. The electrochemical property of the modified electrode was studied using electrochemical impedance spectroscopy and cyclic voltammetry. Electrochemical detection of Hg2+ was investigated using CMC@AgNPs/GCE with an enhanced peak current as noted by DPASV method. Detection limit was found to be 0.19 nM, and its linear ranges were between 5 and 75 μM based on signal-to-noise ratio (S/N = 3). The present system can be utilized for the determination of Hg2+ in water samples at low-concentration ranges.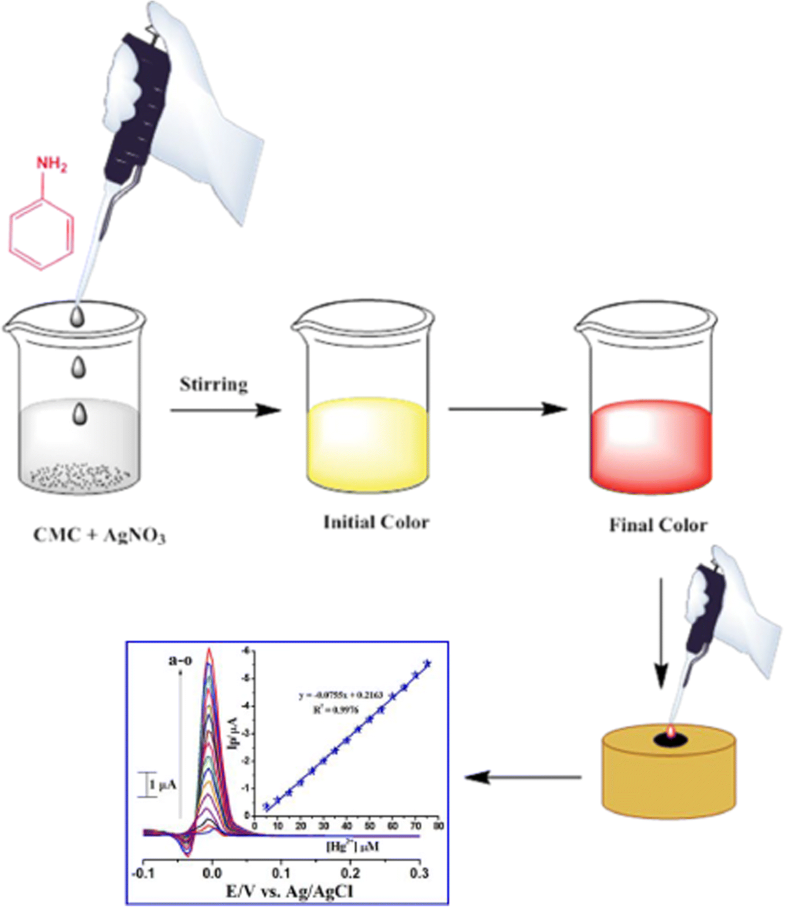 Keywords
Silver nanoparticles 
Carboxymethylcellulose 
Polyvinylpyrrolidone 
Differential pulse anodic stripping voltammetry 
Hg2+ detection 
Notes
Acknowledgements
The authors are grateful to the Sophisticated Analytical Instrument Facility, Indian Institute of Technology Madras, for providing scanning electron microscopy analysis. We express our sincere thanks to University Grants Commission—Centre with Potential for Excellence in Particular Area (UGC-CPEPA) Programme (F. No. 8-2/2008 (NS/PE) Dt. 14.02.2011), New Delhi, for providing financial assistance to carry out a part of the work. The authors would like to thank the National Centre for Nanoscience and Nanotechnology, University of Madras, for providing instrumental facilities.
Copyright information
© Springer-Verlag GmbH Germany, part of Springer Nature 2019