Sol-gel synthesis of porous Na3Fe2(PO4)3 with enhanced sodium-ion storage capability
Abstract
Porous Na3Fe2(PO4)3 has been synthesized via a sol-gel method using citric acid as a metal ion complexing agent and polyvinyl alcohol as a structure-guiding agent. The obtained porous Na3Fe2(PO4)3 with particle size distribution of 40–60 nm has a typical NASICON structure in a space group of C2/c and the specific surface area is 40.2 m2 g−1. Electrochemical measurement results indicate that the initial discharge-specific capacity of porous Na3Fe2(PO4)3 is up to 92.5 mAh g−1 and maintains at 86 mAh g−1 after 200 cycles at 20 mA g−1 (92% of theoretical capacity) and the corresponding coulombic efficiency is up to 100% as well as high rate capability performance (71.5 mAh g−1 after 1000 cycles under 500 mA g−1). The excellent electrochemical properties are attributed to its particular [Fe2(PO4)3] "lantern units" stacked crystal structure and porous morphology, which significantly improves intercalation/de-intercalation kinetic of sodium ions.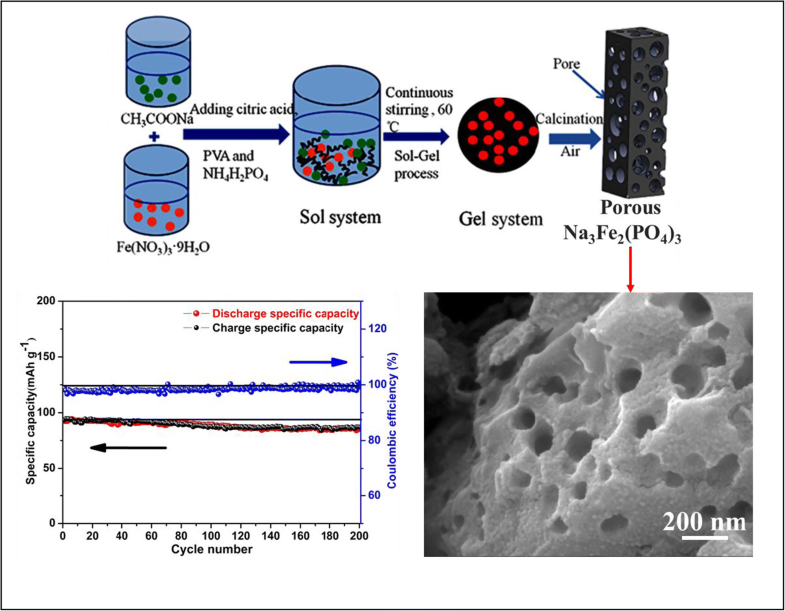 Keywords
Sol-gel method 
Porous 
Na3Fe2(PO4)3 
Sodium-ion batteries 
Notes
Funding information
This work was financially supported by the financial support of Shanghai Science and Technology Commission (14DZ2261000). This work was supported by the national key research and development Program of China (2016YFB0901500).
Copyright information
© Springer-Verlag GmbH Germany, part of Springer Nature 2018