Di-/piezo-/ferro-electric characterizations of 3D hierarchical sisal-like Eu3+/Gd3+ co-doped ZnO micro-flowers assembled with 1D nanopencils
Abstract
In this article, we report on high-temperature ferroelectricity and enhanced piezoelectricity observed in europium and gadolinium (Eu3+/Gd3+) co-doped ZnO nanocrystals, although pristine ZnO does not exhibit ferroelectricity and is feeble piezoelectric. First, the nanocrystals of pristine ZnO and Eu3+/Gd3+ co-doped ZnO were grown using wet chemical synthesis. The products were characterized for powder X-ray diffraction and scanning electron microscopy analysis. 1D nanopencils (NPCs) like habit were obtained for pristine ZnO. Eu3+/Gd3+ co-doping resulted in habit modification blunt-tip pristine ZnO NPCs to sharp-tip Eu3+/Gd3+ co-doped ZnO NPCs, which resembles sisal-like architecture. Various X-ray peak broadening analysis methods such as Debye–Scherrer and Williamson–Hall (W-H; UDM, USDM, UDEDM) were used to calculate the crystallite size, lattice strain, stress, and energy density of both pristine and Eu3+/Gd3+ co-doped ZnO nanocrystals. Variation of dielectric constant (ε′), dielectric loss (tan δ) and ac conductivity (σac) with frequency of applied field as well as with temperature were studied. Ferroelectric character in sisal-like Eu3+/Gd3+ co-doped ZnO NPCs was proven using the temperature-dependent curve of dielectric constant as well as using polarization hysteresis loop. High ferro- to para-electric phase transition temperature (Tc = 227 °C) was obtained for as-grown product. The sisal-like Eu3+/Gd3+ co-doped ZnO NPCs exhibit feeble ferroelectricity (Ec ~ 16.49 kV/cm and Pr ~ 0.38 μC/cm2) and enhanced piezoelectricity (d33 ~ 55 pm/V) at room temperature. Our results indicate that the sisal-like Eu3+/Gd3+ co-doped ZnO micro-flower assembled by NPCs is a promising bio-compatible piezo-/ferro-electric material for designing components for piezoelectric nanogenerators and memory devices.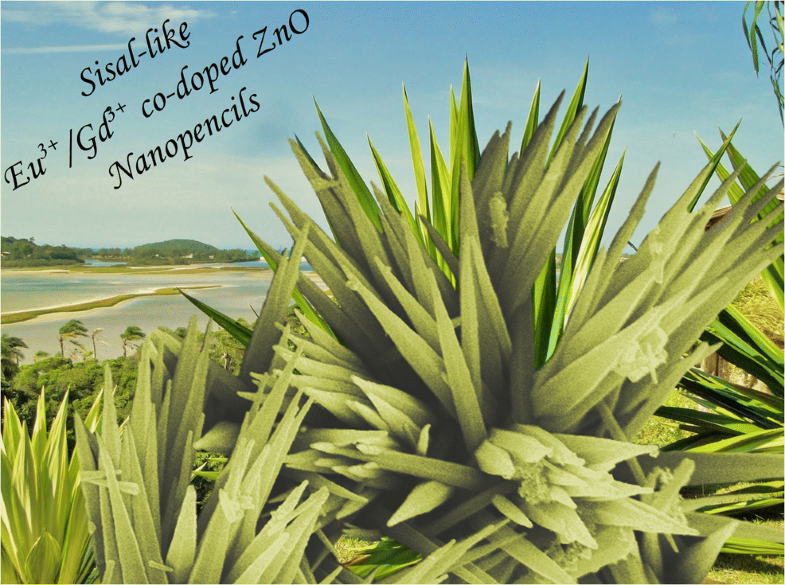 Keywords
ZnO nanopencils 
Sisal-like Eu3+/Gd3+ co-doped ZnO 
Dielectric property 
High-temperature ferroelectricity 
Piezoelectricity 
Notes
Acknowledgements
We are grateful for the financial assistance from the ARMREB, DRDO, India (Sanction No. ARMREB/MAA/2015/163) and DST, India (Sanction No. EMR/2015/000385) for carrying out this work. One of the authors, N.S., is grateful to the Principal, SGTB Khalsa College, for support. S.G., A.H., and A.J.J. acknowledge CSIR and DRDO for Senior Research Fellowship.
Compliance with ethical standards
Conflict of interest
The authors declare that they have no conflict of interest.
Copyright information
© Springer-Verlag GmbH Germany, part of Springer Nature 2018