An eco-friendly water-soluble graphene-incorporated agar gel electrolyte for magnesium-air batteries
Abstract
Agar is used to prepare an environment-friendly water-soluble graphene (WSG)-incorporated gel electrolyte for magnesium-air batteries. WSG is synthesised and incorporated into the different concentrations of agar. Their effects on the electrochemical performance in the battery cell are investigated through the ionic conductivity, corrosion and current discharge studies. The open-circuit voltage (OCV) of the assembled cells is between 1.7 and 1.6 V. The optimal gel electrolyte has an ionic conductivity of 8.62 × 10−2 S cm−1. The discharge capacity and energy density of assembled Mg-air battery with respect to Mg can reach up to 1010.60 mAh g−1 and 1406.09 mWh g−1, respectively. The performance of the assembled Mg-air battery is notable in regard to the small area, size and thickness of the laminated structure. In conclusion, WSG-incorporated 3% w/v agar gel electrolyte exhibits the highest electrochemical performance, which is an economical, inherently safe and environmentally benign biopolymer electrolyte for Mg-air batteries.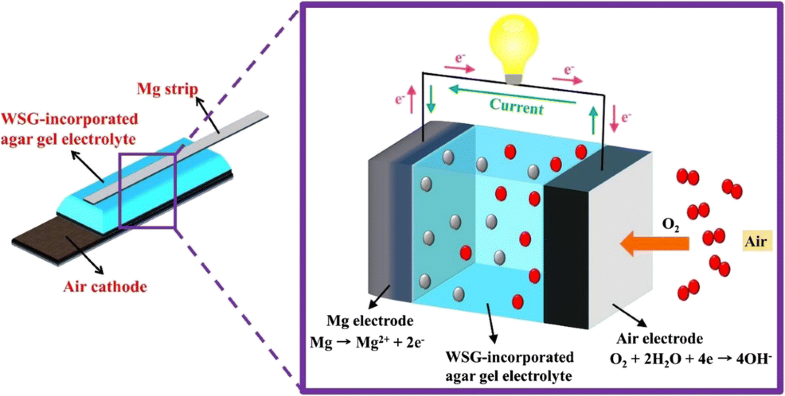 Keywords
Air battery 
Agar 
Water-soluble graphene 
Gel electrolyte 
Biopolymer 
Notes
Funding
This work was supported by the Grand Challenge (GC002A-15SBS) and the IPPP-UM (PG219-2016A).
Copyright information
© Springer-Verlag GmbH Germany, part of Springer Nature 2018