MWCNT/activated-carbon freestanding sheets: a different approach to fabricate flexible electrodes for supercapacitors
Abstract
Wearable electronics require flexible supercapacitors with specially fabricated electrode materials, i.e., foldable and freestanding. Although activated carbon is the most used electrode's active material for aqueous supercapacitors, it is a challenge to pack the particulates into flexible electrodes. Typically, polytetrafluoroethylene binder and polymeric flexible substrate are used, rendering a large amount of inactive-material. Here, we successfully fabricated multiwalled carbon nanotube/activated-carbon (MWCNT-AC) freestanding sheet via a scalable surface-engineered tape-casting technique to be used as a flexible electrode for aqueous supercapacitors. Instead of focusing on improving MWCNTs as active materials, the sheets act as a conducting matrix that binds together the activated-carbon particulates. MWCNT-AC has a specific capacitance of 135.17 Fg−1 (123.9 Fg−1 after 1000 cycles) at 1 Ag−1 from − 0.8 to 0.2 V vs. Hg/HgO (in three-electrode cell).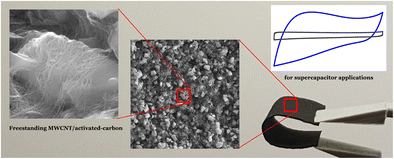 Keywords
Activated carbon 
Buckypapers 
Flexible 
Freestanding 
MWCNTs 
Notes
Acknowledgments
The authors acknowledge the support of Applied NanoStructured Solutions LLC, a Lockheed Martin Company, for providing the MWCNT flakes. We thank Dr. Giovanni Palmisano for the use of the gas sorption system for specific surface area and pore analysis.
Compliance with ethical standards
Competing interests
The authors declare that they have no competing interests.
Copyright information
© Springer-Verlag GmbH Germany, part of Springer Nature 2018