Polyaniline salt catalyzed synthesis of hyperbranched polyester and its use as dopant in polyaniline salt for coating, fluorescence, and supercapacitor electrode
Abstract
Synthesis of novel polyaniline salts is an important work for their use in industrial applications. The objective of this work is to use alcohol in the polymerization of aniline instead of hazardous protic acids, which are mostly being used. For this purpose, hyperbranched polyesters (HBPEs) containing many alcohol groups were selected. In the HBPEs, alcohol groups could be increased via preparation of first, second, and third generation of HBPE. HBPEs were synthesized from the reaction of 2,2-bis(hydroxymethyl)propionic acid (bis-MPA) and triethanolamine (TEA) as a nitrogen containing core. This reaction was promoted using polyaniline salt containing high-strength protic acid, trifluoromethanesulfonic acid, as catalyst for the first time. Interestingly, used these HBPEs in the aqueous polymerization of aniline to polyaniline salt containing HBPEs. Properties of these novel polyaniline salts in terms of yield, density, conductivity, solubility, crystalline nature, morphology, and application as electrode in supercapacitor were determined. These polyaniline salts containing dual dopants of H2SO4 and HBPE are stabile up to 210 °C and showed highly ordered semicrystalline nature with nanorods morphology (35 to 60 nm). Yield, density, and conductivity of the PANI-HBPEs salts are independent of the generation of HBPEs. Polyaniline salt containing third-generation hyperbranched polyester sample showed higher specific capacitance(450 F g−1). These polyaniline salts are insoluble in most of the common organic solvents. Polyaniline salts containing HBPEs in organic solvent were synthesized via emulsion polymerization pathway (E-PANI-HBPEs). These polyaniline salts contains three dopants, HBPE, dodecyl hydrogen sulfate (DHS) and H2SO4, were isolated in chloroform solvent, which showed particle size around 85 nm, with fluorescence property, and hydrophilicity. Polyaniline-HBPEs prepared via emulsion polymerization showed higher conductivity than that of the samples prepared via aqueous polymerization pathways.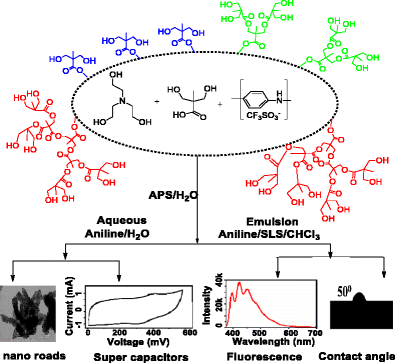 Keywords
Polyaniline 
Hyperbranched polymers 
Catalyst 
Fluorescence 
Supercapacitor 
Notes
Acknowledgements
We thank to CSIR, New Delhi under the TAPSUN program (NWP-0056) for funding. We are thankful to Dr.S.Chandrasekhar, Director, and Dr.T.Shekharam, Head, PFM Division,CSIR-IICT for their support and encouragement.SNK thanks UGC, India, for financial Support.
Copyright information
© Springer-Verlag GmbH Germany, part of Springer Nature 2018