Transcriptional heterologous expression of two type III PKS from the lichen Cladonia uncialis
Abstract
Type III polyketide synthases (PKS) are an under-explored group of enzymes that are responsible for producing a variety of bioactive molecules. In a previous study, we identified two type III PKS genes (t3pks1 and t3pks2) in the lichenizing fungus Cladonia uncialis. Here, we report efforts to functionally characterize these PKS using bioinformatics and heterologous expression. Phylogenetic analysis of t3pks1 indicated that the encoded PKS produces an alkylresorcinol. To estimate the size of the polyketide produced by T3PKS1, crystal structures of fungal type III PKS known to produce alkylresorcinols were examined. A strong correlation (R2 = 0.85) was observed between the active site cavity volume and the size of the largest alkylresorcinol produced by these PKS. Cavity volume measurements of modeled T3PKS1 suggested that this PKS can recruit long (C20) fatty acid-CoA primers to produce a polyketide of approximately 400 g/mol. To functionally characterize both lichen PKS, the t3pks1 and t3pks2 genes were transformed into NSAR1 Aspergillus oryzae. Transcriptional heterologous expression (including intron removal) of both genes was achieved. However, no new metabolites were observed within the host. This study is the first attempt to functionally characterize type III PKS from lichen fungi.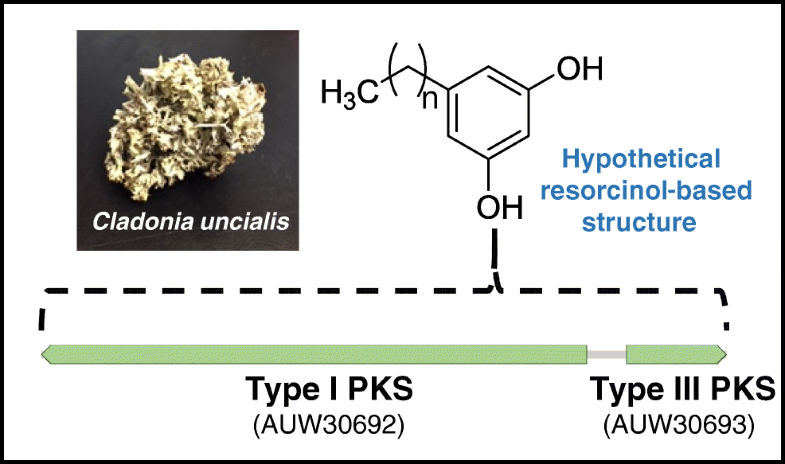 Keywords
Heterologous expression 
Protein modeling 
Resorcinol 
Fatty acids 
Phylogenetics 
Polyketides 
Lichen 
Notes
Acknowledgments
The authors thank Professor Ikuro Abe (Graduate School of Pharmacy, University of Tokyo) for providing the NSAR1 Aspergillus oryzae stain and the plasmids used throughout this work. The authors also thank Sabina Ozog and Vienna Peters (Department of Chemistry, University of Manitoba) for assistance in performing the metabolite screening.
Funding information
This work was supported by a Post-Graduate Scholarship awarded to RLB (460639-2014) and a Discovery Grant awarded to JLS, both from the Natural Sciences and Engineering Research Council of Canada.
Compliance with ethical standards
Conflict of interest
The authors declare that they have no conflict of interest.
Copyright information
© German Mycological Society and Springer-Verlag GmbH Germany, part of Springer Nature 2019