Abstract
Distal radioulnar joint (DRUJ) stability requires competent static and dynamic soft tissues. Multiple DRUJ techniques have been described in the literature. Our method is a novel modification of the Gupta method of DRUJ stabilization used in a revision reconstruction on a patient with a total wrist arthroplasty. A brachioradialis graft is harvested and tunneled through Parona's space volar to the pronator quadratus and through the muscle body. The tendon is then brought dorsal between the radius and ulna to the dorsal side of the distal ulna and sutured to the floor of the 5th extensor compartment, as well as to the surrounding extensor reticulum ulnar to the 6th compartment with nonabsorbable sutures. Our modification of the method described by Gupta prevents ulnar subluxaton of the extensor carpal ulnaris (ECU), allows the tendon graft construct to more adequately resist volar translation of the radius, and thus acts like a leash to pull the radius dorsally to the stationary ulna. This modification gives the graft a better force vector to resist the volar translation of the distal radius. We are able to present successful 30-month follow-up of this procedure.
This is a preview of subscription content, log in to check access.
Access options
Buy single article
Instant unlimited access to the full article PDF.
US$ 39.95
Price includes VAT for USA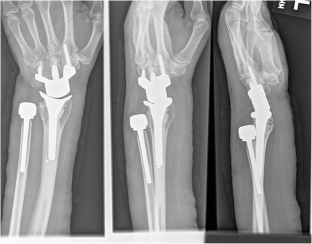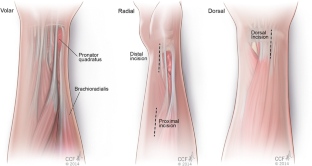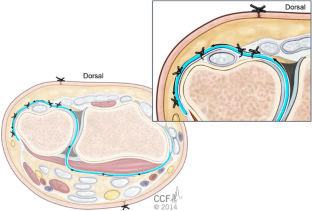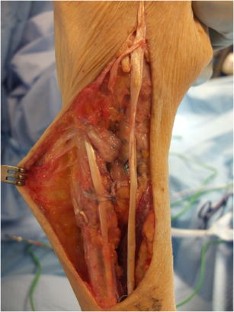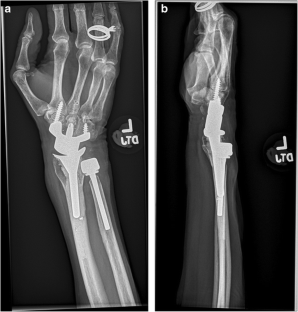 References
1.

Adams BD. Anatomic reconstruction of the distal radioulnar ligaments for druj instability. Tech Hand Up Extrem Surg. 2000;4(3):154.

2.

Adams BD, Lawler E. Chronic instability of the distal radioulnar joint. J Am Acad Orthop Surg. 2007;15(9):571–5.

3.

Gofton WT, Gordon KD, Dunning CE, Johnson JA, King GJW. Comparison of distal radioulnar joint reconstructions using an active joint motion simulator. J Hand Surg. 2005;30(4):733–42.

4.

Gupta A. Brachioradialis Wrap. A new method of stabilizing the distal radioulnar joint. The Principles and Practice of Wrist Surgery. 1st Edn. Elsevier Inc.; 2010:359–61

5.

Gupta RK, Singh H. Stabilisation of the distal radio-ulnar joint with a double-breasted slip of the extensor retinaculum. J Bone Joint Surg (Br). 2008;90(2):200–2.

6.

Kleinman WB. Stability of the distal radioulna joint: biomechanics, pathophysiology, physical diagnosis, and restoration of function what we have learned in 25 years. J Hand Surg. 2007;32(7):1086–106.

7.

Kleinman WB, Graham TJ. The distal radioulnar joint capsule: clinical anatomy and role in posttraumatic limitation of forearm rotation. J Hand Surg. 1998;23(4):588–99.
Conflict of interest
Patrick G. Marinello, M.D. declares that he has no conflict of interest.
Sebastian Peers, M.D. declares that he has no conflict of interest.
Blaine Bafus, M.D. declares that he has no conflict of interest.
Peter J. Evans, M.D., Ph.D. declares that he has no conflict of interest.
Statement of human rights and animal rights
All procedures followed were in accordance with the ethical standards of the responsible committee on human experimentation (institutional and national) and with the Helsinki Declaration of 1975, as revised in 2008 (5). Informed consent was obtained from all patients for being included in the study.
Statement of informed consent
Informed consent was obtained from all individual participants included in the study in accordance with institutional policy for using electronic medical records.
Electronic supplementary material
Below is the link to the electronic supplementary material.
About this article
Cite this article
Marinello, P.G., Peers, S., Bafus, B.T. et al. Modified brachioradialis wrap for stabilizing the distal radioulnar joint: case report. HAND 10, 802–806 (2015). https://doi.org/10.1007/s11552-015-9752-0
Keywords
Brachioradialis wrap

DRUJ instability

DRUJ stabilization