Abstract
Background
The purpose of this study is to investigate functional outcomes and cost impacts of immediate functional reconstruction performed in conjunction with limb-sparing resection of upper extremity soft tissue sarcomas.
Methods
Patients undergoing simultaneous limb-sparing upper extremity soft tissue sarcoma resection and functional reconstruction between December 1998 and March 2004 were retrospectively identified, their medical records reviewed, and costs of surgery analyzed. Functional outcomes and patient satisfaction were assessed via patient surveys and the Toronto Extremity Salvage Score (TESS).
Results
Thirteen patients met the inclusion criteria. Average follow-up was 43.3 months. Reconstructions included rotational innervated muscle flaps (n = 6), free innervated myocutaneous flaps (n = 1), and tendon transfers or grafts (n = 6). Overall survival was 85 % (n = 11) and disease-free survival was 77 % (n = 10). Average total cost of surgery was $26,655. Patients undergoing reconstruction for hand and forearm sarcomas had significantly higher total costs of surgery than those undergoing reconstruction for elbow and upper arm sarcomas. Survey response rate was 91 % (n = 10). Average TESS score was 76. Of the patients who worked preoperatively, 88 % returned to work postoperatively, and all patients who returned to work currently use their affected limb at work.
Conclusions
Patients undergoing immediate functional reconstruction for upper extremity soft tissue sarcoma resection achieved very good to excellent functional outcomes with quick recovery times and a high return-to-work rate following immediate functional reconstruction, thereby minimizing surgical cost impacts. Immediate functional reconstruction in the same surgical setting is thus a viable strategy following upper extremity soft tissue sarcoma resection.
This is a preview of subscription content, log in to check access.
Access options
Buy single article
Instant unlimited access to the full article PDF.
US$ 39.95
Price includes VAT for USA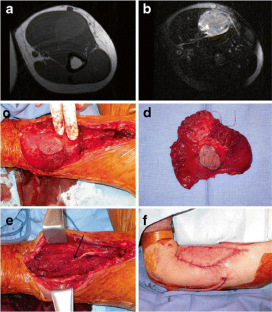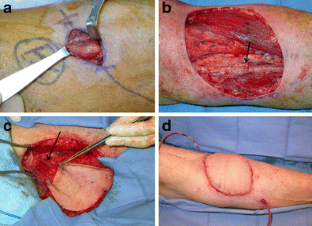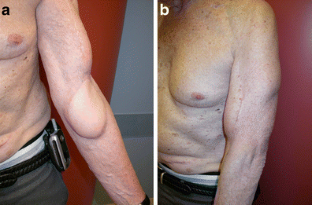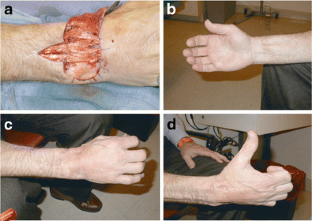 References
1.

Barner-Rasmussen I, Popov P, Bohling T, Blomqvist C, Tukiainen E. Microvascular reconstructions after extensive soft tissue sarcoma resections in the upper limb. Eur J Surg Oncol. 2010;36(1):78–83. doi:10.1016/j.ejso.2009.08.003.

2.

Cadman J, Soule FH, Kelly PJ. Synovial sarcoma: an analysis of 134 tumors. Cancer. 1965;18:613–27.

3.

Clark Jr RL, Martin RG, White EC. A critical review of the management of soft-tissue sarcomas. J Lancet. 1959;79(7):327–31.

4.

Davidge K, Bell R, Ferguson P, Turcotte R, Wunder J, Davis AM. Patient expectations for surgical outcome in extremity soft tissue sarcoma. J Surg Oncol. 2009;100(5):375–81. doi:10.1002/jso.21301.

5.

Davis AM, Bell RS, Badley EM, Yoshida K, Williams JI. Evaluating functional outcome in patients with lower extremity sarcoma. Clin Orthop Relat Res. 1999;358:90–100.

6.

Davis AM, Sennik S, Griffin AM, Wunder JS, O'Sullivan B, Catton CN, et al. Predictors of functional outcomes following limb salvage surgery for lower-extremity soft tissue sarcoma. J Surg Oncol. 2000;73(4):206–11. doi:10.1002/(SICI)1096-9098(200004)73:4<206::AID-JSO4>3.0.CO;2-5.

7.

Davis AM, Wright JG, Williams JI, Bombardier C, Griffin A, Bell RS. Development of a measure of physical function for patients with bone and soft tissue sarcoma. Qual Life Res. 1996;5(5):508–16.

8.

Doi K, Sakai K, Ihara K, Abe Y, Kawai S, Kurafuji Y. Reinnervated free muscle transplantation for extremity reconstruction. Plast Reconstr Surg. 1993;91(5):872–83.

9.

Emrich LJ, Ruka W, Driscoll DL, Karakousis CP. The effect of local recurrence on survival time in adult high-grade soft tissue sarcomas. J Clin Epidemiol. 1989;42(2):105–10.

10.

Enneking WF, Dunham W, Gebhardt MC, Malawar M, Pritchard DJ. A system for the functional evaluation of reconstructive procedures after surgical treatment of tumors of the musculoskeletal system. Clin Orthop Relat Res. 1993;286:241–6.

11.

Hoy E, Granick M, Benevenia J, Patterson F, Datiashvili R, Bille B. Reconstruction of musculoskeletal defects following oncologic resection in 76 patients. Ann Plast Surg. 2006;57(2):190–4. doi:10.1097/01.sap.0000216255.18106.e1.

12.

Ihara K, Shigetomi M, Kawai S, Doi K, Yamamoto M. Functioning muscle transplantation after wide excision of sarcomas in the extremity. Clin Orthop Relat Res. 1999;358:140–8.

13.

Kane 3rd JM, Gibbs JF, McGrath BE, Loree TR, Kraybill WG. Large, deep high-grade extremity sarcomas: when is a myocutaneous flap reconstruction necessary? Surg Oncol. 1999;8(4):205–10.

14.

Kane 3rd JM, Kraybill WG. Radical operations for soft tissue sarcomas. Surg Oncol Clin N Am. 2005;14(3):633–48. doi:10.1016/j.soc.2005.04.001.

15.

Keus RB, Rutgers EJ, Ho GH, Gortzak E, Albus-Lutter CE, Hart AA. Limb-sparing therapy of extremity soft tissue sarcomas: treatment outcome and long-term functional results. Eur J Cancer. 1994;30A(10):1459–63.

16.

Kim JY, Youssef A, Subramanian V, Rogers BA, Pollock RE, Robb GL, et al. Upper extremity reconstruction following resection of soft tissue sarcomas: a functional outcomes analysis. Ann Surg Oncol. 2004;11(10):921–7. doi:10.1245/ASO.2004.06.026.

17.

Lee HY, Cordeiro PG, Mehrara BJ, Singer S, Alektiar KM, Hu QY, et al. Reconstruction after soft tissue sarcoma resection in the setting of brachytherapy: a 10-year experience. Ann Plast Surg. 2004;52(5):486–91. discussion 92.

18.

Lehnhardt M, Hirche C, Daigeler A, Goertz O, Ring A, Hirsch T, et al. Soft tissue sarcoma of the upper extremities. analysis of factors relevant for prognosis in 160 patients. Chirurg. 2012;83(2):143–52.

19.

Lohman RF, Nabawi AS, Reece GP, Pollock RE, Evans GR. Soft tissue sarcoma of the upper extremity: a 5-year experience at two institutions emphasizing the role of soft tissue flap reconstruction. Cancer. 2002;94(8):2256–64. doi:10.1002/cncr.10419.

20.

Marre D, Buendia J, Hontanilla B. Complications following reconstruction of soft-tissue sarcoma: importance of early participation of the plastic surgeon. Ann Plast Surg. 2012;69(1):73–8. doi:10.1097/SAP.0b013e31821ee497.

21.

Megerle K, Sauerbier M. Reconstructive treatment of soft tissue sarcoma of the upper extremity. J Hand Surg [Am]. 2011;36(7):1241–7. doi:10.1016/j.jhsa.2011.04.017.

22.

Muramatsu K, Ihara K, Taguchi T. Selection of myocutaneous flaps for reconstruction following oncologic resection of sarcoma. Ann Plast Surg. 2010;64(3):307–10. doi:10.1097/SAP.0b013e3181b0260e.

23.

Nelson AA, Frassica FJ, Gordon TA, Deune EG. Cost analysis of functional restoration surgery for extremity soft-tissue sarcoma. Plast Reconstr Surg. 2006;117(1):277–83.

24.

Pollock RE. Limb-sparing therapy for soft tissue sarcomas. Curr Opin Gen Surg. 1994:224–9.

25.

Rosenberg SA, Tepper J, Glatstein E, Costa J, Baker A, Brennan M, et al. The treatment of soft-tissue sarcomas of the extremities: prospective randomized evaluations of (1) limb-sparing surgery plus radiation therapy compared with amputation and (2) the role of adjuvant chemotherapy. Ann Surg. 1982;196(3):305–15.

26.

Saint-Cyr M, Langstein HN. Reconstruction of the hand and upper extremity after tumor resection. J Surg Oncol. 2006;94(6):490–503. doi:10.1002/jso.20486.

27.

Sarcoma Meta-analysis Collaboration (SMAC). Adjuvant chemotherapy for localised resectable soft tissue sarcoma in adults. Cochrane Database Syst Rev. 2000;(4):CD001419. doi:10.1002/14651858.CD001419.

28.

Serletti JM, Carras AJ, O'Keefe RJ, Rosier RN. Functional outcome after soft-tissue reconstruction for limb salvage after sarcoma surgery. Plast Reconstr Surg. 1998;102(5):1576–83. discussion 84–5.

29.

Shieber W, Graham P. An experience with sarcomas of the soft tissues in adults. Surgery. 1962;52:295–8.

30.

Siegel R, Ward E, Brawley O, Jemal A. Cancer statistics, 2011: the impact of eliminating socioeconomic and racial disparities on premature cancer deaths. CA Cancer J Clin. 2011;61(4):212–36. doi:10.3322/caac.20121.

31.

Simon MA, Enneking WF. The management of soft-tissue sarcomas of the extremities. J Bone Joint Surg Am. 1976;58(3):317–27.

32.

Simon MA, Spanier SS, Enneking WF. Management of adult soft-tissue sarcomas of the extremities. Surg Annu. 1979;11:363–402.

33.

Suit HD, Russell WO, Martin RG. Management of patients with sarcoma of soft tissue in an extremity. Cancer. 1973;31(5):1247–55.

34.

Vetter M, Germann G, Bickert B, Sauerbier M. Current strategies for sarcoma reconstruction at the forearm and hand. J Reconstr Microsurg. 2010;26(7):455–60. doi:10.1055/s-0030-1254229.

35.

Williard WC, Hajdu SI, Casper ES, Brennan MF. Comparison of amputation with limb-sparing operations for adult soft tissue sarcoma of the extremity. Ann Surg. 1992;215(3):269–75.

36.

Yasko A, Patel R, Pollack A, Pollack RE, editors. Sarcomas of soft tissue and bone. Atlanta: American Cancer Society; 2001.
Acknowledgment
The authors would like to acknowledge John D. Hundt, M.H.S. for providing cost data.
Conflict of Interest
The authors declare no conflict of interest.
Statement of Human and Animal Rights
All procedures performed were in accordance with the ethical standards of the responsible committee on human experimentation (institutional and national) and with the Helsinki Declaration of 1975, as revised in 2000 and 2008. Informed consent was obtained from all patients for being included in the study.
Electronic supplementary material
Below is the link to the electronic supplementary material.
Patient 8 degree of elbow flexion and flap contour after functional reconstruction (TESS score = 100). (MPG 2646 kb)
Patient 12 functional result (TESS score = 92). (MPG 2138 kb)
Patient 8 degree of elbow flexion and flap contour after functional reconstruction (TESS score = 100). (MPG 2646 kb)
Patient 12 functional result (TESS score = 92). (MPG 2138 kb)
About this article
Cite this article
Mundinger, G.S., Prucz, R.B., Frassica, F.J. et al. Concomitant upper extremity soft tissue sarcoma limb-sparing resection and functional reconstruction: assessment of outcomes and costs of surgery. HAND 9, 196–204 (2014). https://doi.org/10.1007/s11552-013-9567-9
Keywords
Cost analysis

Functional reconstruction

Sarcoma

Upper extremity