Abstract
Background
Controlled post-operative motion of extensor tendon repairs in zones IV–VII is intended to facilitate tendon excursion and minimize adhesion formation. The Wyndell Merritt "relative motion" digital yoke orthosis provides a low-profile option allowing for immediate controlled active motion (ICAM) of the extensor tendon repair. The addition of a multimedia manuscript demonstrating the manufacturing of the Wyndell Merritt digital yoke orthosis may complement current literature on this topic.
Methods
Two case studies demonstrating the use of the Wyndell Merritt ICAM digital yoke orthosis without wrist immobilization following zone V extensor tendon repair are presented. A literature review was completed. A video was produced highlighting fabrication of the digital yoke orthosis as well as video documentation of case study 1.
Results
Case study 1 demonstrated mild limitations in metacarpophalangeal (MP) flexion at 5-week follow-up that resolved by 6 weeks. MP hyperextension was attainable for all digits at 5 weeks. Grip strength was comparable to the contralateral uninjured hand at 10 weeks. The second patient achieved normal composite flexion/extension by 4 weeks. Attainment of normal hyperextension at the MP joints and grip strength for case study 2 was unknown, as the patient was lost to follow-up.
Conclusion
The Wyndell Merritt ICAM digital yoke orthosis, fabricated with or without wrist immobilization, appears to facilitate the return of normal extensor tendon function after repair in zones IV through VII while minimizing morbidity to adjacent digits. This protocol provides a safe, low-profile, cost-effective alternative for post-operative treatment of zone IV–VII extensor tendon repairs.
This is a preview of subscription content, log in to check access.
Access options
Buy single article
Instant unlimited access to the full article PDF.
US$ 39.95
Price includes VAT for USA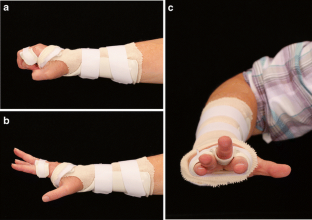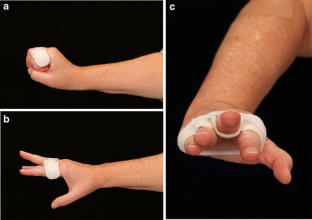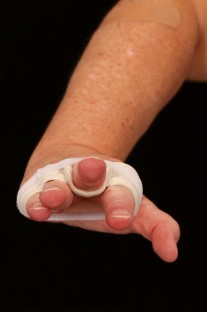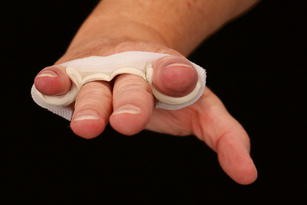 References
1.

Berry N, Neumeister M. Analysis of limited Wyndall Merritt Splint for extensor tendon injuries to hand immobilization. Abstract: Presented at American Association for Hand Surgery annual meeting Beverly Hills, CA Jan 2008. Published: HAND 2008;3(2):170.

2.

Browne EZ, Ribik CA. Early dynamic splinting for extensor tendon injuries. J Hand Surg. 1989;14:72–6.

3.

Evans RB. Early dynamic splinting for extensor tendon injuries. Hand Clinics. 1986;2(1):157–69.

4.

Howell JW, Merritt WH, Robinson SJ. Immediate controlled active motion following zone 4–7 extensor tendon repair. J Hand Ther. 2005;18(2):182–90.

5.

Martzon JL, Bozentka DJ. Extensor tendon injuries. J Hand Surg. 2010;35:854–61.

6.

Merritt WH, Howell JW. Immediate active motion and use following extensor tendon repair using relative motion splinting: a ten year study. Abstract: Presented at The American Society for Hand Surgery Annual Meeting, Phoenix Az. Jan 1998.

7.

Saldana MJ. Early relative motion rehabilitation of proximal extensor tendon lacerations using the "Wyndell Merritt" splint. Abstract: Presented at The American Association for Hand Surgery Annual Meeting, Phoenix AZ. Jan 1998.

8.

Sharma JV, Liang NJ, Owen JR, et al. Analysis of relative motion splint in the treatment of zone VI extensor tendon injuries. J Hand Surg. 2006;31(7):1118–22.
Acknowledgments
The authors thank Maria Ansley, Scientific Photographer, SIU School of Medicine, Department of Surgery, Division of Plastic Surgery, for photographing all of the figures and for taking and editing all of the video for this multimedia article.
Conflict of Interest
The authors declare that they have no conflict of interest.
Additional information
Due to a shift in nomenclature and the Centers for Medicare and Medicaid Services guidelines, the term "splint" has been replaced with the term "orthosis" whenever possible.
Electronic Supplementary Material
Below is the link to the electronic supplementary material.
About this article
Cite this article
Burns, M.C., Derby, B. & Neumeister, M.W. Wyndell merritt immediate controlled active motion (ICAM) protocol following extensor tendon repairs in zone IV–VII: review of literature, orthosis design, and case study—a multimedia article. HAND 8, 17–22 (2013) doi:10.1007/s11552-012-9488-z
Keywords
Wyndell Merritt

Extensor tendons

Orthosis

ICAM