Abstract
Aim
To compare clinical success and patient satisfaction of percutaneous cervical nucleoplasty (PCN) and percutaneous cervical discectomy (PCD) in contained cervical disc herniation treatment.
Materials and methods
We retrospectively identified 50 consecutive patients in our institution: 24 underwent the PCD treatment and 26 patients were treated by the PCN procedure. All patients complained of radicular pain with or without neck pain; diagnosis of contained cervical disc herniation was obtained by MRI; all patients had received conservative therapy which did not result in symptom improvement. Exclusion from our series consisted of patients who had undergone previous surgery at the indicated level, or those with myelopathy, or those in whom more than a sole herniation was treated in the same session. Overall procedure time, fluoroscopy time, radiation dose and complications were recorded. The MacNab scale score was used to assess clinical success in terms of pain relief at 2- and 6-month follow-up. After 4–6 months, a cervical MRI was obtained in 24 patients.
Results
Neither major nor minor complications were reported. Regarding patient satisfaction, overall median modified MacNab score was excellent both at 2 and 6 months after treatment. No significant statistical difference was found in mean modified MacNab score at 2 and 6 months among patients grouped by treatment choice (p = 0.319 and 0.847, respectively); radiation dose was inferior in PCN group than in PCD, with no significant statistical difference.
Conclusion
PCD and PCN were found to be safe and effective in terms of pain relief in contained cervical herniation treatment.
This is a preview of subscription content, log in to check access.
Access options
Buy single article
Instant access to the full article PDF.
US$ 39.95
Price includes VAT for USA
Subscribe to journal
Immediate online access to all issues from 2019. Subscription will auto renew annually.
US$ 99
This is the net price. Taxes to be calculated in checkout.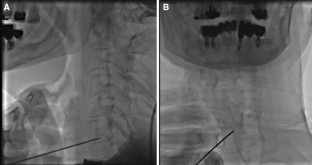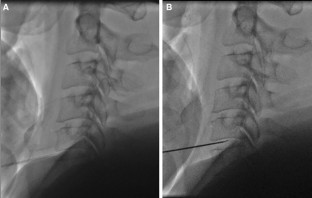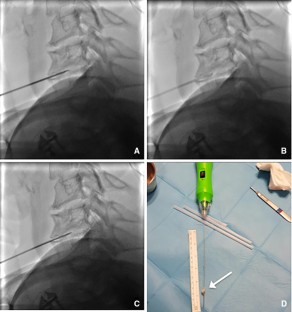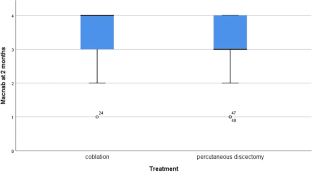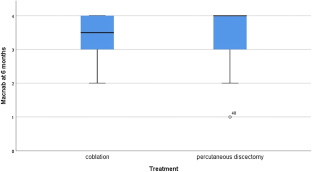 References
1.

Caridi JM, Pumberger M, Hughes AP (2011) Cervical radiculopathy: a review. HSS J 7:265–272. https://doi.org/10.1007/s11420-011-9218-z

2.

Yan D, Li J, Zhu H et al (2010) Percutaneous cervical nucleoplasty and percutaneous cervical discectomy treatments of the contained cervical disc herniation. Arch Orthop Trauma Surg 130:1371–1376. https://doi.org/10.1007/s00402-009-1041-3

3.

Jackson R (2010) The classic: the cervical syndrome. Clin Orthop Relat Res 468:1739–1745. https://doi.org/10.1007/s11999-010-1278-8

4.

Halim W, Wullems JA, Lim T et al (2013) The long-term efficacy and safety of percutaneous cervical nucleoplasty in patients with a contained herniated disk. Pain Pract 13:364–371. https://doi.org/10.1111/papr.12003

5.

Bonaldi G, Baruzzi F, Facchinetti A et al (2006) Plasma radio-frequency-based diskectomy for treatment of cervical herniated nucleus pulposus: feasibility, safety, and preliminary clinical results. Am J Neuroradiol 27:2104–2111

6.

Li J, Yan DL, Zhang ZH (2008) Percutaneous cervical nucleoplasty in the treatment of cervical disc herniation. Eur Spine J 17:1664–1669. https://doi.org/10.1007/s00586-008-0786-7

7.

Halim W, van der Weegen W, Lim T et al (2017) Percutaneous cervical nucleoplasty vs. pulsed radio frequency of the dorsal root ganglion in patients with contained cervical disk herniation; a prospective, randomized controlled trial. Pain Pract 17:729–737. https://doi.org/10.1111/papr.12517

8.

Wullems JA, Halim W, van der Weegen W (2014) Current evidence of percutaneous nucleoplasty for the cervical herniated disk: a systematic review. Pain Pract 14:559–569. https://doi.org/10.1111/papr.12122

9.

Filippiadis DK, Binkert C, Pellerin O et al (2017) Cirse quality assurance document and standards for classification of complications: the cirse classification system. Cardiovasc Interv Radiol 40:1141–1146. https://doi.org/10.1007/s00270-017-1703-4

10.

Radhakrishnan K, Litchy WJ, O'Fallon WM, Kurland LT (1994) Epidemiology of cervical radiculopathy. A population-based study from Rochester, Minnesota, 1976 through 1990. Brain 117(2):325–335

11.

Schoenfeld AJ, George AA, Bader JO, Caram PM (2012) Incidence and epidemiology of cervical radiculopathy in the United States Military. J Spinal Disord Tech 25:17–22. https://doi.org/10.1097/BSD.0b013e31820d77ea

12.

de Rooij JD, Harhangi BS, Verhagen AP et al (2015) Nucleoplasty for cervical radiculopathy or cervical radicular pain due to disc herniation. Cochrane Database Syst Rev. https://doi.org/10.1002/14651858.CD011852

13.

Iyer S, Kim HJ (2016) Cervical radiculopathy. Curr Rev Musculoskelet Med 9:272–280. https://doi.org/10.1007/s12178-016-9349-4

14.

Burneikiene S, Nelson EL, Mason A et al (2015) The duration of symptoms and clinical outcomes in patients undergoing anterior cervical discectomy and fusion for degenerative disc disease and radiculopathy. Spine J 15:427–432. https://doi.org/10.1016/j.spinee.2014.09.017

15.

Mok JK, Sheha ED, Samuel AM et al (2019) Evaluation of current trends in treatment of single-level cervical radiculopathy. Clin Spine Surg 32:E241–E245. https://doi.org/10.1097/BSD.0000000000000796

16.

Castro WH, Halm H, Rondhuis J (1992) The influence of automated percutaneous lumbar discectomy (APLD) on the biomechanics of the lumbar intervertebral disc. An experimental study. Acta Orthop Belg 58:400–405

17.

Kelekis AD, Filippiadis DK, Martin J-B, Brountzos E (2010) Standards of practice: quality assurance guidelines for percutaneous treatments of intervertebral discs. Cardiovasc Interv Radiol 33:909–913. https://doi.org/10.1007/s00270-010-9952-5

18.

Kelekis A, Filippiadis DK (2015) Percutaneous treatment of cervical and lumbar herniated disc. Eur J Radiol 84:771–776. https://doi.org/10.1016/j.ejrad.2014.02.023

19.

Cesaroni A, Nardi PV (2010) Plasma disc decompression for contained cervical disc herniation: a randomized, controlled trial. Eur Spine J 19:477–486. https://doi.org/10.1007/s00586-009-1189-0

20.

Erginousakis D, Filippiadis DK, Malagari A et al (2011) Comparative prospective randomized study comparing conservative treatment and percutaneous disk decompression for treatment of intervertebral disk herniation. Radiology 260:487–493. https://doi.org/10.1148/radiol.11101094

21.

Epstein N (2017) Percutaneous cervical laser diskectomy, thermoannuloplasty, and thermonucleoplasty; comparable results without surgery. Surg Neurol Int 8:128. https://doi.org/10.4103/sni.sni_164_17

22.

Gangi A, Tsoumakidou G, Buy X et al (2011) Percutaneous techniques for cervical pain of discal origin. Semin Musculoskelet Radiol 15:172–180. https://doi.org/10.1055/s-0031-1275601

23.

Nam JW, Moon HS, Kim YH, Han BM (2017) Percutaneous mechanical lumbar disc decompression using the enSpire TM interventional discectomy system: a preliminary study. Anesth Pain Med 12:72–76. https://doi.org/10.17085/apm.2017.12.1.72

24.

Ahn Y, Lee SH, Lee SC et al (2004) Factors predicting excellent outcome of percutaneous cervical discectomy: analysis of 111 consecutive cases. Neuroradiology 46:378–384. https://doi.org/10.1007/s00234-004-1197-z

25.

Yang B, Xie J, Yin B et al (2014) Treatment of cervical disc herniation through percutaneous minimally invasive techniques. Eur Spine J 23:382–388. https://doi.org/10.1007/s00586-013-3063-3
Funding
The authors received no specific funding for this work.
Ethics declarations
Conflict of interest
The authors declare that they have no conflict of interest.
Ethical approval
All procedures performed in studies involving human participants were in accordance with the ethical standards of the institutional and/or national research committee and with the 1964 Helsinki Declaration and its later amendments or comparable ethical standards. The present study is a retrospective study: for this type of study formal consent is not required.
Informed consent
Informed consent was obtained from all individual participants included in the study.
Additional information
Publisher's Note
Springer Nature remains neutral with regard to jurisdictional claims in published maps and institutional affiliations.
About this article
Cite this article
Ierardi, A.M., Carnevale, A., Cossu, A. et al. Percutaneous cervical discectomy: retrospective comparison of two different techniques. Radiol med (2020). https://doi.org/10.1007/s11547-020-01133-x
Received:

Accepted:

Published:
Keywords
Cervical disk herniation

Nucleoplasty

Discectomy

Percutaneous