Abstract
Hepatic echinococcosis (HE) is a life-threatening liver disease caused by parasites that requires a precise diagnosis and proper treatments. To assess HE lesions accurately, we propose a novel automatic HE lesion segmentation and classification network that contains lesion region positioning (LRP) and lesion region segmenting (LRS) modules. First, we used the LRP module to obtain the probability map of the lesion distribution and the position of the lesion. Then, based on the result of the LRP module, we used the LRS module to precisely segment the HE lesions within the high-probability region. Finally, we classified the HE lesions and identified the lesion types by a convolutional neural network (CNN). The entire dataset was delineated by the hospital's senior radiologist. We collected CT slices of 160 patients from Qinghai Provincial People's Hospital. The Dice score of the final segmentation result reached 89.89%. The Dice scores, indicating the classification accuracy, for cystic vs. alveolar echinococcosis and calcified vs. noncalcified lesions were 80.32% and 82.45%, the sensitivities were 72.41% and 75.17%, the specificities were 83.72% and 86.04%, the NPVs were 80.01% and 86.96%, the PPVs were 80.45% and 81.74%, and the areas under the ROC curves were 0.8128 and 0.8205, respectively.

This is a preview of subscription content, log in to check access.
Access options
Buy single article
Instant unlimited access to the full article PDF.
US$ 39.95
Price includes VAT for USA
Subscribe to journal
Immediate online access to all issues from 2019. Subscription will auto renew annually.
US$ 199
This is the net price. Taxes to be calculated in checkout.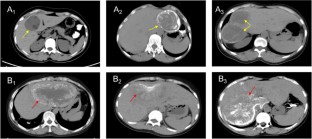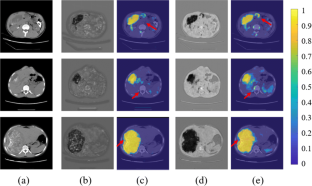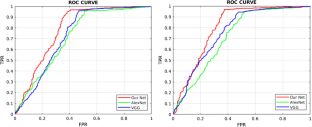 Ethics declarations
Conflict of interest
The authors declare that they have no conflict of interest.
Human participants or animals
This article does not contain any studies with human participants or animals performed by any of the authors.
Informed consent
Informed consent was obtained from all individual participants included in the study.
Additional information
Publisher's note
Springer Nature remains neutral with regard to jurisdictional claims in published maps and institutional affiliations.
About this article
Cite this article
Xin, S., Shi, H., Jide, A. et al. Automatic lesion segmentation and classification of hepatic echinococcosis using a multiscale-feature convolutional neural network. Med Biol Eng Comput (2020) doi:10.1007/s11517-020-02126-8
Received:

Accepted:

Published:
Keywords
Hepatic echinococcosis

Computed tomography

Convolutional neural network

Medical image segmentation

Medical image classification