Advanced computing solutions for analysis of laryngeal disorders
Abstract
Clinical diagnosis of voice pathologies is performed by analyzing audio, color, shape, and vibration patterns of the laryngeal recordings which are taken with medical imaging devices such as video-laryngostroboscope, direct laryngoscopy, and high-speed videoendoscopes. This paper examines state-of-the-art methods and reveals open issues and problems of computing solutions for analysis and identification of laryngeal disorders. We propose a categorical representation of the most significant applications published so far in terms of their scopes, used methodologies, and achieved results. Laryngeal image/video analysis is discussed in four main categories: segmentation of vocal folds, classification of vocal fold disorders, vocal fold vibration analysis, and vocal fold image stitching. By this study, we reveal new opportunities and potentials of vision-based computerized solutions for evaluation, early diagnosis, and prevention of laryngeal disorders.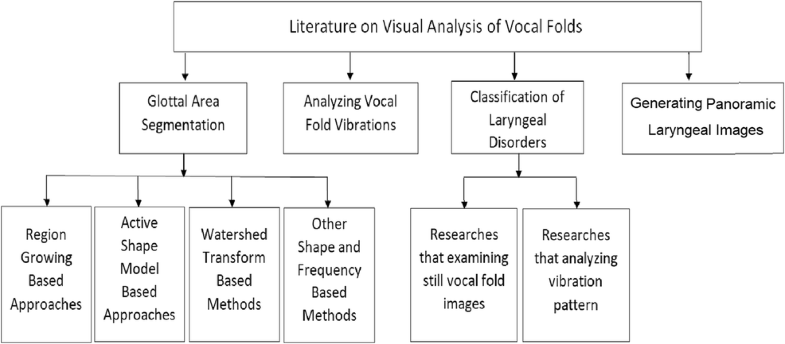 Keywords
Vocal fold disorders 
Laryngeal image analysis 
Blood vessels of vocal folds 
Classification of vocal fold disorders 
Vibration analysis 
Abbreviations
NBI

narrow-band imaging

HD

high-definition

HSV

high-speed videoendoscopy

PCA

principal component analysis

PVG

phonovibrogram

GAW

glottal area waveform

HOG

histogram of oriented gradients

GVG

glottovibrogram

VKG

videokymogram

SVM

support vector machine

LDA

linear discriminant analysis

GLCM

gray-level cooccurrence matrix

LBP

local binary patterns

IPCL

intrapapillary capillary loops

CLE

confocal laser endomicroscopy

SIFT

scale invariant and feature transform

IBD

intentional blurring pixel difference

MSSIM

mean structural similarity

MRI

magnetic resonance imaging

CT

computed tomography

EGG

electroglottography

EEG

electroencephalography

EMG

electromyography
Notes
Compliance with ethical standards
Conflict of interest
The authors declare that they have no conflict of interest.
Copyright information
© International Federation for Medical and Biological Engineering 2019