Identification of the visco-hyperelastic properties of brain white matter based on the combination of inverse method and experiment
Abstract
To fully understand the brain injury mechanism and develop effective protective approaches, an accurate constitutive model of brain tissue is firstly required. Generally, the brain tissue is regarded as a kind of viscoelastic material and is simply used in the simulation of brain injury. In fact, the brain tissue has the behavior of the visco-hyperelastic property. Therefore, this paper presents an effective computational inverse method to determine the material parameters of visco-hyperelastic constitutive model of brain white matter through compression experiments. First, with the help of 3D hand scanner, 3D geometries of brain white matter specimens are obtained to make it possible to establish the accurate simulation models of the specific specimens. Then, the global sensitivity analysis is adopted to evaluate the importance of the material parameters and further determine the parameters which may be identified. Subsequently, based on the genetic algorithm, the optimal material parameters of brain white matter can be identified by minimizing the match error between the experimental and simulated responses. Finally, by comparing the experiment and simulation results on the other specific specimen, and the simulation results with the material parameters from the references, respectively, the accuracy and reliability of the constitutive model parameters of brain white matter are demonstrated.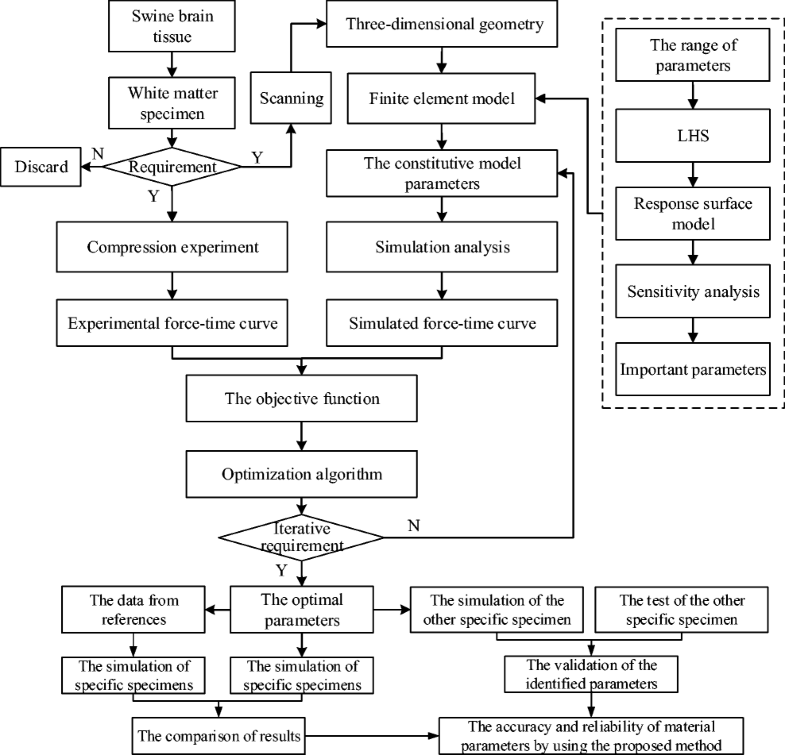 Keywords
Brain white matter 
Material parameter identification 
Visco-hyperelastic 
Computational inverse method 
Global sensitivity analysis 
Notes
Funding information
This work is supported by the National Science Foundation of China (Grant Nos. 51621004 and 11572115) and an independent research project of the State Key Laboratory of Reliability and Intelligence Electrical Equipment, Hebei University of Technology (EERIZZ2018001).
Compliance with ethical standards
Conflict of interest
The authors declare that they have no conflict of interest.
Ethical approval
All procedures performed in studies involving animals were in accordance with the ethical standards of the institution or practice at which the studies were conducted.
Copyright information
© International Federation for Medical and Biological Engineering 2019