Multiobjective design optimization of stent geometry with wall deformation for triangular and rectangular struts
Abstract
The stent geometrical design (e.g., inter-strut gap, length, and strut cross-section) is responsible for stent–vessel contact problems and changes in the blood flow. These changes are crucial for causing some intravascular abnormalities such as vessel wall injury and restenosis. Therefore, structural optimization of stent design is necessary to find the optimal stent geometry design. In this study, we performed a multiobjective stent optimization for minimization of average stress and low wall shear stress ratio while considering the wall deformation in 3D flow simulations of triangular and rectangular struts. Surrogate-based optimization with Kriging method and expected hypervolume improvement (EHVI) are performed to construct the surrogate model map and find the best configuration of inter-strut gap (G) and side length (SL). In light of the results, G-SL configurations of 2.81–0.39 and 3.00–0.43 mm are suggested as the best configuration for rectangular and triangular struts, respectively. Moreover, considering the surrogate model and flow pattern conditions, we concluded that triangular struts work better to improve the intravascular hemodynamics.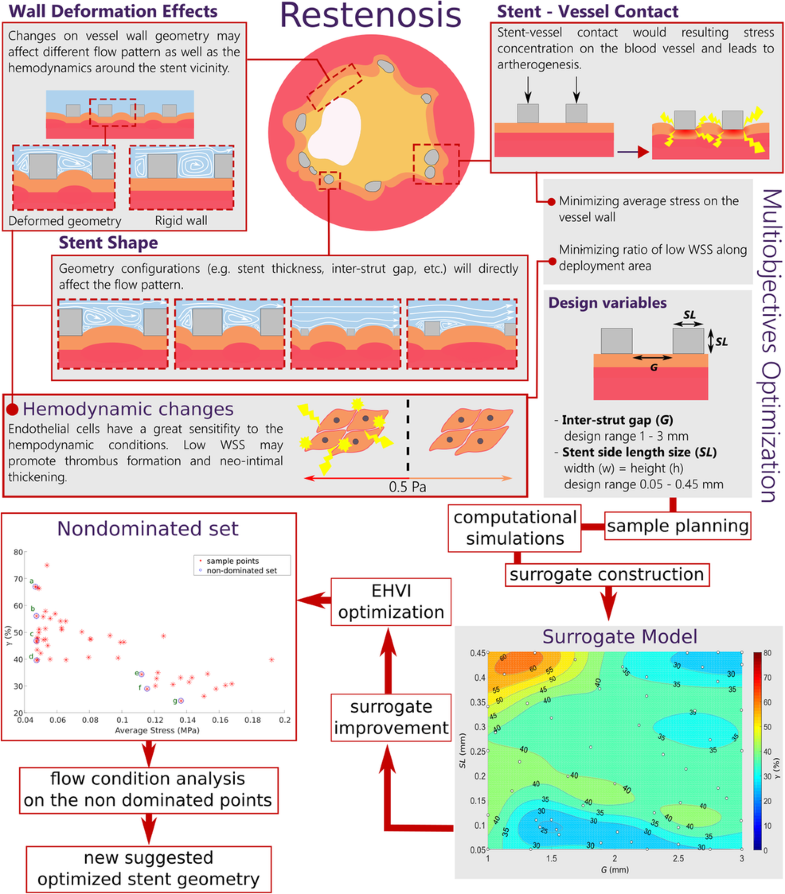 Keywords
Restenosis 
Stent 
Computational simulation 
Multiobjective optimization 
Kriging surrogate method 
Notes
Acknowledgments
We would like to thank Dr. Yasutomo Shimizu for his help and suggestions during the preparation of this manuscript.
Funding information
This research is supported by Indonesia Endowment for Education Fund (LPDP), Ministry of Finance, Republic of Indonesia through Beasiswa Pendidikan Indonesia Scholarship Program for Doctorate Students and the ImPACT program of Council for Science, Technology and Innovation (Cabinet Office, Government of Japan).
Compliance with ethical standards
Conflict of interest
The authors declare that they have no conflict of interest.
Copyright information
© International Federation for Medical and Biological Engineering 2018