Abstract
The Parachute® (Cardiokinetix, Inc., Menlo Park, California) is a catheter-based device intended to reverse left ventricular (LV) remodeling after antero-apical myocardial infarction. When deployed, the device partitions the LV into upper and lower chambers. To simulate its mechanical effects, we created a finite element LV model based on computed tomography (CT) images from a patient before and 6 months after Parachute® implantation. Acute mechanical effects were determined by in silico device implantation (VIRTUAL-Parachute). Chronic effects of the device were determined by adjusting the diastolic and systolic material parameters to better match the 6-month post-implantation CT data and LV pressure data at end-diastole (ED) (POST-OP). Regional myofiber stress and pump function were calculated in each case. The principal finding is that VIRTUAL-Parachute was associated with a 61.2 % reduction in the lower chamber myofiber stress at ED. The POST-OP model was associated with a decrease in LV diastolic stiffness and a larger reduction in myofiber stress at the upper (27.1 %) and lower chamber (78.4 %) at ED. Myofiber stress at end-systole and stroke volume was little changed in the POST-OP case. These results suggest that the primary mechanism of Parachute® is a reduction in ED myofiber stress, which may reverse eccentric post-infarct LV hypertrophy.
This is a preview of subscription content, log in to check access.
Access options
Buy single article
Instant unlimited access to the full article PDF.
US$ 39.95
Price includes VAT for USA
Subscribe to journal
Immediate online access to all issues from 2019. Subscription will auto renew annually.
US$ 199
This is the net price. Taxes to be calculated in checkout.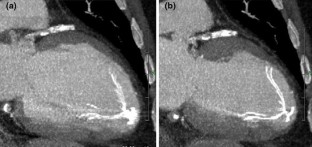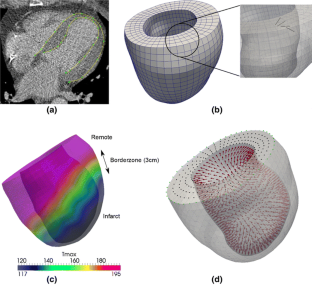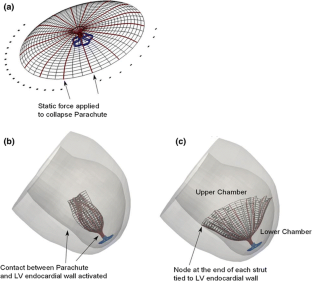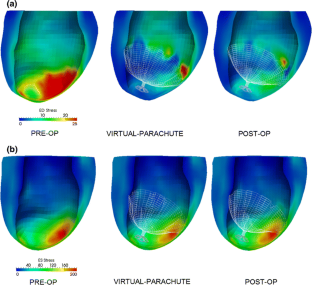 References
1.

Anand IS, Liu D, Chugh SS, Prahash AJ, Gupta S, John R, Popescu F, Chandrashekhar Y (1997) Isolated myocyte contractile function is normal in postinfarct remodeled rat heart with systolic dysfunction. Circulation 96:3974–3984

2.

Bozdag-Turan I, Bermaoui B, Turan RG, Paranskaya L, D'Ancona G, Kische S, Hauenstein K, Nienaber CA, Ince H (2012) Left ventricular partitioning device in a patient with chronic heart failure: short-term clinical follow-up. Int J Cardiol 163:e1–e3

3.

Dang AB, Guccione JM, Mishell JM, Zhang P, Wallace AW, Gorman RC, Gorman JH 3rd, Ratcliffe MB (2005) Akinetic myocardial infarcts must contain contracting myocytes: finite-element model study. Am J Physiol Heart Circ Physiol 288:H1844–H1850

4.

Dang AB, Guccione JM, Zhang P, Wallace AW, Gorman RC, Gorman JH 3rd, Ratcliffe MB (2005) Effect of ventricular size and patch stiffness in surgical anterior ventricular restoration: a finite element model study. Ann Thorac Surg 79:185–193

5.

Grossman W, Jones D, McLaurin LP (1975) Wall stress and patterns of hypertrophy in the human left ventricle. J Clin Invest 56:56–64

6.

Guccione JM, Waldman LK, McCulloch AD (1993) Mechanics of active contraction in cardiac muscle: part II—cylindrical models of the systolic left ventricle. J Biomech Eng 115:82–90

7.

Guccione JM, Costa KD, McCulloch AD (1995) Finite element stress analysis of left ventricular mechanics in the beating dog heart. J Biomech 28:1167–1177

8.

Gutberlet M, Frohlich M, Mehl S, Amthauer H, Hausmann H, Meyer R, Siniawski H, Ruf J, Plotkin M, Denecke T, Schnackenburg B, Hetzer R, Felix R (2005) Myocardial viability assessment in patients with highly impaired left ventricular function: comparison of delayed enhancement, dobutamine stress MRI, end-diastolic wall thickness, and TI201-SPECT with functional recovery after revascularization. Eur Radiol 15:872–880

9.

Huisman RM, Elzinga G, Westerhof N, Sipkema P (1980) Measurement of left ventricular wall stress. Cardiovasc Res 14:142–153

10.

Jackson JH, Gorman BM, Moainie SL, Guy TS, Narula N, Narula J, John-Sutton MG, Edmunds LH Jr, Gorman RC (2002) Extension of borderzone myocardium in postinfarction dilated cardiomyopathy. J Am Coll Cardiol 40:1160–1167

11.

Jones RH, Velazquez EJ, Michler RE, Sopko G, Oh JK, O'Connor CM, Hill JA, Menicanti L, Sadowski Z, Desvigne-Nickens P, Rouleau J-L, Lee KL, the STICH Hypothesis 2 Investigators (2009) Coronary bypass surgery with or without surgical ventricular reconstruction. N Engl J Med 360:1705–1717

12.

Lee LC, Wenk JF, Klepach D, Zhang Z, Saloner D, Wallace AW, Ge L, Ratcliffe MB, Guccione JM (2011) A novel method for quantifying in vivo regional left ventricular myocardial contractility in the border zone of a myocardial infarction. J Biomech Eng 133:094506

13.

Mazzaferri EL Jr, Gradinac S, Sagic D, Otasevic P, Hasan AK, Goff TL, Sievert H, Wunderlich N, Nikolic SD, Abraham WT (2012) Percutaneous left ventricular partitioning in patients with chronic heart failure and a prior anterior myocardial infarction: results of the percutaneous ventricular restoration in chronic heart failure patients trial. Am Heart J 163(812–820):e1

14.

Nikolic SD, Khairkhahan A, Ryu M, Champsaur G, Breznock E, Dae M (2009) Percutaneous implantation of an intraventricular device for the treatment of heart failure: experimental results and proof of concept. J Card Fail 15:790–797

15.

Pourmorteza A, Schuleri KH, Herzka DA, Lardo AC, McVeigh ER (2012) Regional cardiac function assessment in 4D CT: comparison between SQUEEZ and ejection fraction. Conf Proc IEEE Eng Med Biol Soc 2012:4966–4969

16.

Pourmorteza A, Schuleri KH, Herzka DA, Lardo AC, McVeigh ER (2012) A new method for cardiac computed tomography regional function assessment: stretch quantifier for endocardial engraved zones (SQUEEZ). Circ Cardiovasc Imaging 5:243–250

17.

Sagic D, Otasevic P, Sievert H, Elsasser A, Mitrovic V, Gradinac S (2010) Percutaneous implantation of the left ventricular partitioning device for chronic heart failure: a pilot study with 1-year follow-up. Eur J Heart Fail 12:600–606

18.

Streeter DD, Spotnitz HM, Patel DP, Ross J Jr, Sonnenblick EH (1969) Fiber orientation in the canine left ventricle during diastole and systole. Circ Res 24:339–347

19.

Sun K, Stander N, Jhun CS, Zhang Z, Suzuki T, Wang GY, Saeed M, Wallace AW, Tseng EE, Baker AJ, Saloner D, Einstein DR, Ratcliffe MB, Guccione JM (2009) A computationally efficient formal optimization of regional myocardial contractility in a sheep with left ventricular aneurysm. J Biomech Eng 131:111001

20.

Thompson RB, McVeigh ER (2003) Fast measurement of intracardiac pressure differences with 2D breadth-hold phase-contrast MRI. Magn Reson Med 49:1056–1066

21.

Walker JC, Ratcliffe MB, Zhang P, Wallace AW, Fata B, Hsu EW, Saloner D, Guccione JM (2005) MRI-based finite-element analysis of left ventricular aneurysm. Am J Physiol Heart Circ Physiol 289:H692–H700

22.

Walker JC, MB Ratcliffe, P Zhang, AW Wallace, EW Hsu, DA Saloner, JM Guccione (2008) Magnetic resonance imaging-based finite element stress analysis after linear repair of left ventricular aneurysm. J Thorac Cardiovasc Surg 135:1094–102, 1102 e1–2

23.

Wenk JF, Sun K, Zhang Z, Soleimani M, Ge L, Saloner D, Wallace AW, Ratcliffe MB, Guccione JM (2011) Regional left ventricular myocardial contractility and stress in a finite element model of posterobasal myocardial infarction. J Biomech Eng 133:044501

24.

Wenk JF, Klepach D, Lee LC, Zhang Z, Ge L, Tseng EE, Martin A, Kozerke S, Gorman JH 3rd, Gorman RC, Guccione JM (2012) First evidence of depressed contractility in the border zone of a human myocardial infarction. Ann Thorac Surg 93:1188–1193
Acknowledgments
This study was supported by an unrestricted gift from Cardiokinetix and NIH grants R01-HL-084431 (Dr. Ratcliffe), R01-HL-077921 and R01-HL-118627 (Dr. Guccione).
Electronic supplementary material
Below is the link to the electronic supplementary material.
Supplementary material 1 (MPG 1003 kb)
Supplementary material 2 (AVI 9043 kb)
About this article
Cite this article
Lee, L.C., Ge, L., Zhang, Z. et al. Patient-specific finite element modeling of the Cardiokinetix Parachute® device: effects on left ventricular wall stress and function. Med Biol Eng Comput 52, 557–566 (2014). https://doi.org/10.1007/s11517-014-1159-5
Received:

Accepted:

Published:

Issue Date:
Keywords
Myocardial infarction

Remodeling

Finite element method

Surgical ventricular restoration