Characterization, Release Profile and Antimicrobial Properties of Bioactive Polyvinyl Alcohol-Alyssum homolocarpum Seed Gum- Nisin Composite Film
Abstract
A common goal of active packaging is to improve the shelf life, safety, or quality of packaged foods. The integrity of an active package must be remained in order to prevent the growth of microorganisms on the surface of food. Therefore, active polyvinyl alcohol-Alyssum homolocarpum seed gum (PVA-AHSG) composite films with different nisin concentrations (3000, 5000 and 10,000 IU) were prepared and their physico-chemical and antimicrobial properties were determined. Addition of nisin to the composite films increased their water vapor permeability (WVP), elongation at break (EB) and opacity, whereas their total color difference (ΔE), glass transition temperature (Tg), melting temperature (Tm), tensile strength (TS) and young modulus (YM) were decreased. Increasing the nisin concentration remarkably increased the chain mobility, interactions between polymers and water molecules and also the free volume of polymer matrix. The antimicrobial potential of film against L. monocytogene, S. aureus and E. coli as well as the release of nisin into phosphate buffer solution (pH 7.2) were investigated. Films containing nisin had inhibition effect against gram positive pathogens among which L. monocytogenes was the most sensitive bacterium. In liquid media, all films containing nisin prevented the growth of L. monocytogenes and S. aureus, but it was only the film with 10,000 IU nisin content which was able to control 100% of the microbial population during incubation time. Nisin release and diffusion coefficient (D) increased as its concentration increased in the film matrix due to the interaction of nisin with film polymer chains. Therefore, the resultant film had appropriate controlled release property and suitable microbial inhibitory against gram positive bacteria.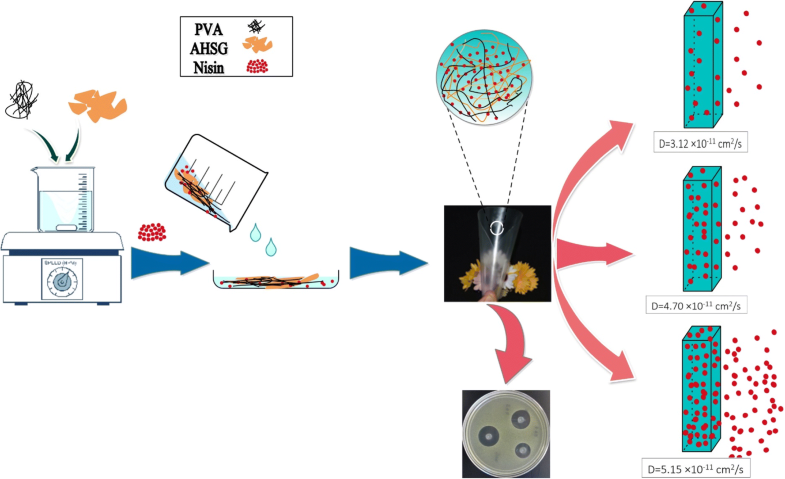 Keywords
AHSG-PVA film 
Active film 
Antimicrobial properties 
Release 
Nisin 
Notes
Acknowledgements
The authors gratefully acknowledge the Department of Food Science and Technology, Ferdowsi University of Mashhad for financial support of this work. Funding: This work was supported by Ferdowsi University of Mashhad [33275, 2015].
Compliance with Ethical Standards
Conflict of Interest
It is declared that there is no conflict of interest in publication of this work.
Copyright information
© Springer Science+Business Media, LLC, part of Springer Nature 2019