A Broad Application of CRISPR Cas9 in Infectious Diseases of Central Nervous System
Abstract
Virus-induced diseases or neurological complications are huge socio-economic burden to human health globally. The complexity of viral-mediated CNS pathology is exacerbated by reemergence of new pathogenic neurotropic viruses of high public relevance. Although the central nervous system is considered as an immune privileged organ and is mainly protected by barrier system, there are a vast majority of neurotropic viruses capable of gaining access and cause diseases. Despite continued growth of the patient population and a number of treatment strategies, there is no successful viral specific therapy available for viral induced CNS diseases. Therefore, there is an urgent need for a clear alternative treatment strategy that can effectively target neurotropic viruses of DNA or RNA genome. To address this need, rapidly growing gene editing technology based on CRISPR/Cas9, provides unprecedented control over viral genome editing and will be an effective, highly specific and versatile tool for targeting CNS viral infection. In this review, we discuss the application of this system to control CNS viral infection and associated neurological disorders and future prospects.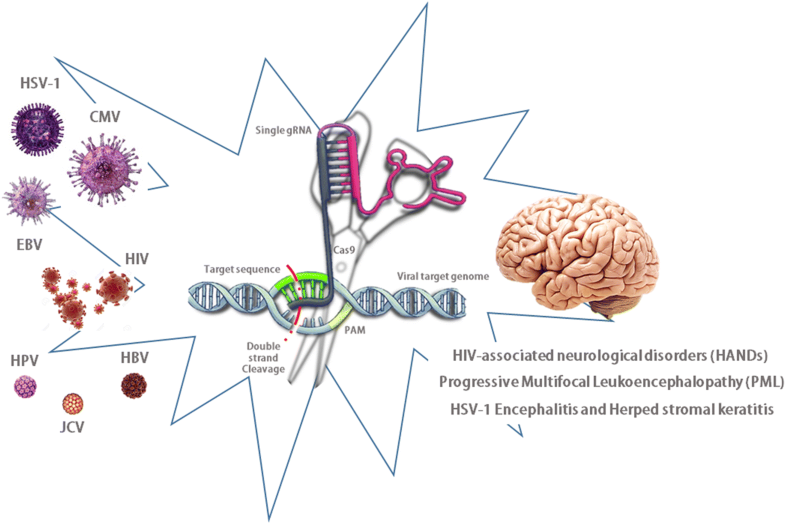 Keywords
CRISPR/Cas9 
Neurotropic viruses 
CRISPR/Cas9 delivery system 
CRISPR/Cas9-mediated viral escape 
Notes
Acknowledgements
We thank past and present members of the Center for Neurovirology for their insightful discussion and sharing of ideas. This work was supported by seed money from Temple University awarded to HSW.
Compliance with Ethical Standards
Conflict of Interest
The authors declare that they have no conflict of interest.
Ethical Approval
This article does not contain any studies with human participants or animals performed by any of the authors.
Copyright information
© Springer Science+Business Media, LLC, part of Springer Nature 2019