Host-Immune Interactions in JC Virus Reactivation and Development of Progressive Multifocal Leukoencephalopathy (PML)
Abstract
With the advent of immunomodulatory therapies and the HIV epidemic, the impact of JC Virus (JCV) on the public health system has grown significantly due to the increased incidence of Progressive Multifocal Leukoencephalopathy (PML). Currently, there are no pharmaceutical agents targeting JCV infection for the treatment and the prevention of viral reactivation leading to the development of PML. As JCV primarily reactivates in immunocompromised patients, it is proposed that the immune system (mainly the cellular-immunity component) plays a key role in the regulation of JCV to prevent productive infection and PML development. However, the exact mechanism of JCV immune regulation and reactivation is not well understood. Likewise, the impact of host factors on JCV regulation and reactivation is another understudied area. Here we discuss the current literature on host factor-mediated and immune factor-mediated regulation of JCV gene expression with the purpose of developing a model of the factors that are bypassed during JCV reactivation, and thus are potential targets for the development of therapeutic interventions to suppress PML initiation.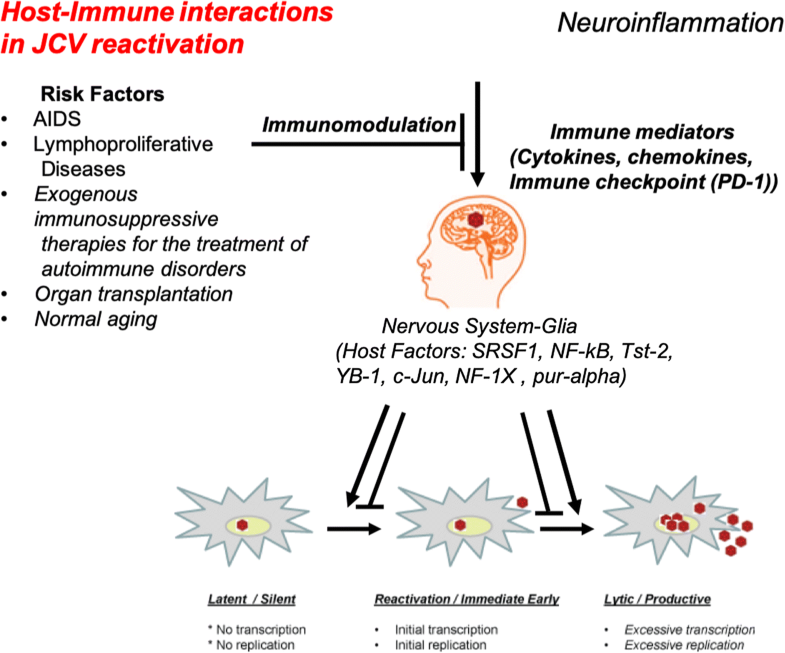 Keywords
JC virus 
PML 
Immunosuppression 
Reactivation 
Diagnosis 
Therapy 
Notes
Funding
This work was made possible by grants awarded by NIH to IKS (AI101192).
Compliance with Ethical Standards
Conflict of Interest
The authors declare no conflict of interest.
Ethical Approval
This article does not contain any studies with human participants or animals performed by any of the authors.
Copyright information
© Springer Science+Business Media, LLC, part of Springer Nature 2019