Current and Future Therapeutic Strategies for Lentiviral Eradication from Macrophage Reservoirs
Abstract
Macrophages, one of the most abundant populations of leukocytes in the body, function as the first line of defense against pathogen invaders. Human Immunodeficiency virus 1 (HIV-1) remains to date one of the most extensively studied viral infections. Naturally occurring lentiviruses in domestic and primate species serve as valuable models to investigate lentiviral pathogenesis and novel therapeutics. Better understanding of the role macrophages play in HIV pathogenesis will aid in the advancement towards a cure. Even with current efficacy of first- and second-line Antiretroviral Therapy (ART) guidelines and future efficacy of Long Acting Slow Effective Release-ART (LASER-ART); ART alone does not lead to a cure. The major challenge of HIV eradication is viral latency. Latency Reversal Agents (LRAs) show promise as a possible means to eradicate HIV-1 from the body. It has become evident that complete eradication will need to include combinations of various effective therapeutic strategies such as LASER-ART, LRAs, and gene editing. Review of the current literature indicates the most promising HIV eradication strategy appears to be LASER-ART in conjunction with viral and receptor gene modifications via the CRISPR/Cas9 system.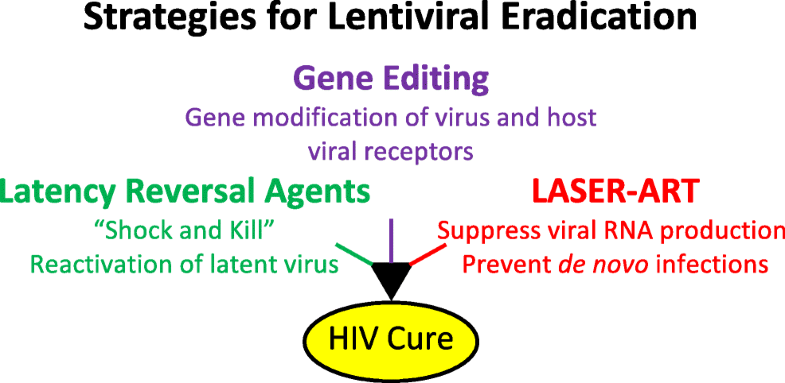 Keywords
Macrophages 
Lentiviruses 
HIV 
Antiretroviral therapy 
Latency reversal agents 
CRISPR/Cas9 
Eradication 
Notes
Funding information
OD11104, NS104016, MH113517 and a Ruth L. Kirschstein National Research Service Award (5T32OD011124-13) from Tulane University of Louisiana.
Compliance with ethical standards
Conflict of Interest
Dr. Tiffany A. Peterson declares that she has no conflict of interest. Dr. Andrew G. MacLean declares that he has no conflict of interest.
Ethical approval
This article does not contain any studies with human participants or animals performed by any of the authors.
Copyright information
© Springer Science+Business Media, LLC, part of Springer Nature 2018