Low-Dose Aspirin Upregulates Tyrosine Hydroxylase and Increases Dopamine Production in Dopaminergic Neurons: Implications for Parkinson's Disease
Abstract
Increasing the function of residual dopaminergic neurons in the nigra of PD patients is an important area of research as it may eventually compensate the loss. Although tyrosine hydroxylase (TH) is the rate-limiting enzyme in the dopamine (DA) biosynthesis pathway, there are no effective drugs/molecules to upregulate TH and increase the production of DA in nigral dopaminergic neurons. This study underlines the importance of aspirin in stimulating the expression of TH and increasing the level of DA in dopaminergic neurons. At low doses, aspirin increased the expression of TH and the production of DA in mouse MN9D dopaminergic neuronal cells. Accordingly, oral administration of aspirin increased the expression of TH in the nigra and upregulated the level of DA in striatum of normal C57/BL6 mice and aged A53T α-syn transgenic mice. Oral aspirin also improved locomotor activities of normal mice and A53T transgenic mice. While investigating mechanisms, we found the presence of cAMP response element (CRE) in the promoter of TH gene and the rapid induction of cAMP response element binding (CREB) activation by aspirin in dopaminergic neuronal cells. Aspirin treatment also increased the level of phospho-CREB in the nigra of C57/BL6 mice. The abrogation of aspirin-induced expression of TH by siRNA knockdown of CREB and the recruitment of CREB to the TH gene promoter by aspirin suggest that aspirin stimulates the transcription of TH in dopaminergic neurons via CREB. These results highlight a new property of aspirin in stimulating the TH-DA pathway, which may be beneficial in PD patients.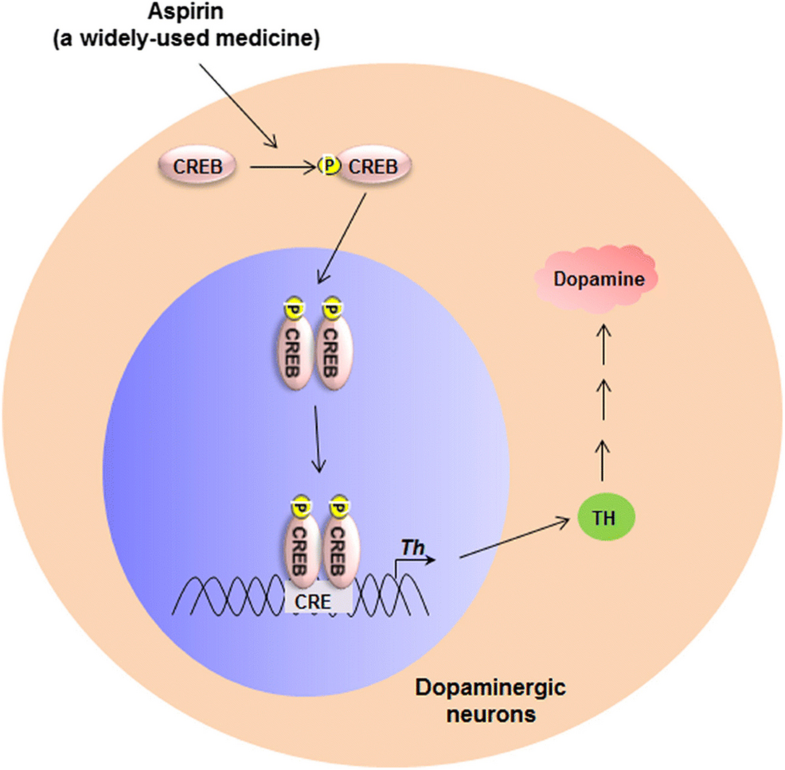 Keywords
Aspirin 
Tyrosine hydroxylase 
Dopamine 
CREB 
Substantia nigra pars compacta 
Striatum 
Notes
Acknowledgements
This study was supported by merit awards from Department of Veteran Affairs (I01BX002174 and I01BX003033) and a grant (NS083054) from NIH.
Compliance with Ethical Standards
Conflict of Interests
None.
Copyright information
© Springer Science+Business Media, LLC, part of Springer Nature 2018