Broad Spectrum Mixed Lineage Kinase Type 3 Inhibition and HIV-1 Persistence in Macrophages
Abstract
Mixed lineage kinases (MLKs) are a group of serine-threonine kinases that evolved in part to respond to endogenous and exogenous insults that result in oxidative stress and pro-inflammatory responses from innate immune cells. Human immunodeficiency virus type 1 (HIV-1) thrives in these conditions and is associated with the development of associated neurocognitive disorders (HAND). As part of a drug discovery program to identify new therapeutic strategies for HAND, we created a library of broad spectrum MLK inhibitors with drug-like properties. Serendipitously, the lead compound, URMC-099 has proved useful not only in reversing damage to synaptic architecture in models of HAND, but also serves to restore autophagy as a protective response when given in concert with nanoformulated antiretroviral therapy (nanoART) in persistently infected macrophages. These findings are reviewed in the context of MLK3 biology and cellular signaling pathways relevant to new HIV-1 therapies.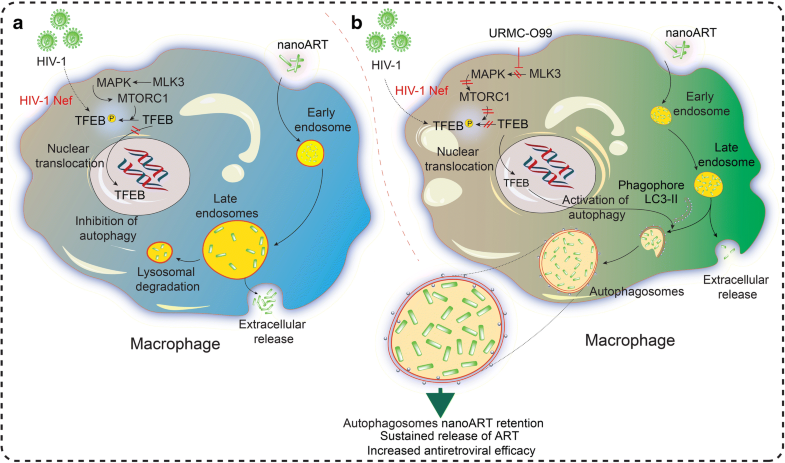 Keywords
Autophagy 
Human immunodeficiency virus type 1 
Macrophage 
Mixed lineage kinase 
Central nervous system 
Notes
Acknowledgments
This work was supported, in part, by the University of Nebraska Foundation, which includes individual donations from C Swarts, H Singer and Frances and L Blumkin, and NIH grants P01 MH64570, RO1 MH104147, P01 DA028555, R01 NS36126, P01 NS31492, 2R01 NS034239, P01 NS43985, P30AI078498, P30 MH062261 and R01 AG043540. URMC-099 is owned by URMC (HA Gelbard. lead inventor: patent nos. US 8,846,909 B2; 8,877,772; and 9,181,247 and associated international patents). No writing assistance was utilized in the production of this manuscript.
Copyright information
© Springer Science+Business Media, LLC, part of Springer Nature 2019