Abstract
The knowledge about thermo-mechanical properties of granite is still limited to some extent. Individual measurements are necessary to obtain reliable properties for specific granite types. A reliable numerical model of thermal cracking behaviours of granite exposed to extreme high temperatures (e.g. 800–1000 °C) is missing. In this study, the impact of temperature up to 1000 °C on physical, mechanical, and thermal properties as well as thermo-mechanical coupled behaviour of Eibenstock granite was investigated by laboratory testing and numerical simulations. The physical properties including mineral composition, density, P-wave velocity, and open porosity are measured to be temperature dependent. Uniaxial compression and Brazilian tests were carried out to measure uniaxial compressive strength (UCS), Young's modulus, stress–strain relationship, and tensile strength of Eibenstock granite before and after thermal treatment, respectively. Thermal properties including specific heat, thermal conductivity, thermal diffusivity, and linear thermal expansion coefficient are also measured and found to be temperature dependent, especially the expansion coefficient which shows a steep increase around 573 °C as well as at 870 °C. The numerical simulation code FLAC3D was used to develop a numerical scheme to simulate the thermal-induced damage of granite at high temperatures. Statistical methods combined with real mineral composition were used to characterize the heterogeneity of granite. The numerical model is featured with reliable temperature-dependent parameters obtained from laboratory tests. It can well reproduce the laboratory results in form of thermal-induced micro- and macrocracks, as well as the stress–strain behaviour and the final failure pattern of Eibenstock granite after elevated temperatures up to 1000 °C. The simulation results also reveal that the thermal-induced microcracks are randomly distributed across the whole sample. Although most thermal-induced damages are tensile failures, shear failure begins to develop quickly after 500 °C. The obvious UCS reduction in granite due to heating is mainly caused by the increase in shear failure. The simulation also shows that the dominant impact of α–β quartz transition is widening pre-existing cracks rather than the formation of new microcracks.
This is a preview of subscription content, log in to check access.
Access options
Buy single article
Instant access to the full article PDF.
US$ 39.95
Price includes VAT for USA
Subscribe to journal
Immediate online access to all issues from 2019. Subscription will auto renew annually.
US$ 99
This is the net price. Taxes to be calculated in checkout.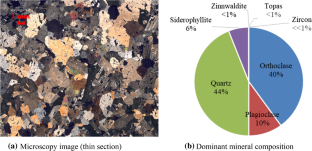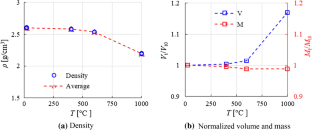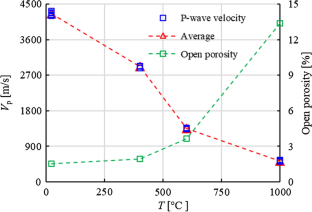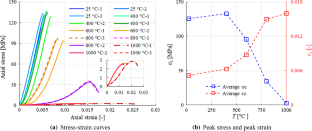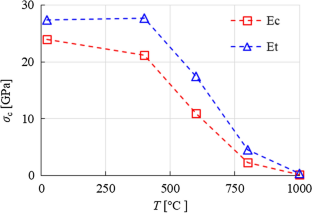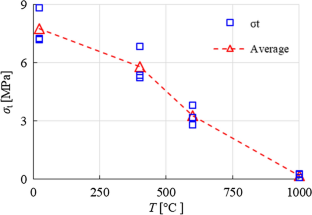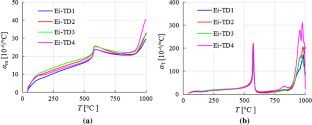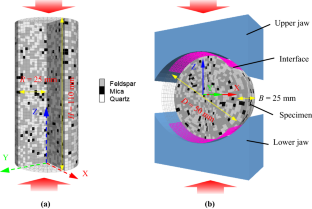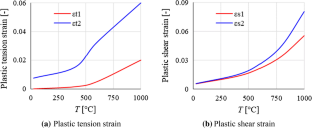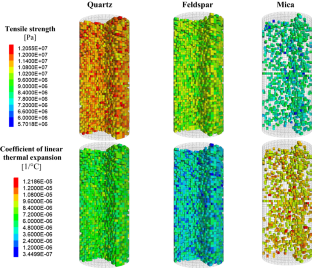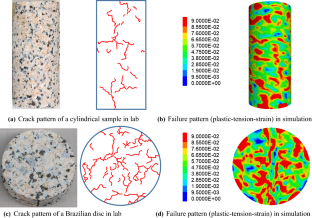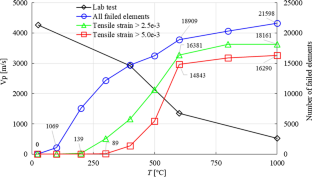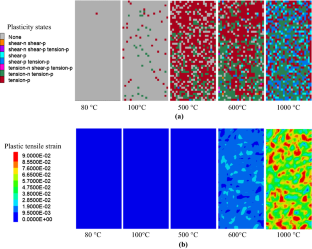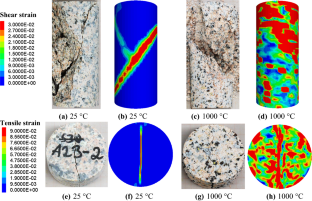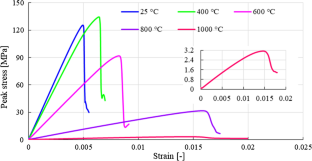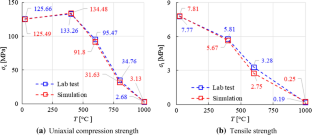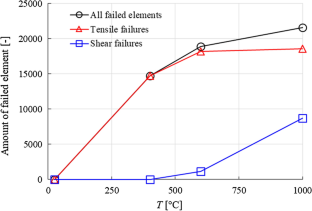 References
1.

Bauer SJJ, Johnson B (1979) Effects of slow uniform heating on the physical properties of the westerly and charcoal granites. In: Proceedings of 20th US symposium rock mechanics, pp 7–18

2.

Chen W, Konietzky H (2014) Simulation of heterogeneity, creep, damage and lifetime for loaded brittle rocks. Tectonophysics 633:164–175. https://doi.org/10.1016/j.tecto.2014.06.033

3.

Chen Y, Wang S, Ni J et al (2017) An experimental study of the mechanical properties of granite after high temperature exposure based on mineral characteristics. Eng Geol 220:234–242. https://doi.org/10.1016/j.enggeo.2017.02.010

4.

DIN EN 1936 (2007) Natural stone test method—determination of real density and apparent density, and of total and open porosity. Deutsches Institut für Normung [DIN], Berlin, Germany

5.

Dwivedi RD, Goel RK, Prasad VVR, Sinha A (2008) Thermo-mechanical properties of Indian and other granites. Int J Rock Mech Min Sci 45:303–315. https://doi.org/10.1016/j.ijrmms.2007.05.008

6.

Freire-Lista DM, Fort R, Varas-Muriel MJ (2016) Thermal stress-induced microcracking in building granite. Eng Geol 206:83–93. https://doi.org/10.1016/j.enggeo.2016.03.005

7.

Griffiths L, Lengliné O, Heap MJ et al (2018) Thermal cracking in westerly granite monitored using direct wave velocity, coda wave interferometry, and acoustic emissions. J Geophys Res Solid Earth 123:2246–2261. https://doi.org/10.1002/2017JB015191

8.

Hartlieb P, Toifl M, Kuchar F et al (2016) Thermo-physical properties of selected hard rocks and their relation to microwave-assisted comminution. Miner Eng 91:34–41. https://doi.org/10.1016/j.mineng.2015.11.008

9.

Heuze FE (1983) High-temperature mechanical, physical and thermal properties of granitic rocks: a review. Int J Rock Mech Min Sci Geomech Abstr 20:3–10

10.

Hidnert P, Dickson G (1945) Some physical properties of mica. J Res Natl Bur Stand 35:309–353

11.

ISRM (1978) Suggested methods for determining tensile strength of rock materials. Int J Rock Mech Min Sci Geomech Abstr 15:99–103

12.

ISRM (1979) Suggested methods for determining the uniaxial compressive strength and deformability of rock materials. Int J Rock Mech Min Sci Geomech Abstr 16:137–140. https://doi.org/10.1016/0148-9062(79)91450-5

13.

Itasca (2019) FLAC3D fast Lagrangian analysis of continua in 3 dimensions—FLAC3D 7.0 documentation

14.

James JD, Spittle JA, Brown SGR, Evans RW (2001) A review of measurement techniques for the thermal expansion coefficient of metals and alloys at elevated temperatures. Meas Sci Technol 12:R1–R15. https://doi.org/10.1088/0957-0233/12/3/201

15.

Johnson B, Gangi AF, Handin J (1978) Thermal cracking of rock subjected to slow, uniform temperature changes. In: Proceedings of 19th US symposium rock mechanics, vol 19, pp 259–267. https://doi.org/10.1016/0148-9062(79)91483-9

16.

Lin W (2002) Permanent strain of thermal expansion and thermally induced microcracking in Inada granite. J Geophys Res Solid Earth 107:6. https://doi.org/10.1029/2001JB000648

17.

Liu HY, Roquete M, Kou SQ, Lindqvist PA (2004) Characterization of rock heterogeneity and numerical verification. Eng Geol 72:89–119. https://doi.org/10.1016/j.enggeo.2003.06.004

18.

Nordlund E, Zhang P, Dineva S, Saiang C, Mainali G (2014) Impact of fire on the stability of hard rock tunnels in Sweden. Stiftelsen bergteknisk forskning-Befo, Stockholm, Sweden. ISSN: 1104-1773. http://www.befoonline.org/UserFiles/Archive/443/BeFo_Rapport_136_skyddad.pdf

19.

Otto C, Kempka T (2015) Thermo-mechanical simulations confirm: temperature-dependent mudrock properties are nice to have in far-field environmental assessments of underground coal gasification. Energy Procedia 76:582–591. https://doi.org/10.1016/j.egypro.2015.07.875

20.

Polyakova IG (2014) The main silica phases and some of their properties. In: Schmelzer JWP (ed) Glass: selected properties and crystallization. De Gruyter, Berlin, pp 197–268

21.

Robertson EC (1988) Thermal properties of rocks. US Department of Interior Geology Survey, pp 88–441

22.

Saiang C, Miskovsky K (2011) Effect of heat on the mechanical properties of selected rock types—a laboratory study. In: 12th ISRM congress. International society for rock mechanics and rock engineering

23.

Shao S, Wasantha PLP, Ranjith PG, Chen BK (2014) Effect of cooling rate on the mechanical behavior of heated Strathbogie granite with different grain sizes. Int J Rock Mech Min Sci 70:381–387. https://doi.org/10.1016/j.ijrmms.2014.04.003

24.

Siegesmund S, Snethlage R (2013) Stone in architecture, 4th edn. Springer, Berlin

25.

Tan X, Konietzky H, Frühwirt T (2014) Laboratory observation and numerical simulation of permeability evolution during progressive failure of brittle rocks. Int J Rock Mech Min Sci 68:167–176. https://doi.org/10.1016/j.ijrmms.2014.02.016

26.

Tan X, Konietzky H, Chen W (2016) Numerical simulation of heterogeneous rock using discrete element model based on digital image processing. Rock Mech Rock Eng 49:4957–4964. https://doi.org/10.1007/s00603-016-1030-0

27.

Tham LG, Cheung YK, Tang CA (2001) Numerical simulation of the failure process of rocks. Tamkang J Sci Eng 4:239–252

28.

Tribaudino M, Angel RJ, Cámara F et al (2010) Thermal expansion of plagioclase feldspars. Contrib Min Petrol 160:899–908. https://doi.org/10.1007/s00410-010-0513-3

29.

Vales F, Rezakhanlou R (1999) Determination of the fracture mechanical parameters of porous ceramics from microstructure parameters measured by quantitative image analysis. J Mater Sci 4:4081–4088. https://doi.org/10.1023/A:1004632503249

30.

Wang F, Konietzky H (2019) Thermo-mechanical properties of granite at elevated temperatures and numerical simulation of thermal cracking. Rock Mech Rock Eng. https://doi.org/10.1007/s00603-019-01837-1

31.

Wang F, Frühwirt T, Konietzky H, Zhu Q (2019) Thermo-mechanical behaviour of granite during high-speed heating. Eng Geol 260:105258. https://doi.org/10.1016/j.enggeo.2019.105258

32.

Wang F, Konietzky H, Herbst M (2019) Influence of heterogeneity on thermo-mechanical behaviour of rocks. Comput Geotech 116:103184. https://doi.org/10.1016/j.compgeo.2019.103184

33.

Weinhold S (2018) Changes of mechanical properties and mineralogical composition of Eibenstock granite through thermal treatment (in German). Technische Universität Bergakademie Freiberg

34.

Wen H, Lu JH, Xiao Y, Deng J (2015) Temperature dependence of thermal conductivity, diffusion and specific heat capacity for coal and rocks from coalfield. Thermochim Acta 619:41–47. https://doi.org/10.1016/j.tca.2015.09.018

35.

Yan C, Jiao Y (2019) A 2D discrete heat transfer model considering the thermal resistance effect of fractures for simulating the thermal cracking of brittle materials. Acta Geotech. https://doi.org/10.1007/s11440-019-00821-x

36.

Yan C, Zheng H (2017) A coupled thermo-mechanical model based on the combined finite-discrete element method for simulating thermal cracking of rock. Int J Rock Mech Min Sci 91:170–178. https://doi.org/10.1016/j.ijrmms.2016.11.023

37.

Yang SQ, Tian WL, Huang YH (2018) Failure mechanical behavior of pre-holed granite specimens after elevated temperature treatment by particle flow code. Geothermics 72:124–137. https://doi.org/10.1016/j.geothermics.2017.10.018

38.

Yu Q, Zhu W, Ranjith PG, Shao S (2018) Numerical simulation and interpretation of the grain size effect on rock strength. Geomech Geophys Geoenergy Georesour 4:157–173. https://doi.org/10.1007/s40948-018-0080-z

39.

Zhao Z (2016) Thermal influence on mechanical properties of granite: a microcracking perspective. Rock Mech Rock Eng 49:747–762. https://doi.org/10.1007/s00603-015-0767-1

40.

Zhu C, Arson C (2014) A thermo-mechanical damage model for rock stiffness during anisotropic crack opening and closure. Acta Geotechnol 9:847–867. https://doi.org/10.1007/s11440-013-0281-0

41.

Zhu Z, Tian H, Mei G et al (2019) Experimental investigation on physical and mechanical properties of thermal cycling granite by water cooling. Acta Geotechnol. https://doi.org/10.1007/s11440-019-00898-4
Acknowledgements
The first author would like to thank China Scholarship Council (CSC) (Grand No. 201606420069) for financial support doing research in Germany. Thanks for Mr. Wang Tongsheng in Wuhan University of Science and Technology for his help in testing the thermal conductivity.
Additional information
Publisher's Note
Springer Nature remains neutral with regard to jurisdictional claims in published maps and institutional affiliations.
About this article
Cite this article
Wang, F., Konietzky, H., Frühwirt, T. et al. Laboratory testing and numerical simulation of properties and thermal-induced cracking of Eibenstock granite at elevated temperatures. Acta Geotech. (2020). https://doi.org/10.1007/s11440-020-00926-8
Received:

Accepted:

Published:
Keywords
Granite property

Heterogeneity

Numerical simulation

Thermo-mechanical behaviour

Thermal damage