A Protocol of Pose Avoidance in Place of Hip Precautions After Posterior-Approach Total Hip Arthroplasty May Not Increase Risk of Post-operative Dislocation
Abstract
Background
Post-operative rehabilitation after posterior-approach total hip arthroplasty (P-THA) includes the use of standard hip precautions, defined as no hip flexion beyond 90°, hip adduction, or hip internal rotation for 6 to 12 weeks after surgery (sometimes for life). Since they were first implemented in the 1970s, subsequent advances may have made standard hip precautions no longer necessary, although little evidence supports that hypothesis. A modified set of precautions, a "pose avoidance protocol," could be effective in enhancing recovery, but its effectiveness on early dislocation and post-surgical outcomes is not known.
Questions/Purposes
We sought to determine the functional recovery of patients on a pose avoidance protocol after P-THA according to levels of pain and patient satisfaction, rates of dislocation, the use of assistive devices, and a return to driving.
Methods
We conducted a retrospective, descriptive study of data from a consecutive case series of 164 patients treated by a single surgeon between January 2014 and December 2015. Patients who had undergone a primary uncemented P-THA were prescribed a pose avoidance protocol and followed for a minimum of 6 weeks. Exclusion criteria were patients with congenital hip dysplasia, revision THA, femoral neck fracture, rheumatoid arthritis, or neuromuscular disease. Changes to the rehabilitation protocol included elimination of the requirements to use elevated chairs, raised toilet seats, and abduction pillows for sleeping. Patients could resume driving at 2 and 3 weeks for left and right P-THA, respectively. The only motion restriction was avoiding the combination of hip flexion past 90°, hip adduction, and hip internal rotation. Patients could perform all other movements and to bear weight and stop using walking aids as tolerated. Patients completed a biweekly questionnaire to assess their functional recovery, opioid use, and pain levels.
Results
At 2 weeks after surgery, 80% of patients reported no pain, 86% did not require walking aids, and 92% were satisfied with their recovery. At 6 weeks after surgery, 89% of patients reported no pain. Patients returned to driving at a mean of 2.7 weeks after surgery. No patients had experienced a dislocation at 6 weeks of follow-up.
Conclusion
A pose avoidance rehabilitation protocol in this P-THA population was found to be safe and was associated with accelerated functional recovery and high patient satisfaction without increased risk of early post-operative dislocation.
Keywords
hip precautions 
total hip arthroplasty 
posterior approach 
post-operative rehabilitation 
rapid recovery 
reduced hip precautions 
pose avoidance 
Introduction
Total hip arthroplasty (THA) is one of the most successful methods used to address the pain and dysfunction caused by hip osteoarthritis. Nearly 1 million THAs are performed annually worldwide, and surgical volume is projected to grow as patients elect to have surgery at younger ages than ever before [10]. The demand for more-rapid recovery and a return to normal function has increased in kind.
A number of surgical approaches are used to perform a THA, the two most popular in the USA being the posterolateral approach (P-THA) and the direct anterior approach (A-THA). The A-THA has gained in popularity among surgeons and in the media because of the potential for a faster recovery, although there is little evidence to support this [
2
]. This idea may be the result of the fact that post-operative instructions after A-THA typically involve minimal precautions, specifically avoiding combined hip extension and external rotation. In contrast, post-operative recovery after P-THA has, up to this point, involved following standard hip precautions (defined for the purposes of this paper as limiting hip flexion to 90° or less and no internal rotation or adduction of the affected hip [
17
]). Standard hip precautions are recommended after P-THA in an effort to both eliminate early dislocations and protect posterior soft tissue repairs. Standard hip precautions include the use of durable medical equipment such as reachers, raised toilet seats, and abduction pillows (Table
1
) to perform daily activities, but such requirements may limit independence and slow recovery [
10
].
Table 1
Differences between hip precautions protocols
 

Standard precautions

Pose avoidance precautions

Positions to avoid

Hip flexion > 90°

Hip internal rotation

Hip adduction

Combined hip flexion > 90°, adduction, internal rotation

Functional tasks limited by precautions

Lying on one's side

Putting on and taking off shoes

Sitting on a standard height chair or toilet

Reaching to pick up objects from floor

Shaving legs

Getting up or down from ground

Shaving the outside of one's leg

Putting on or taking off shoes by reaching to the outside of one's leg

Adaptive equipment required

Raised toilet seat

Reacher

Long-handled shoehorn

Sock aid

"Easy-up" cushion

Elastic shoelaces or slip-on shoes

Abduction pillow for sleeping

None
Dislocation is one of the most common complications of THA, occurring a median of 40 days post-operatively [1, 6, 16, 23]. In several earlier series, dislocations were shown to be more common with a posterior or posterolateral approach than with lateral and anterior approaches [5, 23]. However, research has shown that improved surgical techniques, such as a careful posterior soft tissue repair, have decreased the risk of dislocations caused by larger-diameter femoral heads on implants [13]. There is little evidence from recent years to suggest that adhering to standard hip precautions reduces dislocation rates in patients undergoing either A-THA and P-THA or that one surgical approach puts patients at a greater risk for dislocation than another. In light of these changes, the question of whether standard hip precautions after P-THA are necessary needs to be revisited.
To that end, some surgeons have begun to modify the hip precautions issued to patients after P-THA. These simplified precautions, termed "pose avoidance" at our institution, instruct the patient only to avoid the combined motion of hip flexion past 90°, hip internal rotation, and hip adduction (Fig. 
1
). A good example of this motion is reaching down to the outside of the shin on the leg on which the P-THA was performed. Patients are allowed to perform all other functional movements to tolerance. Evidence supporting the use of these reduced precautions is growing. In 2016, Kornuijt et al. concluded that for experienced surgeons using P-THA and femoral heads of diameter 28 mm or greater, it is safe to instruct patients to use minimal precautions in the immediate post-operative period to protect against dislocation [
8
].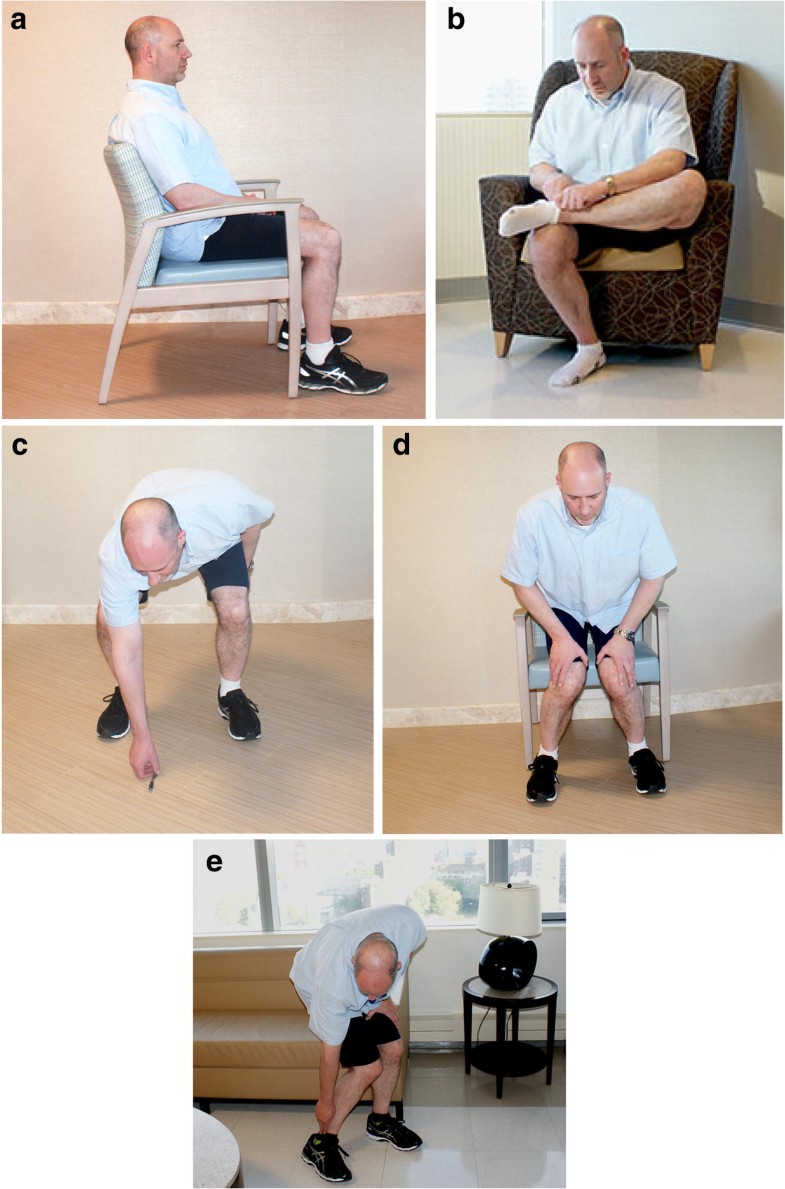 As surgical procedures and techniques evolve, so too must rehabilitation protocols, and such protocols must be proven safe. There has been much research on rapid recovery protocols in the acute care setting, their effect on hospital length of stay and readmission rates, and recommended physical therapy (PT) interventions to speed recovery [22]. However, few studies have considered a modified precaution rehabilitation protocol in a P-THA population after discharge. Modified precautions, if shown to be effective, could increase patients' convenience and comfort and ease the burden on caregivers.
We sought to describe dislocation rates and determine early functional outcomes in patients following pose avoidance hip precautions after unilateral primary P-THA. Our hypothesis was that pose avoidance precautions after a P-THA with a soft tissue repair would produce good early functional outcomes with no increase in dislocation risk. We had three specific research questions: (1) Do patients using pose avoidance after P-THA reach functional recovery milestones, such as an earlier-than-usual return to driving? (2) What are pain and satisfaction levels in patients using pose avoidance after P-THA? (3) Are the rates of dislocation in patients on a pose avoidance protocol after P-THA similar to those in patients on standard hip precautions?
Patients and Methods
After obtaining institutional review board approval, we retrospectively reviewed the medical charts of a consecutive case series of 164 patients who underwent a unilateral primary P-THA for osteoarthritis with posterior soft tissue repair treated by a single surgeon (D.J.M.) between January 2014 and December 2015. In January 2014, the surgeon changed his post-operative instructions to patients from the standard hip precautions to pose avoidance. Patients were excluded if they had revision THA, THA for fracture, inflammatory arthritis, bilateral THA, a neuromuscular disorder (such as Parkinson's disease, dementia, or pre-existing peroneal nerve palsy), or dysplastic hips in which modular implants were required. Of the 164 patients who met the inclusion criteria, 72 were female and 92 were male, with an average age of 56 years (range, 40 to 81 years; standard deviation, 6.2 years). Patients meeting one of the exclusion criteria were instructed to follow standard hip precautions instead of pose avoidance.
Early clinical outcomes were assessed via a Health Insurance Portability and Accountability Act–compliant electronic questionnaire (Fig. 
2
) emailed to patients at 2 and 6 weeks after surgery. Patients received a biweekly questionnaire post-operatively that asked them to report their functional milestones and satisfaction. All results were recorded in a password-protected database and analyzed according to percentages within the cohort. Pain levels were recorded by patients using a numeric pain rating scale (NPRS) (0 = no pain, 10 = the worst pain). Dislocations were assessed by medical record review. Outcome variables included use of walking aids, time to driving, pain level, opioid use, and patient satisfaction. Additionally, all patients underwent clinical examination and radiography at 6 weeks after surgery.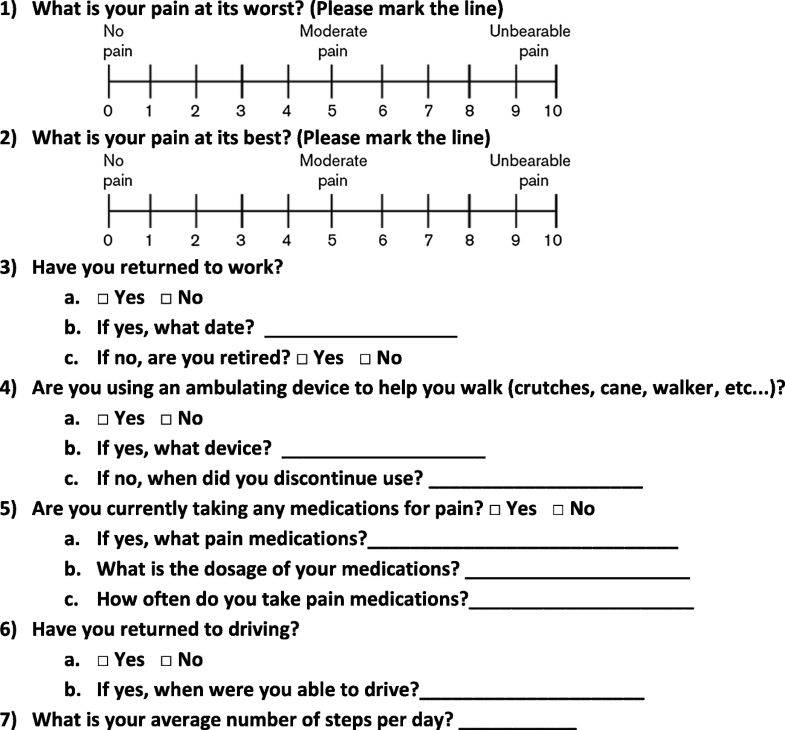 All patients underwent THA with either imageless optical navigation (AchieveCAS, Smith & Nephew, Memphis, TN, USA) or computed tomography–based navigation (Mako Surgical, Gainesville, FL, USA). A 10-cm posterolateral incision was made. The iliotibial band and gluteus maximus were split, and the short external rotators were released from the femur. A posterior capsulotomy was completed, and both the capsule and short external rotators were tagged. The femoral neck was cut in accordance with the pre-operative plan. The acetabulum was exposed and sequentially reamed to bleeding bone. The position was checked with a navigated pointer, and the final component orientation was recorded. Pre-operative templating and intra-operative observation were used to prepare the femur. The femur was then assessed for stability and to ensure impingement-free motion. Leg length was measured using navigation. An enhanced soft tissue repair was completed with Ethibond suture and bone tunnels in the greater trochanter. Implants used included 28-to-36-mm heads and either a cementless ream–broach fit-and-fill stem (Synergy, Smith & Nephew, Memphis, TN, USA) or a cementless broach-only flat tapered-wedge stem (Accolade, Stryker, Mahwah, NJ, USA). Head size was determined largely by the cup size; the surgeon generally used the largest size recommended by the manufacturer in an effort to improve jump distance and joint stability.
Patients were seen by PT on the day of surgery with the goal of ambulation. They were subsequently seen twice a day by a physical therapist and once a day by a mobility technician until they were cleared by PT for discharge. Discharge criteria were ability to perform independent bed transfers, independent ambulation with appropriate assistive device, and independent nonreciprocal stair climbing if stairs were present at the discharge destination.
All patients were placed on a pose avoidance protocol, which entails just one precaution: avoiding the combination of hip flexion past 90°, hip internal rotation, and hip adduction, which they were to follow from the day of surgery (Table 1, Fig. 1). This was to keep patients from reaching around the outside of their operative shin, precluding activities such as leg shaving and adjusting shoes or socks. Unlike standard hip precautions, pose avoidance allows for hip flexion past 90°, sitting in chairs of a comfortable height, bending to pick up objects, and sleeping in comfortable positions. Inpatient PT provided education on the protocol, and upon discharge, patients received a handout (Fig. 1), a home exercise program, and a PT prescription, all of which incorporated pose avoidance precautions. The handout was created to facilitate patients' understanding of and compliance with the pose avoidance protocol. It showed photos of the "poses to avoid" and "poses that are safe." Patients were allowed to drive at 3 weeks post-operatively with a right P-THA and at 2 weeks with a left P-THA, provided they were not taking opioids and were able to flex past 90°. Patients were not required to use elevated toilet seats or abduction pillows.
Such modifications allowed for functional activity training beginning 1 to 2 weeks after surgery; training included how to don and doff shoes, reach to the floor to pick up objects, and move from sitting to standing from a standard-height chair. The protocol also guided therapists; aggressive passive hip range of motion exercises were discouraged until 6 weeks after the date of surgery.
Results
Of the 164 patients reviewed, none sustained a dislocation during the first 6 weeks after surgery. Follow-up was 100% over the 6-week period. At 2 weeks post-operatively, 80% (131 of 164) of the patients reported no pain, and the remaining 20% had NPRS scores of less than 5. At 6 weeks, 89% (n = 146) reported no pain, and the remaining 11% had NPRS scores of less than 3. At 2 weeks, 69% (n = 113) of patients reported reduced opioid pain medication use since discharge. At 2 weeks, 86% (n = 141) were walking without walking aids, and 92% (151) were satisfied with their recovery. Patients returned to driving a mean of 2.7 weeks after surgery. Overall, 92% (n = 151) of patients were satisfied with their results at 2 weeks.
Discussion
This retrospective case series found that patients following pose avoidance precautions after THA experienced no dislocations at 6 weeks, little to no pain at 2 weeks, high satisfaction levels, and a fast return to functional independence. Some of these findings were similar to those found in the literature. The rate of dislocations at 6 weeks was lower than most rates reported in the literature, which looked at the rate of dislocation up to 1 year post-operatively, as well as the incidence reported at our institution in 2017, which are both approximately 1% [4, 13, 14, 19].
This study has several limitations. First, it is a retrospective, descriptive study of patients treated by a single surgeon; single-surgeon series may overestimate results if patients go elsewhere when complications arise. This series is less prone to single-surgeon bias, however, because 100% of patients were seen at 6 weeks, and dislocation is most commonly recorded at that point or before [4]. Still, the data were collected retrospectively and information was limited to that available in the charts. Second, the absence of a comparison group is a limitation. We did not compare the outcomes studied (rate of dislocations, opioid use, pain levels, return to work, and driving) with those in an earlier cohort of patients treated by the same surgeon because too many facets of peri-operative care have changed. For example, the surgeon uses navigation technologies and robotic surgery that may reduce factors that predispose patients to instability [7]. Third, the follow-up period of 6 weeks is short, although 6 weeks is a time point commonly used in the literature to measure rates of early dislocation [11, 20], as well as the time through which precautions are generally applied [9]. It was assumed that dislocations occurring after 6 weeks would have occurred regardless of precautions. Nevertheless, follow-up data of longer duration would have provided a broader picture of the outcomes. Finally, all outcomes were based on patient self-report through questionnaire. Research has shown that patients may overestimate their functional capacity after THA [3], and inclusion of functional outcome measures would have strengthened this study.
There is precedent in the literature regarding the reduction of standard hip precautions, although how they have been modified has varied. Talbot et al. described one of the earliest series of patients given no precautions to follow after A-THA [20]. Although there were three dislocations in the first 6 weeks (0.6%) in the series of 499 patients, all were successfully managed with closed reduction without recurrence; the authors concluded that hip precautions did not influence the rate of early dislocation after A-THA [20]. Peak et al. conducted a prospective, randomized study with 6 months of follow-up in which two hip precaution protocols were compared in a cohort of 265 patients treated with an anterolateral approach. One group was "unrestricted" in terms of need for adaptive equipment but still restricted in terms of range of motion (hip flexion past 90°, no adduction, and internal or external rotation past 45°). Additional precautions were used in the other group. There was one reported dislocation in the restricted group. The authors concluded that following standard hip precautions impeded early recovery, added costs ($655 for equipment), and did not reduce dislocation rates. Rates of return to functional activity and satisfaction were similar to those reported in our series. However, unlike our series, all patients were subjected to range-of-motion restrictions [12]. A recent meta-analysis of six studies had similar results and found that standard hip precautions were not effective for preventing dislocations after P-THA or A-THA, with dislocation rates of 1.5% (eight of 528) in restricted groups and 1% (six of 594) in unrestricted groups [21]. Furthermore, patients with no or limited precautions resumed activities faster and were more satisfied. Finally, a 2019 multi-center study did not find a difference in dislocation rates following a P-THA in patients who were given standard precautions or no hip precautions for 6 weeks post-operatively [4].
Despite the challenges posed by these four studies [4, 12, 20, 21], standard hip precautions remain widely used. Adherence to standard hip precautions may negatively affect functional recovery by inducing fear in patients and delaying their return to daily activities. Unsurprisingly, physical therapists are beginning to challenge their use. A recent survey of UK rehabilitation clinicians reported that 97% routinely prescribed standard hip precautions, but 25% believed their use should not be routine practice [18]. The same study also reported that although 87% of patients undergoing THA receive durable medical equipment, only 54% of survey respondents said they thought patients should routinely be prescribed such equipment and 48% said they would change their practice if they could [18].
Patient expectations are paramount during the early post-operative period, and removing THA precautions can alter both a patient's recovery and their perception of it. A 2015 study from the Mayo Clinic retrospectively compared the direct anterior with the mini-posterolateral (MP) approach in 222 patients and found that neither group followed any hip precautions [15]. In contrast to previous studies, there were no significant differences in mean length of stay (2.2 days), complications, distance walked in the hospital, or rate of home discharge (80%; all p > 0.2) between the two groups. The A-THA was associated with significantly longer surgical times (mean, 114 min) than the MP approach (mean, 60 min), pain at 2 weeks on an NPRS (5.3 A-THA versus 3.8 MP; p < 0.001), and higher Harris Hip scores at 8 weeks. In the MP group, a significantly higher proportion were free of walking aids at 2 weeks (8% A-THA versus 32% MP; p < 0.001), and more had returned to work and to driving at 8 weeks. More wound problems were seen in the MP group (p < 0.01), although no patient had to return to the operating room for management [15]. Our study's findings were similar, albeit ours involved a retrospective case series of patients undergoing a posterior-approach P-THA and soft tissue repair instead of an MP approach, and with patients following pose avoidance precautions instead of no precautions at all. Our findings suggest what many surgeons have suspected: there are more factors at play than just surgical approach in determining early functional outcomes after modern THA. As clinicians' views change and the risk of dislocation decreases, research and discussion are warranted to further explore who can benefit from not following hip precautions or from following a limited protocol and which factors affect early functional outcomes.
In conclusion, in this retrospective case series, patients following a pose avoidance protocol after undergoing unilateral P-THA demonstrated a rapid recovery and high levels of overall satisfaction. Pose avoidance did not increase the risk of early post-operative THA instability or of dislocation in the first 6 weeks after surgery. Further research, including randomized, controlled trials with adequately powered groups, is needed to confirm the effectiveness and safety of pose avoidance as a rehabilitation protocol after P-THA.
Notes
Compliance with Ethical Standards
Conflict of Interest
Erica Fritz Eannucci, PT, DPT, OCS, Brian T. Barlow, MD, and Kaitlin M. Carroll, BS, declare that they have no conflicts of interest. Seth A. Jerabek, MD, reports personal fees and royalties from Stryker, outside the submitted work. Peter K. Sculco, MD, reports personal fees from Intellijoint, outside the submitted work. David J. Mayman, MD, reports personal fees and research support from Smith & Nephew and stock or stock options from Imagen and OrthAlign, outside the submitted work.
Human/Animal Rights
All procedures followed were in accordance with the ethical standards of the responsible committee on human experimentation (institutional and national) and with the Helsinki Declaration of 1975, as revised in 2013.
Informed Consent
Informed consent was waived from all patients for being included in this study.
Required Author Forms
Disclosure forms provided by the authors are available with the online version of this article.
Copyright information
© Hospital for Special Surgery 2019