Abstract
Coal-fired power will remain China's primary source of electricity for a long time to come. The clean development of coal-fired power generation has become an important strategic choice for China's energy transformation. Based on collecting and sorting out the driving policies for China's clean development of coal-fired power generation from 1997 to 2016, firstly, we reviewed the historical evolution of these policies in terms of the policy quantity, policy theme, and policy instrument. Then, we designed the scoring criteria to quantify the policies. Finally, the effectiveness of the overall policies and different policy instruments was empirically analyzed by the econometric model built on the basis of Cobb-Douglas production function. The results show that the annual release amount of driving policies for the clean development of coal-fired power in China presents a trend of fluctuating growth. Policy themes are mainly divided into two parts, namely production capacity management and air pollutants control; policy instruments mainly include elimination of backward units, project approval, standards, generation price regulation, tax incentives, loan policy, and information publicity; the overall policies have significant positive effects on the clean development of coal-fired power industry; in terms of policy instruments, the elimination of backward units and generation price regulation have significant effects on improving the energy efficiency; project approval and generation price regulation are effective for reducing SO2 emissions rate; and the effects of standards, tax incentives, loan policy, and information publicity on the clean development of coal-fired power are not significant. On these bases, some policy implications to further promote the clean development of coal-fired power industry are provided.
This is a preview of subscription content, log in to check access.
Access options
Buy single article
Instant access to the full article PDF.
US$ 39.95
Price includes VAT for USA
Subscribe to journal
Immediate online access to all issues from 2019. Subscription will auto renew annually.
US$ 99
This is the net price. Taxes to be calculated in checkout.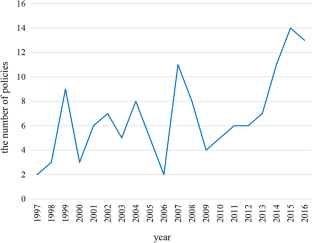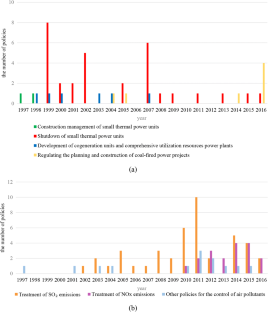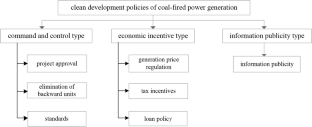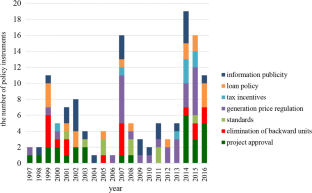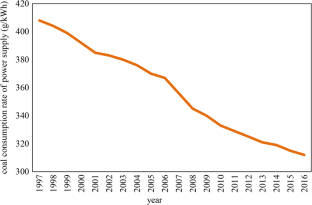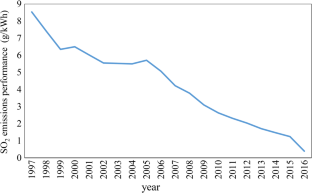 Notes
1.

2.

In different cases, the lag phases of policy variables were determined according to AIC and SC criteria.
References
Asane-Otoo E (2016) Competition policies and environmental quality: empirical analysis of the electricity sector in OECD countries. Energy Policy 95:212–223

Atsu D, Agyemang EO, Tsike SAK (2016) Solar electricity development and policy support in Ghana. Renew Sust Energ Rev 53:792–800

Arenas-Aquino AR, Matsumoto-Kuwabara Y, Kleiche-Dray M (2017) Public policy performance for social development: solar energy approach to assess technological outcome in Mexico City Metropolitan Area. Environ Sci Pollut Res 24:25571–25581

Bi GB, Shao Y, Song W, Yang F, Luo Y (2018) A performance evaluation of China's coal-fired power generation with pollutant mitigation options. J Clean Prod 171:867–876

Chang S, Zhuo J, Meng S, Qin S, Yao Q (2016) Clean coal technologies in China: current status and future perspectives. Engineering 2(4):447–459

China Electricity Council (2017) Clean development of coal-fired power in China. China Electric Power Press, Beijing

Chinese Academy of Engineering (2011) Research on the energy development strategy of China in mid- and long-term (2030/2050). Science Press, Beijing

Crago CL, Chernyakhovskiy I (2017) Are policy incentives for solar power effective? Evidence from residential installations in the northeast. J Environ Econ Manag 81:132–151

del Río P, Resch G, Ortner A, Liebmann L, Busch S, Panzer C (2017) A techno-economic analysis of EU renewable electricity policy pathways in 2030. Energy Policy 104:484–493

Editorial board of China power yearbook (2018) China electric power yearbook 2017. China Electric Power Press, Beijing

Fan JL, Xu M, Li F, Yang L, Zhang X (2018) Carbon capture and storage (CCS) retrofit potential of coal-fired power plants in China: the technology lock-in and cost optimization perspective. Appl Energy 229:326–334

Guan G (2017) Clean coal technologies in Japan: a review. Chin J Chem Eng 25:689–697

Hao Y, Zhang ZY, Liao H, Wei YM (2015) China's farewell to coal: a forecast of coal consumption through 2020. Energy Policy 86:444–455

Huang Y, Zhang Y, Lin L, Wan G (2019) Foreign direct investment and cleaner production choice: evidence from Chinese coal-fired power generating enterprises. J Clean Prod 212:766–778

Iychettira KK, Hakvoort RA, Linares P (2017) Towards a comprehensive policy for electricity from renewable energy: an approach for policy design. Energy Policy 106:169–182

Khanna NZ, Zhou N, Fridley D, Ke J (2016) Quantifying the potential impacts of China's power-sector policies on coal input and CO2 emissions through 2050: a bottom-up perspective. Util Policy 41:128–138

Kumar R, Jilte R, Nikam KC, Ahmadi MH (2019) Status of carbon capture and storage in India's coal fired power plants: a critical review. Environ Technol Innov 13:94–103

Li J, Zhang Y, Tian Y, Cheng W, Yang J, Xu D, Wang Y, Xie KY, Ku A (2020) Reduction of carbon emissions from China''s coal-fired power industry: iInsights from the province-level data. J Clean Prod 242:118518

Li M, Patiño-Echeverri D (2017) Estimating benefits and costs of policies proposed in the 13th FYP to improve energy efficiency and reduce air emissions of China's electric power sector. Energy Policy 111:222–234

Li M, Patiño-Echeverri D, Zhang J (2019) Policies to promote energy efficiency and air emissions reductions in China's electric power generation sector during the 11th and 12th five-year plan periods: achievements, remaining challenges, and opportunities. Energy Policy 125:429–444

Li Y (2012) Dynamics of clean coal-fired power generation development in China. Energy Policy 51:138–142

Liang X, Wang Z, Zhou Z, Huang Z, Zhou J, Cen K (2013) Up-to-date life cycle assessment and comparison study of clean coal power generation technologies in China. J Clean Prod 39:24–31

Liao Z (2016) The evolution of wind energy policies in China (1995–2014): an analysis based on policy instruments. Renew Sust Energ Rev 56:464–472

Liao Z (2018) Content analysis of China's environmental policy instruments on promoting firms' environmental innovation. Environ Sci Pol 88:46–51

Liu S, Bie Z, Lin J, Wang X (2018) Curtailment of renewable energy in Northwest China and market-based solutions. Energy Policy 123:494–502

Ma Z, Deng J, Li Z, Li Q, Zhao P, Wang L, Sun Y, Zheng H, Pan L, Zhao S, Jiang J, Wang S, Duan L (2016) Characteristics of NOx emission from Chinese coal-fired power plants equipped with new technologies. Atmos Environ 131:164–170

Melikoglu M (2018) Clean coal technologies: a global to local review for Turkey. Energy Strateg Rev 22:313–319

Mi Z, Wei YM, Wang B et al (2017) Socioeconomic impact assessment of China's CO2 emissions peak prior to 2030. J Clean Prod 142:2227–2236

NDRC, NEA (2017) The 13th FYP plan for power development. Available online: http://www.ndrc.gov.cn/fzgggz/fzgh/ghwb/gjjgh/201706/t20170605_849994.html (accessed on 30 July 2018)

Nilsson A, Hansla A, Heiling JM, Bergstad CJ, Martinsson J (2016) Public acceptability towards environmental policy measures: value-matching appeals. Environ Sci Pol 61:176–184

Oboirien BO, North BC, Obayopo SO, Odusote JK, Sadiku ER (2018) Analysis of clean coal technology in Nigeria for energy generation. Energy Strateg Rev 20:64–70

Peng H, Liu Y (2016) A comprehensive analysis of cleaner production policies in China. J Clean Prod 135:1138–1149

Schmid (2012) The development of renewable energy power in India: which policies have been effective? Energy Policy 45:317–326

Shah SAA, Solangi YA (2019) A sustainable solution for electricity crisis in Pakistan: opportunities, barriers, and policy implications for 100% renewable energy. Environ Sci Pollut Res 26:29687–29703

Song W, Bi GB, Wu J, Yang F (2017) What are the effects of different tax policies on China's coal-fired power generation industry? An empirical research from a network slacks-based measure perspective. J Clean Prod 142:2816–2827

Sugathan A, Bhangale R, Kansal V, Hulke U (2018) How can Indian power plants cost-effectively meet the new sulfur emission standards? Policy evaluation using marginal abatement cost-curves. Energy Policy 121:124–137

Tan-Soo JS, Zhang XB, Qin P, Xie L (2019) Using electricity prices to curb industrial pollution. J Environ Manag 284:109252

Tang N, Zhang Y, Niu Y, Du X (2018) Solar energy curtailment in China: status quo, reasons and solutions. Renew Sust Energ Rev 97:509–528

Tang X, Snowden S, McLellan BC, Höök M (2015) Clean coal use in China: challenges and policy implications. Energy Policy 87:517–523

Veugelers R (2012) Which policy instruments to induce clean innovating? Res Policy 41:1770–1778

Wang X, Peng Z, Gao W, Ji S (2016) The policy evolution and effect evaluation of wind power industry in China. Stud Sci Sci 34(12):1817–1829 (in Chinese)

Wang X, Zou H (2018a) Study on the effect of wind power industry policy types on the innovation performance of different ownership enterprises: evidence from China. Energy Policy 122:241–252

Wang X, Zou H (2018b) Effect mechanism of industrial policies on innovation performance of wind power enterprises. R&D Manag 30(2):33–45 (in Chinese)

Wang X, Zou H, Gao W (2018) Research on the effectiveness of industrial policy: consideration on the ownership nature of wind power enterprises and the heterogeneity of regional innovation environment. Stud Sci Sci 36(2):228–238 (in Chinese)

Xu L, Zhang Q, Wang K, Shi X (2020) Subsidies, loans, and companies' performance: evidence from China's photovoltaic industry. Appl Energy 260:114280

Xu Y, Hu J, Ying Q, Hao H, Wang D, Zhang H (2017) Current and future emissions of primary pollutants from coal-fired power plants in Shaanxi, China. Sci Total Environ 595:505–514

Xu Y, Yang C, Xuan X (2013) Engineering and optimization approaches to enhance the thermal efficiency of coal electricity generation in China. Energy Policy 60:356–363

Yang H, Zhang Y, Zheng C, Wu X, Chen L, Fu JS, Gao X (2018) Cost estimate of the multi-pollutant abatement in coal-fired power sector in China. Energy 161:523–535

Yi H (2015) Clean-energy policies and electricity sector carbon emissions in the U.S. states. Util Policy 34:19–29

Yuan X, Mi M, Mu R, Zuo J (2013) Strategic route map of sulphur dioxide reduction in China. Energy Policy 60:844–851

Zhang G, Zhang Z, Guan X, Fang M (2017a) Is the synergy between measures and objectives of energy conservation and emission reduction policies in China effective? J Manag Sci China 20(3):162–182 (in Chinese)

Zhang G, Deng N, Mou H, Zhang ZG, Chen X (2019a) The impact of the policy and behavior of public participation on environmental governance performance: empirical analysis based on provincial panel data in China. Energy Policy 129:1347–1354

Zhang H, Xu Z, Sun C, Elahi E (2018) Targeted poverty alleviation using photovoltaic power: review of Chinese policies. Energy Policy 120:550–558

Zhang J, Zhang Y, Yang H, Zheng C, Jin K, Wu X, Gao X, Cen K (2017b) Cost-effectiveness optimization for SO2 emissions control from coal-fired power plants on a national scale: a case study in China. J Clean Prod 165:1005–1012

Zhang X, Winchester N, Zhang X (2017c) The future of coal in China. Energy Policy 110:644–652

Zhao X, Li S, Zhang S, Yang R, Liu S (2016) The effectiveness of China's wind power policy: an empirical analysis. Energy Policy 95:269–279

Zhang Y, Nie R, Shi X, Qian X, Wang K (2019b) Can energy-price regulations smooth price fluctuations? Evidence from China's coal sector. Energy Policy 128:125–135

Zhao Y, Tang KK, Wang LL (2013) Do renewable electricity policies promote renewable electricity generation? Evidence from panel data. Energy Policy 62:887–897

Zhu M, Qi Y, Belis D, Lu J, Kerremans B (2019) The China wind paradox: the role of state-owned enterprises in wind power investment versus wind curtailment. Energy Policy 127:200–212
Funding
This research is supported by the Fundamental Research Funds for the Central Universities (2020ZDPYMS42).
Ethics declarations
Conflict of interest
The authors declare that they have no conflict of interest.
Additional information
Publisher's note
Springer Nature remains neutral with regard to jurisdictional claims in published maps and institutional affiliations.
Highlights
1. The annual release amount of policies has shown a trend of fluctuating growth.
2. Policy themes mainly include capacity management and atmospheric pollutant treatment.
3. Overall policies have a significant effect on clean development of coal-fired power.
4. Elimination of small units and generation price regulation have significant effects.
5. Project approval and generation price regulation have significant effects.
Responsible Editor: Baojing Gu
About this article
Cite this article
Zhang, M., Lv, T., Zhao, Y. et al. Effectiveness of clean development policies on coal-fired power generation: an empirical study in China. Environ Sci Pollut Res (2020). https://doi.org/10.1007/s11356-020-08011-z
Received:

Accepted:

Published:
Keywords
Coal-fired power generation

Clean development policy

Policy evolution

Policy effectiveness