Abstract
Solid-state fermentation (SSF) of ammoniated corn straw was used to produce feed protein, followed by a toxicological assessment of the fermentation product. Results showed that through ammonification at 35 °C for 9 days and the subsequent SSF by the two fungi Penicillium sp. and Torula allii at 30 °C for 5 days, the contents of real protein and crude protein of the corn straw reached 29.66% and 35.41%, respectively. Toxicological assessment in mice showed that there were no significant differences (P > 0.05) for micronucleated polychromatic erythrocytes (Mn-PCEs) and sperm abnormality between dose groups and the control group. Malondialdehyde (MDA) levels and activities of superoxide dismutase (T-SOD), glutathione peroxidase (GSH-Px), and catalase (CAT) also showed no significant difference (P > 0.05) between tissues (heart, liver, spleen, stomach, kidney, and brain), which indicates that the fermentation product did not induce toxic effects and is safe to use as ruminant feed.
This is a preview of subscription content, log in to check access.
Access options
Buy single article
Instant access to the full article PDF.
US$ 39.95
Price includes VAT for USA
Subscribe to journal
Immediate online access to all issues from 2019. Subscription will auto renew annually.
US$ 99
This is the net price. Taxes to be calculated in checkout.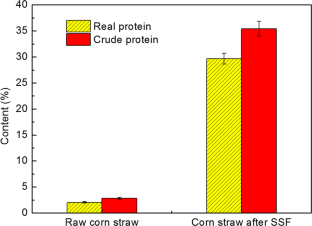 References
Ahmad R, Tripathi AK, Tripath P, Singh S, Singh R, Singh RK (2008) Malondialdehyde and protein carbonyl as biomarkers for oxidative stress and disease progression in patients with chronic myeloid leukemia. In Vivo 22:525–528

Alabi OA, Silva AH, Purnhagen LRP, Souza GRR, de Mello Júnior LJ, Filippin-Monteiro FB, Dalmina M, Pittella F, Bakare AA, Creczynski-Pasa TB (2019) Genetic, reproductive and oxidative damage in mice triggered by co-exposure of nanoparticles: from a hypothetical scenario to a real concern. Sci Total Environ 660:1264–1273

Arora DS, Sharma RK (2009) Comparative ligninolytic potential of Phlebia species and their role in improvement of in vitro digestibility of wheat straw. J Anim Feed Sci 18:151–161

Bisaria R, Madan M, Vasudevan P (1997) Utilisation of agro-residues as animal feed through bioconversion. Bioresour Technol 59:5–8

Coelho-Santos V, Cardoso FL, Magalhães A, Ferreira-Teixeira M, Leitão RA, Gomes C, Rito M, Barbosa M, Fontes-Ribeiro CA, Silva AP (2019) Effect of chronic methylphenidate treatment on hippocampal neurovascular unit and memory performance in late adolescent rats. Eur Neuropsychopharmacol 29:195–210

He Y, Dijkstra J, Sonnenberg ASM, Mouthier TMB, Kabel MA, Hendriks WH, Cone JW (2019) The nutritional value of the lower maize stem cannot be improved by ensiling nor by a fungal treatment. Anim Feed Sci Tech 247:92–102

Igl B, Bitsch A, Bringezu F, Chang S, Dammann M, Frötschl R, Harm V, Kellner R, Krzykalla V, Lott J, Nern M, Pfuhler S, Queisser N, Schulz M, Sutter A, Vaas L, Vonk R, Zellner D, Ziemann C (2019) The rat bone marrow micronucleus test: statistical considerations on historical negative control data. Regul Toxicol Pharmacol 102:13–22

Katsimpouras C, Dedes G, Bistis P, Kekos D, Kalogiannis KG, Topakas E (2018) Acetone/water oxidation of corn stover for the production of bioethanol and prebiotic oligosaccharides. Bioresour Technol 270:208–215

Kelainy EG, Ibrahim Laila IM, Ibrahim SR (2019) The effect of ferulic acid against lead-induced oxidative stress and DNA damage in kidney and testes of rats. Environ Sci Pollut R 26:31675–31684

Li R, Wang A, Ge Z (2008) Study on the fermentation medium of solid-state fermentation of corn straw to produce feeding-protein. J Agro-Environ Sci 27:2484–2488 (in Chinese)

Li J, Li R, Wang A, Ji W (2010) Combination of the multiple-strains and the fermentation conditions of solid-state fermentation of corn straw. J Agro-Environ Sci 29:1601–1605 (in Chinese)

Liu S, Li X, Wu S, He J, Pang C, Deng Y, Dong R (2014) Fungal pretreatment by Phanerochaete chrysosporium for enhancement of biogas production from corn stover silage. Appl Biochem Biotech 174:1907–1918

Liu J, Liu B, Zhan L, Wang P, Ju M, Wu W (2017) Solid-state fermentation of ammoniated corn straw to animal feed by Pleurotus ostreatus PI-5. Bioresour 12:1723–1736

Niladevi KN, Sukumaran RK, Prema P (2007) Utilization of rice straw for laccase production by Streptomyces psammoticus in solid-state fermentation. J Ind Microbiol Biot 34:665–674

Park CR, Pyo MK, Lee H, Hong SY, Kim SH, Park CB, Oh SM (2019) Acute and genetic toxicity of GS-E3D, a new pectin lyase-modified red ginseng extract. Regul Toxicol Pharmacol 104:157–162

Qi X, Li Z, Akami M, Mansour A, Niu C (2019) Fermented crop straws by Trichoderma viride and Saccharomyces cerevisiae enhanced the bioconversion rate of Musca domestica (Diptera: Muscidae). Environ Sci Pollut R 26:29388–29396

Regalado C, Vázquez-Obregón I, García-Almendárez BE, Domínguez-Domínguez J, Aguilera-Barreyro A, Amaro-Reyes A (2011) Xylanolytic enzymes production by Aspergillus niger GS1 from solid-state fermentation on corn stover and their effect on ruminal digestibility. Electron J Biotechnol 14:1–11

Saha BC, Kennedy GJ, Qureshi N, Cotta MA (2017) Biological pretreatment of corn stover with Phlebia brevispora NRRL-13108 for enhanced enzymatic hydrolysis and efficient ethanol production. Biotechnol Prog 33:365–374

Sun L, Wang Z, Gentu G, Jia Y, Hou M, Cai Y (2019) Changes in microbial population and chemical composition of corn stover during field exposure and effects on silage fermentation and in vitro digestibility. Asian Austral J Anim 32:815–825

Truong N, Kim T (2018) Effective Saccharification of corn stover using low-liquid aqueous ammonia pretreatment and enzymatic hydrolysis. Molecules 23:1–15

Wang B, Shen X, Chen S, Bai Y, Yang G, Zhu J, Shu J, Xue Z (2018a) Distribution characteristics, resource utilization and popularizing demonstration of crop straw in southwest China: a comprehensive evaluation. Ecol Indic 93:998–1004

Wang J, Sun F, Tang S, Zhang S, Li J, Cao X (2018b) Mutagenicity and teratogenicity studies of vitacoxib in rats and mice. Toxicol Rep 5:827–831

YouShuang Z, HaiBo Z, YingLong Z, Feng H (2011) Lignocellulose degradation, enzyme production and protein enrichment by Trametes versicolor during solid-state fermentation of corn stover. African J of Biotechnol 10:9182–9192

Zeng X, Cai Y, Liao X, Zeng X, Li W, Zhang D (2011) Decolorization of synthetic dyes by crude laccase from a newly isolated Trametes trogii strain cultivated on solid agro-industrial residue. J Hazard Mater 187:517–525

Zhang Y, Lin S, Zhu Y, Liu C, Dong Y, Li F, Wu G, Wang H, Zhang J (2006) Protoplast fusion between Geotrichum candidium and Phanerochaete chrysosporium to produce Fusants for corn stover fermentation. Biotechnol Lett 28:1351–1359

Zhang G, Zhao Z, Guo X, Han Z, He Q, Zhang F, Xu H (2018) Levels of persistent toxic substances in different biochars and their potential ecological risk assessment. Environ Sci Pollut R 25:33207–33215

Zhang X, Li C, Pan J, Liu R, Cao Z (2019) Searching for a bisphenol A substitute: effects of bisphenols on catalase molecules and human red blood cells. Sci Total Environ 669:112–119

Zhu J, Wan C, Li Y (2010) Enhanced solid-state anaerobic digestion of corn stover by alkaline pretreatment. Bioresour Technol 101:7523–7528
Funding
This work was financially supported by the National Natural Science Foundation of China (31070048) and the Shanxi Province Science Foundation for Youths (201701D221228).
Additional information
Publisher's note
Springer Nature remains neutral with regard to jurisdictional claims in published maps and institutional affiliations.
Responsible editor: Ta Yeong Wu
About this article
Cite this article
Li, R., Wang, J. & Zhao, J. Solid-state fermentation of ammoniated corn straw to produce feed protein and toxicological assessment of the product. Environ Sci Pollut Res (2020). https://doi.org/10.1007/s11356-020-07981-4
Received:

Accepted:

Published:
Keywords
Ammonification

Fermentation

Micronucleated polychromatic erythrocytes

Sperm abnormality

Oxidative stress