Abstract
Silver nanoparticles were fabricated in the presence and absence of light with silver nitrate and aqueous extract of Prunus cerasifera leaf via facile and one-pot green method. P. cerasifera leaf extract reduced and stabilized the nanoparticles with phytometabolites expunging the need for addition of external reducing agents. Optimized silver nanoparticle syntheses was done with variations in leaf extract concentration, time, temperature, and molarity for deciphering the photocatalytic, antifungal, and antibacterial potential of synthesized nanoparticles. Optical, compositional, and morphological analyses of the synthesized nanoparticles were done by UV-visible spectrometry (UV-Vis), Fourier transform infrared spectroscopy (FTIR), atomic force microscopy (AFM), scanning electron microscopy (SEM), and X-ray diffraction (XRD). Formation of silver nanoparticles was confirmed firstly through UV-Vis by exhibition of peaks with 400–450 nm. FTIR confirmed the presence of major organic groups responsible for reduction of nanoparticles. AFM confirmed the spherical morphology of the synthesized nanoparticles with remarkable dispersion without any agglomeration. Phytochemical analysis for P. cerasifera leaf metabolites was done by GC-MS. Spherical nanoparticles having a size range of 57–144 nm were obtained with face-centered cubic crystals. The average crystallite size obtained from XRD spectra was 2.34 nm. Enhanced photocatalytic first-order kinetics were obtained for persistent organic pollutants, i.e., crystal violet, methylene blue, and malachite green (R2 = 0.99, 0.99, 0.98) in less than 15 min. Biomedical and agricultural significance as an antibiotic drug and utilization as a fungicides substitute was explored against nine resistant microbes. Statistically significant variations were analyzed via one-way analysis of variance (ANOVA) and Kruskal-Wallis test and specific multi comparison tests. Active to highly active inhibition zones manifested the use of biogenic silver nanoparticles as potential candidate for applications in biological arenas and as environmental remediators.
This is a preview of subscription content, log in to check access.
Access options
Buy single article
Instant unlimited access to the full article PDF.
US$ 39.95
Price includes VAT for USA
Subscribe to journal
Immediate online access to all issues from 2019. Subscription will auto renew annually.
US$ 99
This is the net price. Taxes to be calculated in checkout.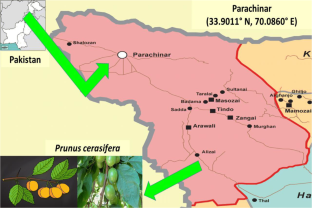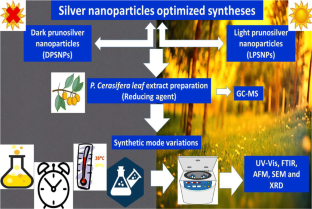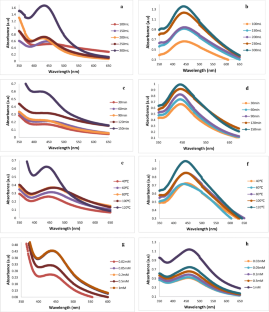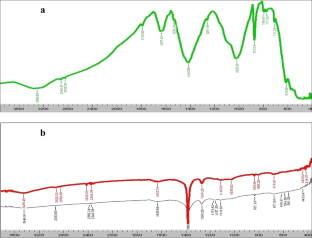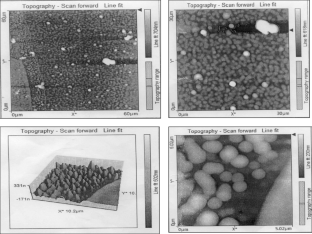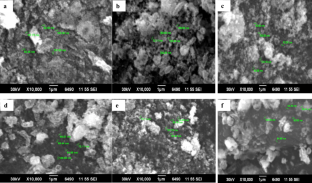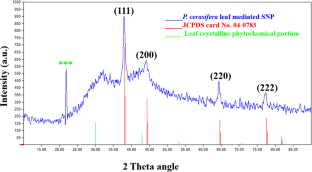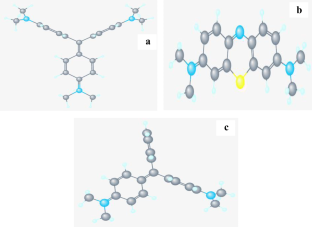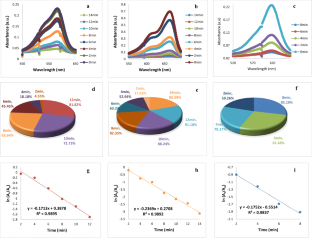 References
Ahluwalia V, Elumalai S, Kumar V, Kumar S, Sangwan RS (2018) Nano silver particle synthesis using Swertia paniculata herbal extract and its antimicrobial activity. Microb Pathog 114:402

Ahmad KS, Jaffri SB (2018a) Carpogenic ZnO nanoparticles: amplified nanophotocatalytic and antimicrobial action. IET Nanobiotechnol. https://doi.org/10.1049/iet-nbt.2018.5006

Ahmad KS, Jaffri SB (2018b) Phytosynthetic Ag doped ZnO nanoparticles: semiconducting green remediators. Open Chem 16(1):556

Aisida SO, Ugwu K, Akpa PA, Nwanya AC, Ejikeme PM, Botha S, Ahmad I, Maaza M, Ezema FI (2019) Biogenic synthesis and antibacterial activity of controlled silver nanoparticles using an extract of Gongronema latifolium. Mat Chem Phy 237:121859

Alavi M, Karimi N (2017) Characterization, antibacterial, total antioxidant, scavenging, reducing power and ion chelating activities of green synthesized silver, copper and titanium dioxide nanoparticles using Artemisia haussknechtii leaf extract. Artif Cells Nanomed Biotechnol 16

Ali M, Jaffri SB, Ahmad KS, Iqbal S (2019) Sorptive interactions of fungicidal 2-(4'-Thiazolyl) Benzimidazole with soils of divergent physicochemical composition. J Int Econ Envir Geol 10:97–104

Amjad I, Javaid M, Ikhlaq K, Gul S, Jaffri SB, Ahmad KS (2019) Adsorption-desorption mechanism of synthesized Benzimidazole based fungicide 2-(3'-Pyridyl) on selected soil minerals. J Int Econ Envir Geol 10:38–44

Bartosiak M, Giersz J, Jankowski K (2019) Analytical monitoring of selenium nanoparticles green synthesis using photochemical vapor generation coupled with MIP-OES and UV–Vis spectrophotometry. Microchem J 145:1169

Batool S, Hussain Z, Niazi MB, Liaqat U, Afzal M (2019) Biogenic synthesis of silver nanoparticles and evaluation of physical and antimicrobial properties of Ag/PVA/starch nanocomposites hydrogel membranes for wound dressing application. J Drug Del Sci Tech 52:403

Bhuyan B, Paul A, Paul B, Dhar SS, Dutta P (2017) Paederia foetida Linn. promoted biogenic gold and silver nanoparticles: synthesis, characterization, photocatalytic and in vitro efficacy against clinically isolated pathogens. J Photochem Photobiol B 173:210

Bocate KP, Reis GF, de Souza PC, Junior AG, Durán N, Nakazato G, Furlaneto MC, de Almeida RS, Panagio LA (2019) Antifungal activity of silver nanoparticles and simvastatin against toxigenic species of Aspergillus. Int J Food Microb 291:79

Cerri M, Rosati A, Famiani F, Reale L (2019) Fruit size in different plum species (genus Prunus L.) is determined by post-bloom developmental processes and not by ovary characteristics at anthesis. Sci Horti 255:1

Elemike EE, Onwudiwe DC, Ekennia AC, Ehiri RC, Nnaji NJ (2017) Phytosynthesis of silver nanoparticles using aqueous leaf extracts of Lippia citriodora: antimicrobial, larvicidal and photocatalytic evaluations. Mater Sci Eng C 75:980

Fears R, ter Meulen V (2014) What do we need to do to tackle antimicrobial resistance? Lancet Glob Health 2(1):e11

Ferreira LA, dos Reis SB, da Silva ED, Cadore S, da Silva BJ, Durán N, de Jesus MB (2019) Thiol-antioxidants interfere with assessing silver nanoparticle cytotoxicity. Nanomed: Nanotech Biol Med 1:102130

Gavamukulya Y, Maina EN, Meroka AM, Madivoli ES, El-Shemy HA, Wamunyokoli F, Magoma G (2019) Green synthesis and characterization of highly stable silver nanoparticles from ethanolic extracts of fruits of Annona muricata. J Inorg Org Polymers Mat 1:1–2

Gohil S, Chandra R, Chalke B, Bose S, Ayyub P (2007) Sputter deposition of self-organized nanoclusters through porous anodic alumina templates. J Nanosci Nanotech 7:641

Gulbagca F, Ozdemir S, Gulcan M, Sen F (2019) Synthesis and characterization of Rosa canina-mediated biogenic silver nanoparticles for anti-oxidant, antibacterial, antifungal, and DNA cleavage activities. Heliyon 5:e02980

Heydari R, Koudehi MF, Pourmortazavi SM (2019) Antibacterial activity of Fe3O4/Cu nanocomposite: green synthesis using Carum carvi L. Seeds Aqueous Extract ChemistrySelect 4:531

Huo Y, Yan M, Zhao X, Zhu Z, Yuan Z (2019) The complete chloroplast genome sequence of Prunus cerasifera Ehrh.'Pissardii'(Rosaceae). Mitochondrial DNA Part B 4(2):3744

Hussain A, Oves M, Alajmi MF, Hussain I, Amir S, Ahmed J, Rehman MT, El-Seedi HR, Ali I (2019) Biogenesis of ZnO nanoparticles using Pandanus odorifer leaf extract: anticancer and antimicrobial activities. RSC Adv 9:15357

Ismail M, Gul S, Khan MI, Khan MA, Asiri AM, Khan SB (2019) Green synthesis of zerovalent copper nanoparticles for efficient reduction of toxic azo dyes congo red and methyl orange. Green processing and synthesis 8:–135

Jaffri SB, Ahmad KS (2017) Augmented photocatalytic, antibacterial and antifungal activity of prunosynthetic silver nanoparticles. Artif Cells Nanomed Biotechnol 46:127-137

Jaffri SB, Ahmad KS (2018a) Prunus cerasifera Ehrh. fabricated ZnO nano falcates and its photocatalytic and dose dependent in vitro bio-activity. Open Chem 16(1):141

Jaffri SB, Ahmad KS (2018b) Neoteric environmental detoxification of organic pollutants and pathogenic microbes via green synthesized ZnO nanoparticles. Envir Technol, (just-accepted), 1-42

Jaffri SB, Ahmad KS (2018c) Foliar-mediated Ag: ZnO nanophotocatalysts: green synthesis, characterization, pollutants degradation, and in vitro biocidal activity. Green Process Synthesis 1-11

Jaffri SB, Ahmad KS (2018d) Phytofunctionalized silver nanoparticles: green biomaterial for biomedical and environmental applications. Rev Inorg Chem 38(3):127

Jindal R, Sinha R (2019) Malachite green induced ultrastructural corneal lesions in Cyprinus carpio and its amelioration using Emblica officinalis. Bull Envir Contam Toxic 102(3):377

Kailasa SK, Park TJ, Rohit JV, Koduru JR (2019) Antimicrobial activity of silver nanoparticles. In Nanoparticles in pharmacotherapy (pp. 461-484). William Andrew publishing

Karthik R, Govindasamy M, Chen SM, Cheng YH, Muthukrishnan P, Padmavathy S, Elangovan A (2017) Biosynthesis of silver nanoparticles by using Camellia japonica leaf extract for the electrocatalytic reduction of nitrobenzene and photocatalytic degradation of eosin-Y. J Photochem Photobiol B 170:164

Li T, Tian D, Zhu Z, Jin W, Wu S, Li H (2019) The gut microbiota: a new perspective on the toxicity of malachite green (MG). App Micro Biotech 103(23–24):9723

Mariselvam R, Ranjitsingh AJ, Nanthini AU, Kalirajan K, Padmalatha C, Selvakumar PM (2014) Green synthesis of silver nanoparticles from the extract of the inflorescence of Cocos nucifera (Family: Arecaceae) for enhanced antibacterial activity. Spectrochim Acta A 129:537

Miri A, Vahed HOS, Sarani M (2018) Biosynthesis of silver nanoparticles and their role in photocatalytic degradation of methylene blue dye. Res Chem Inter:1–9

Mittal A, Mittal J, Malviya A, Kaur D, Gupta VK (2010) Adsorption of hazardous dye crystal violet from wastewater by waste materials. J Colloid Interface Sci 343:463e473

Moteriya P, Chanda S (2017) Synthesis and characterization of silver nanoparticles using Caesalpinia pulcherrima flower extract and assessment of their in vitro antimicrobial, antioxidant, cytotoxic, and genotoxic activities. Artif Cells Nanomed Biotechnol 45(8):1556–1567

Mutua JK, Imathiu S, Owino W (2017) Evaluation of the proximate composition, antioxidant potential, and antimicrobial activity of mango seed kernel extracts. Food Science Nutri 5(2):349

Nafea OE, Hassan HA (2019) Comparative effectiveness of methylene blue versus intravenous lipid emulsion in a rodent model of amlodipine toxicity. Clinical Toxicol 1:1–6

Nayak S, Sajankila SP, Rao CV, Hegde AR, Mutalik S (2019) Biogenic synthesis of silver nanoparticles using Jatropha curcas seed cake extract and characterization: evaluation of its antibacterial activity. Energy Sourc Part A 1-9

Qais FA, Shafiq A, Khan HM, Husain FM, Khan RA, Alenazi B, Alsalme A, Ahmad I (2019) Antibacterial effect of silver nanoparticles synthesized using Murraya koenigii (L.) against multidrug-resistant pathogens. Bioinorg Chem App 1:1–10

Qasim Nasar M, Zohra T, Khalil AT, Saqib S, Ayaz M, Ahmad A, Shinwari ZK (2019) Seripheidium quettense mediated green synthesis of biogenic silver nanoparticles and their theranostic applications. Green Chem Lett Rev 12:310

Recio-Sánchez G, Tighe-Neira R, Alvarado C, Inostroza-Blancheteau C, Benito N, García-Rodríguez A, Marcos R, Pesenti H, Carmona ER (2019) Assessing the effectiveness of green synthetized silver nanoparticles with Cryptocarya alba extracts for remotion of the organic pollutant methylene blue dye. Envir Sci Poll Res 26(15):15115

Rolim WR, Pelegrino MT, de Araújo LB, Ferraz LS, Costa FN, Bernardes JS, Rodigues T, Brocchi M, Seabra AB (2019) Green tea extract mediated biogenic synthesis of silver nanoparticles: characterization, cytotoxicity evaluation and antibacterial activity. Appl Surf Sci 463:66

Roy K, Sarkar CK, Ghosh CK (2015) Photocatalytic activity of biogenic silver nanoparticles synthesized using potato (Solanum tuberosum) infusion. Spectrochim Acta A 146:286

Roy K, Ghosh CK, Sarkar CK (2019) Rapid detection of hazardous H2O2 by biogenic copper nanoparticles synthesized using Eichhornia crassipes extract. Microsys Tech 25(5):1699

Samadi N, Hosseini SV, Fazeli A, Fazeli MR (2010) Synthesis and antimicrobial effects of silver nanoparticles produced by chemical reduction method. DARU J Pharma Sci 18:168

Samari F, Parkhari P, Eftekhar E, Mohseni F, Yousefinejad S (2019) Antioxidant, cytotoxic and catalytic degradation efficiency of controllable phyto-synthesised silver nanoparticles with high stability using Cordia myxa extract. J Exp Nanosci 14:141–159

Saraswathi VS, Kamarudheen N, BhaskaraRao KV, Santhakumar K (2017) Phytoremediation of dyes using Lagerstroemia speciosa mediated silver nanoparticles and its biofilm activity against clinical strains Pseudomonas aeruginosa. J Photochem Photobiol B 168:107

Shaheen I, Ahmad KS (2019) Chromatographic identification of "green capping agents" extracted from Nasturtium officinale (Brassicaceae) leaves for the synthesis of MoO3 nanoparticles. J Sep Sci 1-10

Shaheen I, Ahmad KS, Jaffri SB, Zahra T, Azhar S (2016) Evaluating the adsorption and desorption behavior of triasulfuron as a function of soil physico-chemical characteristics. Soil Environ 35:99

Sharma V, Kaushik S, Pandit P, Dhull D, Yadav JP, Kaushik S (2019) Green synthesis of silver nanoparticles from medicinal plants and evaluation of their antiviral potential against chikungunya virus. Appl Microb Biotech 103(2):881

Shelar A, Sangshetti J, Chakraborti S, Singh AV, Patil R, Gosavi S (2019) Helminthicidal and larvicidal potentials of biogenic silver nanoparticles synthesized from medicinal plant Momordica charantia. Med Chem 15(7):781–789

Smanalieva J, Iskakova J, Oskonbaeva Z, Wichern F, Darr D (2019) Determination of physicochemical parameters, phenolic content, and antioxidant capacity of wild cherry plum (Prunus divaricata Ledeb.) from the walnut-fruit forests of Kyrgyzstan. Euro Food Res Tech 245:2293

Stierlin E, Azoulay S, Massi L, Fernandez X, Michel T (2019) Osmetic potentials of Prunus domestica L. leaves. J Sci Food Agric 98:726

Thatikayala D, Jayarambabu N, Banothu V, Ballipalli CB, Park J, Rao KV (2019) Biogenic synthesis of silver nanoparticles mediated by Theobroma cacao extract: enhanced antibacterial and photocatalytic activities. J Mat Sci: Mat Elect 30:17303

Varshney R, Bhadauria S, Gaur MS (2010) Biogenic synthesis of silver nanocubes and nanorods using sundried Stevia rebaudiana leaves. Adv Mater Lett 1(3):237

Zahra T, Ahmad KS, Shaheen I, Azhar S, Jaffri SB (2017) Determining the adsorption and desorption behavior of thiabendazole fungicide for five different agricultural soils. Soil Envir 36:13

Zhou X, Zhang J, Pan Z, Li D (2019) Review of methods for the detection and determination of malachite green and leuco-malachite green in aquaculture. Crit Rev Ana Chem 49(1):1
Ethics declarations
Current research has not employed any experimentation on animals and humans.
Conflict of interest
The authors declare that they have no conflict of interest.
Additional information
Publisher's note
Springer Nature remains neutral with regard to jurisdictional claims in published maps and institutional affiliations.
Responsible editor: Philippe Garrigues
About this article
Cite this article
Jaffri, S.B., Ahmad, K.S. Biomimetic detoxifier Prunus cerasifera Ehrh. silver nanoparticles: innate green bullets for morbific pathogens and persistent pollutants. Environ Sci Pollut Res (2020). https://doi.org/10.1007/s11356-020-07626-6
Received:

Accepted:

Published:
Keywords
Biomaterials

Nanobiotechnology

Persistent pollutants

Phytometabolites

Photodegradation

Biomedicine