The influence of processing and clarifier agents on the concentrations of potentially toxic elements (PTEs) in pekmez (a grape molasses-like syrup)
Abstract
The changes in some potentially toxic elements (PTEs) including lead (Pb), cadmium (Cd), arsenic (As), iron (Fe), zinc (Zn), and copper (Cu) during pekmez (grape molasses-like syrup) processing and the utilization of various types of clarifiers (white soil, bentonite, and gelatin) in two levels (1.5 and 3% w/w) were analyzed. The average concentrations of Pb, Cd, As, Fe, Zn, and Cu in grape samples were measured as 0.055 ± 0.005, 0.030 ± 0.002, 0.044 ± 0.002, 2.882 ± 0.013, 2.372 ± 0.088, and 1.194 ± 0.01 μg g−1. During pekmez production, the range of changes in Pb, Cd, As, Fe, Zn, and Cu was −43.38% to 40.25%, −55.49% to 0.23%, −76.15% to 1.80%, −74.15% to 58.47%, −40.55% to −18.12%, and −83.16% to −21.39%, respectively. The effect of the clarification process on the PTEs depended on the type and concentration of both PTE and clarifier agent used while the incorporation of gelatin resulted in a significant reduction in all of PT.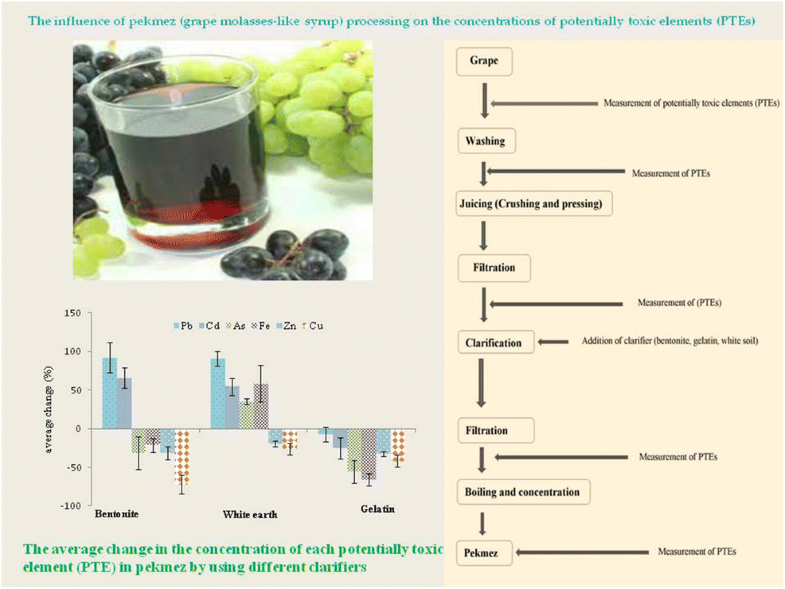 Keywords
Pekmez 
Grape 
Contamination 
Unit operation 
PTEs 
Fate 
Notes
Acknowledgments
This study (plan no. 9605103036) has been funded by the Vice-Chancellor of Research and Technology of Hamadan University of Medical Sciences and Health Services.
Compliance with Ethical Standards
Conflict of Interest
The authors declare that they have no competing interests.
Copyright information
© Springer-Verlag GmbH Germany, part of Springer Nature 2020