Abstract
Silica-based nanocomposite syntheses employ many harmful substances, which, in turn, demand the development of new synthetic environmental-friendly routes that meet the principles of green chemistry. In this work, we present a novel magnetic adsorbent, Fe2O3@SiO2 nanocomposite (Fe@SiNp), successfully obtained without surfactant, employing an electrochemical method. We characterized the nanocomposite and then applied it to remove aniline from the water medium. Characterization was carried out by vibrating-sample magnetometry (VSM), X-ray diffraction (XRD), scanning electron microscopy (SEM), and Fourier transform infrared spectroscopy (FT-IR). The parameters to the adsorptive removal of aniline were successfully optimized, which made possible to remove 71.04 ± 0.06% (126.6 ± 2.0 mg/g) from a 100 mg/L aniline solution at pH 6 and 323 K, by employing around 50 mg of Fe@SiNp, at a contact time of 40 min. The adsorption of aniline by Fe@SiNp is a spontaneous and exothermic process according to the pseudo-second-order kinetic model (r2 = 1 at 20 mg/L aniline concentration) and the Freundlich isotherm model (r2 = 0.9986).
This is a preview of subscription content, log in to check access.
Access options
Buy single article
Instant unlimited access to the full article PDF.
US$ 39.95
Price includes VAT for USA
Subscribe to journal
Immediate online access to all issues from 2019. Subscription will auto renew annually.
US$ 99
This is the net price. Taxes to be calculated in checkout.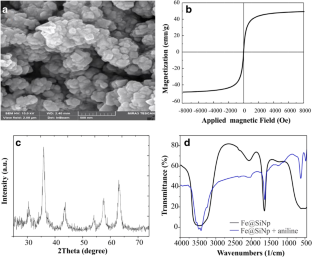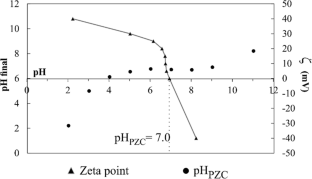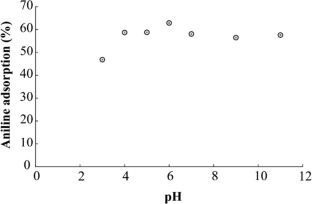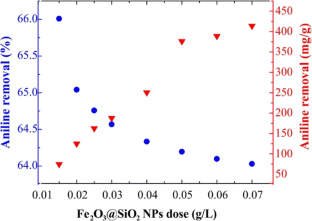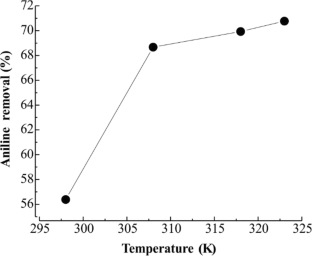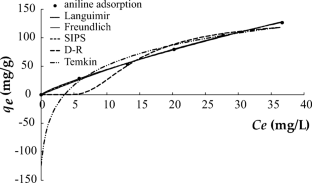 References
Adivi FG, Hashemi P, Tehrani AD (2018) Agarose-coated Fe3O4@SiO2 magnetic nanoparticles modifed with sodium dodecyl sulfate, a new promising sorbent for fast adsorption/desorption of cationic drugs. Polym Bull 76:1239–1256

Afzali D, Biniaz Z, Mostafavi A (2011) Application of modified nanoclay sorbent for separation and preconcentration trace amount of cobalt. Int J Nanosci Nanotechnol 7(1):21–27

Ahangaran F, Hassanzadeh A, Nouri S (2013) Surface modification of Fe3O4@SiO2 microsphere by silane coupling agent. Int Nano Lett 3:23

Ahmadi S, Rahdar A, Rahdar S, Igwegbe CA (2019a) Removal of Remazol Black B from aqueous solution using P-γ-Fe2O3 nanoparticles: synthesis, physical characterization, isotherm, kinetic and thermodynamic studies. Desal Water Treat 152:401–410

Ahmadi S, Rahdar S, Igwegbe CA, Rahdar A, Shafighi N, Sadeghfar F (2019b) Data on the removal of fluoride from aqueous solutions using synthesized P/γ-Fe2O3 nanoparticles: a novel adsorbent. Methods X 6:98–106

Al-Johani H, Salam MA (2011) Kinetics and thermodynamic study of aniline adsorption by multi-walled carbon nanotubes from aqueous solution. J Collid Interf Sci 360:760–767

Anastas P, Eghbali N (2010) Green chemistry: principles and practice. Chem Soc Rev 39:301–312

Andrade AL, Souza DM, Pereira MC, Fabris JD, Domingues RZ (2009) Synthesis and characterization of magnetic nanoparticles coated with silica through a sol-gel approach. Cerâmica 55:420–424

Arshad M, Mazhar A, Ehtisham-ul-Haque S, Akhyar Farrukh M, Abid A, Rizvi H, Soomro GA, Ayar N, Bilgin B, Atun G (2008) Kinetics and equilibrium studies of the herbicide 2,4-ichlorophenoxyacetic acid adsorption on bituminous shale. Chem Eng J 138:239–242

Bazrafshan E, Kord Mostafapour F, Rahdar S, Mahvi AH (2015) Equilibrium and thermodynamics studies for decolorization of Reactive Black 5 (RB5) by adsorption onto MWCNTs. Desalin Water Treat 54:2241–2251

Bose RS, Dey S, Saha S, Ghosh CK, Chaudhuri GM (2016) Enhanced removal of dissolved aniline from water under combined system of nano zero-valent iron and Pseudomonas putida. Sustain Water Resour Manag 2:143–159

Caparrós C, Benelmekki M, Martins PM, Xuriguera E, Silva CGR, Martinez LM (2012) Hydrothermal assisted synthesis of iron oxide-based magnetic silica spheres and their performance in magnetophoretic water purification. Mater Chem Phys 135:510–517

Cardona DS, Debs KB, Lemos SG, Vitale G, Nassar NN, Carrilho ENVM, Semensatto D, Labuto G (2019) A comparison study of cleanup techniques for oil spill treatment using magnetic nanomaterials. J Environ Manag 242:362–371

Chang YP, Ren CL, Qu JC, Chen XG (2012) Preparation and characterization of Fe3O4/graphene nanocomposite and investigation of its adsorption performance for aniline and p-chloroaniline. Appl Surf Sci 261:504–509

Chen N, Chen L, Cheng Y, Zhao K, Wu X, Xian Y (2015) Molecularly imprinted polymer grafted graphene for simultaneous electrochemical sensing of 4,4-methylene diphenylamine and aniline by differential pulse voltammetry. Talanta 132:155–161

Chen C, Geng X, Huang W (2017) Adsorption of 4-chlorophenol and aniline by nanosized activated carbons. Chem Eng J 327:941–952

Dada AO, Olalekan AP, Olatunya AM, Dada O (2010) Langmuir, Freundlich, Temkin and Dubinin-Radushkevich isotherms studies of equilibrium sorption of Zn2+ unto phosphoric acid modified rice husk. J Appl Chem 3:38–45

Debs KB, Cardona DS, Silva HDT, Nassar NN, Carrilho ENVM, Ferreira PSH, Labuto G (2019) Oil spill cleanup employing magnetite nanoparticles and yeast-based magnetic bionanocomposite. J Environ Manag 230:405–412

Dong W, Chen Q, Hou Y, Li S, Zhuang K, Huang F, Zhou J, Li Z, Wang J, Fu L (2015) Metabolic pathway involved in 2-methyl-6-ethylaniline degradation by Sphingobium sp. strain MEA3-1 and the cloning of a novel flavin-dependent monooxygenase system meaBA. Appl Environ Microbiol 81:8254–8264

Fakhri A (2017) Adsorption characteristics of graphene oxide as a solid adsorbent for aniline removal from aqueous solutions: kinetics, thermodynamics and mechanism studies. Journal of Saudi Chemical Society 21:52–57

Fatemeh Ahangaran F, Hassanzadeh A, Nouri S (2013) Surface modification of Fe3O4@SiO2 microsphere by silane coupling agent. Intl Nano Lett 3:23

Foo KY, Hameed BH (2010) Insights into the modeling of adsorption isotherm systems. Chem Eng J 156:2–10

Fu H-Y, Zhang Z-B, Chai T, Huang G-H, Yu S-J, Liu Z, Gao P-F (2017) Study of the removal of aniline from wastewater via meuf using mixed surfactants. Water 9:365

Gheewala SH, Annachhatre AP (1997) Biodegradation of aniline. Wat Sci Technol 36:53–63

Giraldo L, Erto A, Moreno-Piraján JC (2013) Magnetite nanoparticles for removal of heavy metals from aqueous solutions: synthesis and characterization. Adsorption 19:465–474

Gómez JL, León G, Hidalgo AM, Gómez M, Murcia MD, Griñán G (2009) Application of reverse osmosis to remove aniline from wastewater. Desalination 245:687–693

Gu Z, Gao M, Luo Z, Lu L, Ye Y, Liu Y (2014) Bis-pyridinium dibromides modified organo-bentonite for the removal of aniline from wastewater: a positive role of π–π polar interaction. Appl Surf Sci 290:107–115

Guan Y, Qian H, Guo J, Yang S, Wang X, Wang S, Fu Y (2015) Synthesis of acidified palygorskite/BiOI with exceptional performances of adsorption and visible-light photoactivity for efficient treatment of aniline wastewater. Appl Clay Sci 114:124–132

Hasan SH, Ranjan D, Talat M (2010) Water hyacinth biomass (WHB) for the biosorption of hexavalent chromium: optimization of process parameters. BioResources 5:563–575

Hu Q, Gao DW, Pan H, Hao L, Wang P (2014) Equilibrium and kinetics of aniline adsorption onto crosslinked sawdust-cyclodextrin polymers. RSC Adv 75:40071–40077

Hwang W, Umar A, Dar GN, Kim SH, Badran RI (2014) Synthesis and characterization of iron oxide nanoparticles for phenyl hydrazine sensor applications. Sens Lett 12:1–5

Jianguo C, Aimin L, Hongyan S, Zhenghao F, Chao L, Quanxing Z (2005) Adsorption characteristics of aniline and 4-methylaniline onto bifunctional polymeric adsorbent modified by sulfonic groups. J Hazard Mat 124:173–180

Jing Z, Cao S, Yu T, Hu J (2015) Degradation characteristics of aniline with ozonation and subsequent treatment analysis. J Chem Sci 2015:1–6

Kakavandi B, Jafari JA, Kalantary RR, Nasseri S, Ameri A, Esrafily A (2013) Synthesis and properties of Fe3O4-activated carbon magnetic nanoparticles for removal of aniline from aqueous solution: equilibrium, kinetic and thermodynamic studies. Iranian J Environ Health Sci Eng 10:19

Kermani M, Pourmoghaddas H, Bina B, Khazaei Z (2006) Removal of phenol from aqueous solutions by rice husk ash and activated carbon. Pak J Biol Sci 9:1905–1910

Kilianová M, Prucek R, Filip J, Kolařík J, Kvítek L, Panáček A, Tuček J, Zbořil R (2013) Remarkable efficiency of ultrafine superparamagnetic iron(III) oxide nanoparticles toward arsenate removal from aqueous environment. Chemosphere 93:2690–2697

Kuang W, Liu YN, Huang J (2017) Phenol-modified hyper-cross-linked resins with almost all micro/mesopores and their adsorption to aniline. J Colloid Interface Sci 487:31–37

Labuto G, Cardona DS, Debs KB, Imamura AR, Bezerra KCH, Carrilho ENVM, Ferreira PSH (2018) Low cost agroindustrial biomasses and ferromagnetic bionanocomposites to cleanup textile effluents. Desalin Water Treat 12:80–89

Liao MH, Chen DH (2002) Preparation and characterization of a novel magnetic nano-adsorbent. J Mat Chem 12:3654–3659

Limousin G, Gaudet JP, Charlet L, Szenknect S, Barthe's V, Krimissa M (2007) Sorption isotherms: a review on physical bases, modeling and measuremen. App Geo Chem 22:249–275

Lin X, Zhang J, Luo X, Zhang C, Zhou Y (2011) Removal of aniline using lignin grafted acrylic acid from aqueous solution. Chem Eng J 172:856–863

Liu L, Li C, Bao C, Jia Q, Xiao P, Liu X (2012) Preparation and characterization of chitosan/graphene oxide composites for the adsorption of Au(III) and Pd(II). Talanta 93:350–357

Liu G, Wang Z, Zheng W, Yang S, Sun C (2014) Visible-light driven photocatalytic degradation of aniline over NaBiO3. Adv Cond Matter Phys

Liu Q, Zhang L, Hu P, Huang R (2015) Removal of aniline from aqueous solutions by activated carbon coated by chitosan. J Water Reuse Desal 5:610–618

Malekian R, Abedi-Koupai J, Eslamian SS, Afyuni M (2013) Ion-exchange process for nitrate removal and release using surfactant modified zeolite. JWSS - Isfahan Univ Technol 63:191–201

Moghaddam MS, Rahdar S, Taghavi M (2015) Cadmium removal from aqueous solutions using saxaul tree ash. Iran J Chem Chem Eng 35:45–52

Mohamadiyan J, Shams-Khoramabadi G, Mussavi SA, Kamarehie B, Shahamat YD, Godini H (2017) Aniline degradation using advanced oxidation process by UV/peroxy disulfate from aqueous solution. IJE Transactions B: Applications 30:684–690

Mokadem Z, Mekki S, Saїdi-Besbes S, Agusti G, Elaissari A, Derdour A (2017) Triazole containing magnetic core-silica shell nanoparticles for Pb2+, Cu2+ and Zn2+ removal. Arab J Chem 10:1039–1051

Park JO, Rhee KY, Park SJ (2010) Silane treatment of Fe3O4 and its effect on the magnetic and wear properties of Fe3O4/epoxy nanocomposites. Appl Surf Sci 256:6945–6950

Peng ZG, Hidajat K, Uddin MS (2004) Adsorption of bovine serum albumin on nanosized magnetic particles. J Colloid Interf Sci 271:277–283

Rahdar A, Ahmadi S, Fu J, Rahdar S (2019a) Iron oxide nanoparticle preparation and its use for the removal of fluoride from aqueous solution: application of isotherm, kinetic, and thermodynamics. Desalin Water Treat 137:174–182

Rahdar S, Igwegbe CA, Ghasemi M, Ahmadi S (2019b) Degradation of aniline by the combined process of ultrasound and hydrogen peroxide (US/H2O2). MethodsX 6:492–499

Rahdar S, Rahdar A, Ahmadi S, Trant J (2019c) Adsorption of bovine serum albumin (BSA) by bare magnetite nanoparticles with surface oxidative impurities that prevent aggregation. Can J Chem in press. https://doi.org/10.1139/cjc-2019-0008

Rahdar S, Rahdar A, Igwegbec CA, Moghaddama F, Ahmadia S (2019d) Synthesis and physical characterization of nickel oxide nanoparticles and its application study in the removal of ciprofloxacin from contaminated water by adsorption: equilibrium and kinetic studies. Desalin Water Treat 141:386–393

Roshan B, Kadirvelu K, Kumar NS (2013) Investigation of aniline adsorption onto spherical carbon: optimization using response surface methodology. Int J Eng Res Appl 3(5):943–952

Salam MA, Gabal MA, Obaid AY (2012) Preparation and characterization of magnetic multi-walled carbon nanotubes/ferrite nanocomposite and its application for the removal of aniline from aqueous solution. Synth Met 161:2651–2658

Shahmohammadi SH, Babazadeh H (2014) Isotherms for the sorption of zinc and copper onto kaolinite: comparison of various error functions. Environ Sci Technol Journal 11:111–118

Shao D, Hu J, Chen C, Sheng G, Ren X, Wan X (2010) Polyaniline multiwalled carbon nanotube magnetic composite prepared by plasma-induced graft technique and its application for removal of aniline and phenol. J Phys Chem 114:21524–21530

Sheet I, Kabbani A, Holail H (2014) Removal of heavy metals using nanostructured graphite oxide, silica nanoparticles and silica/graphite oxide composite. Energy Procedia 50:130–138

Shen H-Y, Zhu Y, Wen X-E, Zhuang Y-M (2007) Preparation of Fe3O4–C18 nano-magnetic composite materials and their cleanup properties for organophosphorous pesticides. Anal Bioanal Chem 387:2227–2237

Suresh S, Srivastava V, Mishra I (2012) Adsorptive removal of aniline by granular activated carbon from aqueous solutions with catechol and resorcinol. Environ Technol 33:773–781

Taimoory SM, Rahdar A, Aliahmad M, Sadeghfar F, Hajinezhad MR, Jahantigh M, Shahbazi P, Trant JF (2018) The synthesis and characterization of a magnetite nanoparticle with potent antibacterial activity and low mammalian toxicity. J Mol Liq 265:96–104

Tang B, Lin Y, Yu P, Luo Y (2012) Study of aniline/ɛ-caprolactam mixture adsorption from aqueous solution onto granular activated carbon: kinetics and equilibrium. Chem Eng J 187:69–78

Tzvetkova P, Vassileva P, Nickolov R (2009) Modified silica gel with 5-amino-1,3,4-thiadiazole-2-thiol for heavy metal ions removal. J Porous Mater 17:459–456

Wade LG, Simek JW  (2017) Organic chemistry, 9th edition, Pearson, New York.

Wang L, Barrington S, Kim J (2007) Biodegradation of pentyl amine and aniline from petrochemical wastewater. J Environ Manag 83:191–197

Wang J, Zheng S, Shao Y, Liu J, Xu Z, Zhu D (2010) Amino functionalized Fe3O4@SiO2 core-shell magnetic nanomaterial as a novel adsorbent for aqueous heavy metals removal. J Colloid Interface Sci 349:293–299

Wang F, Dong C, Wang Z, Cui Y, Wang C, Zhao Y, Li G (2014) Fluorescence detection of anilines and photocatalytic degradation of Rhodamine B by a multifunctional metal–organic framework. Eur J Inorg Chem 36:6239–6245

Wu GO, Zhang X, Hui H, Yan J, Zhang QS, Wan JL (2012) Adsorptive removal of aniline from aqueous solution by oxygen plasma irradiated bamboo based activated carbon. Chem Eng J 185:201–210

Xie J, Meng W, Wu D, Zhang Z, Kong H (2012a) Removal of organic pollutants by surfactant modified zeolite: comparison between ionizable phenolic compounds and non-ionizable organic compounds. J Hazard Mater 231:57–63

Xie X, Zhang Y, Huang W, Huang S (2012b) Degradation kinetics and mechanism of aniline by heat-assisted persulfate oxidation. J Environ Sci 24:821–826

Yang J, Hou B, Wang J, Tian B, Bi J, Wang N, Li X, Huang X (2019) Nanomaterials for the removal of heavy metals from wastewater. Nanomaterials 9:424

Yan-Yang C, Ling-Ling L, Mao-Juan B (2011) Dual-electrode oxidation used for aniline degradation in aqueous electrolyte. Water Sci Technol 63:2583–2589

Zhang A, Li D, Cui J, Yang FM (2011) Performance of enhanced biological SBR process for aniline treatment by mycelial pellet as biomass carrier. Bioresour Technol 102:4360–4365

Zhang L, Lian J, Wang L, Jiang J, Duan Z, Zhao L (2014) Markedly enhanced coercive field and Congo red adsorption capability of cobalt ferrite induced by the doping of non-magnetic metal ions. Chem Eng J 241:384–392

Zhang J, Wu Y, Qin C, Liu L, Lan Y (2015) Rapid degradation of aniline in aqueous solution by ozone in the presence of zero-valent zinc. Chemosphere 141:258–264

Zhang M, Shi H, Meng D, Chen K, Lin RL, Sun WQ, Liu JX (2019) Encapsulation and removal of aniline by di-cyclohexanocucurbit[6]uril. New J Chem 43:1487–1493

Zhu L, Lv M, Dai X, Xu X, Qi H, Yu Y (2012) Reaction kinetics of the degradation of chloroanilines and aniline by aerobic granule. Biochem Eng J 68:215–220
Additional information
Publisher's note
Springer Nature remains neutral with regard to jurisdictional claims in published maps and institutional affiliations.
Responsible editor: Tito Roberto Cadaval Jr
Electronic supplementary material
About this article
Cite this article
Rahdar, A., Rahdar, S. & Labuto, G. Environmentally friendly synthesis of Fe2O3@SiO2 nanocomposite: characterization and application as an adsorbent to aniline removal from aqueous solution. Environ Sci Pollut Res (2020). https://doi.org/10.1007/s11356-019-07491-y
Received:

Accepted:

Published:
Keywords
Magnetic nanoparticle synthesis

Green chemistry

Electrochemical synthesis

Adsorption