Abstract
Trimethylamine (TMA) is an odorous volatile organic compound emitted by industries. Algal-based biotechnologies have been proven as a feasible alternative for wastewater treatment, although their application to abate polluted air emissions is still scarce. This work comparatively assessed the removal of TMA in a conventional bacterial bubble column bioreactor (BC) and a novel algal-bacterial bubble column photobioreactor (PBC). The PBC exhibited a superior TMA abatement performance compared to the conventional BC. In this sense, the BC reached a removal efficiency (RE) and an elimination capacity (EC) of 78% and 12.1 g TMA m−3 h−1, respectively, while the PBC achieved a RE of 97% and a EC of 16.0 g TMA m−3·h−1 at an empty bed residence time (EBRT) of 2 min and a TMA concentration ~500 mg m−3. The outstanding performance of the PBC allowed to reduce the operating EBRT to 1.5 and 1 min while maintaining high REs of 98 and 94% and ECs of 21.2 and 28.1 g m−3·h−1, respectively. Moreover, the PBC improved the quality of the gas and liquid effluents discharged, showing a net CO2 consumption and decreasing by ~ 30% the total nitrogen concentration in the liquid effluent via biomass assimilation. A high specialization of the bacterial community was observed in the PBC, Mumia and Aquamicrobium sp. being the most abundant genus within the main phyla identified.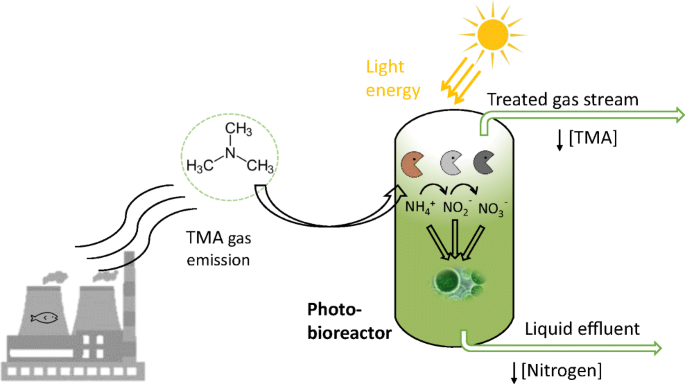 This is a preview of subscription content, log in to check access.
Access options
Buy single article
Instant unlimited access to the full article PDF.
US$ 39.95
Price includes VAT for USA
Subscribe to journal
Immediate online access to all issues from 2019. Subscription will auto renew annually.
US$ 99
This is the net price. Taxes to be calculated in checkout.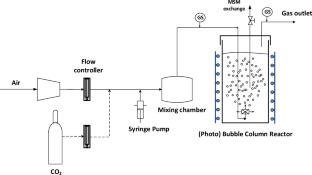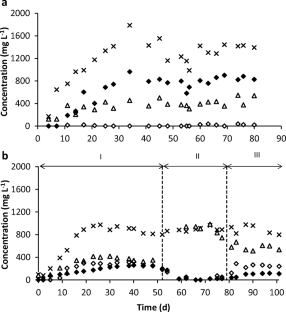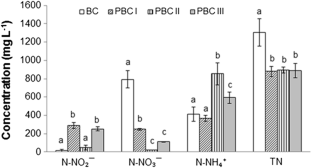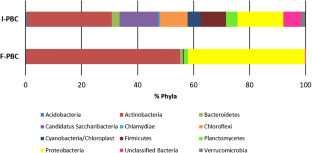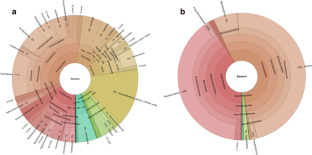 References
Aguirre A, Bernal P, Maureira D et al (2018) Biofiltration of trimethylamine in biotrickling filter inoculated with Aminobacter aminovorans. Electron J Biotechnol 33:63–67. https://doi.org/10.1016/j.ejbt.2018.04.004

American Water Works Association (2012) Standard methods for the examination of water and wastewater. American Water Works Association/American Public

Awolusi OO, Nasr M, Kumari S, Bux F (2016) Artificial intelligence for the evaluation of operational parameters influencing nitrification and nitrifiers in an activated sludge process. Microb Ecol 72:49–63. https://doi.org/10.1007/s00248-016-0739-3

Borde X, Guieysse B, Delgado O et al (2003) Synergistic relationships in algal-bacterial microcosms for the treatment of aromatic pollutants. Bioresour Technol 86:293–300. https://doi.org/10.1016/S0960-8524(02)00074-3

Chang CT, Chen BY, Shiu IS, Jeng FT (2004) Biofiltration of trimethylamine-containing waste gas by entrapped mixed microbial cells. Chemosphere 55:751–756. https://doi.org/10.1016/j.chemosphere.2003.11.037

Chang J-S, Show P-L, Ling T-C et al (2017) Photobioreactors. Curr Dev Biotechnol Bioeng. https://doi.org/10.1016/B978-0-444-63663-8.00011-2

Cole JR, Wang Q, Cardenas E et al (2009) The ribosomal database Project: Improved alignments and new tools for rRNA analysis. Nucleic Acids Res. https://doi.org/10.1093/nar/gkn879

Ding Y, Wu W, Han Z, Chen Y (2008) Correlation of reactor performance and bacterial community composition during the removal of trimethylamine in three-stage biofilters. Biochem Eng J 38:248–258. https://doi.org/10.1016/j.bej.2007.07.011

Edgar RC (2010) Search and clustering orders of magnitude faster than BLAST. Bioinformatics. https://doi.org/10.1093/bioinformatics/btq461

Estrada JM, Kraakman NJRB, Muñoz R, Lebrero R (2011) A comparative analysis of odour treatment technologies in wastewater treatment plants. Environ Sci Technol 45:1100–1106. https://doi.org/10.1021/es103478j

Franco-Morgado M, Alcántara C, Noyola A et al (2017) A study of photosynthetic biogas upgrading based on a high rate algal pond under alkaline conditions: influence of the illumination regime. Sci Total Environ 592:419–425. https://doi.org/10.1016/j.scitotenv.2017.03.077

Ho KL, Chung YC, Lin YH, Tseng CP (2008) Biofiltration of trimethylamine, dimethylamine, and methylamine by immobilized Paracoccus sp. CP2 and Arthrobacter sp. CP1. Chemosphere 72:250–256. https://doi.org/10.1016/j.chemosphere.2008.01.044

Hu J, Li DP, Liu Q et al (2009) Effect of organic carbon on nitrification efficiency and community composition of nitrifying biofilms. J Environ Sci 21:387–394. https://doi.org/10.1016/S1001-0742(08)62281-0

Huang X, Bai J, Li KR et al (2017) Characteristics of two novel cold- and salt-tolerant ammonia-oxidizing bacteria from Liaohe estuarine wetland. Mar Pollut Bull 114:192–200. https://doi.org/10.1016/j.marpolbul.2016.08.077

Huang Z, Gedalanga PB, Olson BH (2010) Distribution of <I>Nitrobacter</I> and <I>Nitrospira</I> communities in an aerobic activated sludge bioreactor and their contributions to nitrite oxidation. Proc Water Environ Fed 2010:2390–2403. https://doi.org/10.2175/193864710798159101

Jin HM, Kim JM, Jeon CO (2013) Aquamicrobium aestuarii sp. nov., a marine bacterium isolated from a tidal flat. Int J Syst Evol Microbiol 63:4012–4017. https://doi.org/10.1099/ijs.0.048561-0

Kang D, Zhao Q, Wu Y et al (2017) Removal of nutrients and pharmaceuticals and personal care products from wastewater using periphyton photobioreactors. Bioresour Technol. https://doi.org/10.1016/j.biortech.2017.06.153

Kim SG, Bae HS, Oh HM, Lee ST (2003) Isolation and characterization of novel halotolerant and/or halophilic denitrifying bacteria with versatile metabolic pathways for the degradation of trimethylamine. FEMS Microbiol Lett 225:263–269. https://doi.org/10.1016/S0378-1097(03)00530-5

Klindworth A, Pruesse E, Schweer T et al (2013) Evaluation of general 16S ribosomal RNA gene PCR primers for classical and next-generation sequencing-based diversity studies. Nucleic Acids Res. https://doi.org/10.1093/nar/gks808

Lebrero R, Volckaert D, Pérez R et al (2013) A membrane bioreactor for the simultaneous treatment of acetone, toluene, limonene and hexane at trace level concentrations. Water Res. https://doi.org/10.1016/j.watres.2013.01.041

Lee LH, Zainal N, Azman AS, Mutalib NS, Hong K, Chan KG (2014) Mumia flava gen. nov., sp. nov., an actinobacterium of the family Nocardioidaceae. Int J Syst Evol Microbiol 64:1461–1467. https://doi.org/10.1099/ijs.0.058701-0

Liffourrena AS, Lucchesi GI (2014) Degradation of trimethylamine by immobilized cells of Pseudomonas putida a (ATCC 12633). Int Biodeterior Biodegrad 90:88–92. https://doi.org/10.1016/j.ibiod.2014.02.008

MacDonald G (2003) Biogeography: introduction to space, time, and life. Prof Geogr. https://doi.org/10.1111/0033-0124.5502018

Magoč T, Salzberg SL (2011) FLASH: fast length adjustment of short reads to improve genome assemblies. Bioinformatics. https://doi.org/10.1093/bioinformatics/btr507

Markou G, Vandamme D, Muylaert K (2014) Microalgal and cyanobacterial cultivation: the supply of nutrients. Water Res 65:186–202. https://doi.org/10.1016/j.watres.2014.07.025

Merchuk JC, Garcia-Camacho F, Molina-Grima E (2007) Photobioreactor design and fluid dynamics. Chem Biochem Eng Q 21:345–355

Muñoz R, Guieysse B (2006) Algal–bacterial processes for the treatment of hazardous contaminants: a review. Water Res 40:2799–2815. https://doi.org/10.1016/j.watres.2006.06.011

Muñoz R, Souza TSO, Glittmann L et al (2013) Biological anoxic treatment of O2-free VOC emissions from the petrochemical industry: a proof of concept study. J Hazard Mater 260:442–450. https://doi.org/10.1016/j.jhazmat.2013.05.051

Oksanen J, Blanchet FG, Kindt R, et al (2015) Vegan: community ecology package. R package version 2.0-10. 2013. R Packag ver 24–3. https://doi.org/10.1007/s10265-013-0586-y

Ondov BD, Bergman NH, Phillippy AM (2011) Interactive metagenomic visualization in a web browser. BMC Bioinformatics. https://doi.org/10.1186/1471-2105-12-385

Oyarzun P, Alarcón L, Calabriano G, Bejarano J, Nuñez D, Ruiz-Tagle N, Urrutia H (2019) Trickling filter technology for biotreatment of nitrogenous compounds emitted in exhaust gases from fishmeal plants. J Environ Manag 232:165–170. https://doi.org/10.1016/j.jenvman.2018.11.008

Perillo PM, Rodríguez DF (2016) Low temperature trimethylamine flexible gas sensor based on TiO2 membrane nanotubes. J Alloys Compd 657:765–769. https://doi.org/10.1016/j.jallcom.2015.10.167

Schmieder R, Edwards R (2011) Quality control and preprocessing of metagenomic datasets. Bioinformatics. https://doi.org/10.1093/bioinformatics/btr026

Vo HNP, Bui XT, Nguyen TT, Nguyen DD, Dao TS, Cao ND, Vo TK (2018) Effects of nutrient ratios and carbon dioxide bio-sequestration on biomass growth of Chlorella sp. in bubble column photobioreactor. J Environ Manag 219:1–8. https://doi.org/10.1016/j.jenvman.2018.04.109

Wan S, Li G, Zu L, An T (2011) Bioresource technology purification of waste gas containing high concentration trimethylamine in biotrickling filter inoculated with B350 mixed microorganisms. Bioresour Technol 102:6757–6760. https://doi.org/10.1016/j.biortech.2011.03.059

Wang Q, Garrity GM, Tiedje JM, Cole JR (2007) Naïve Bayesian classifier for rapid assignment of rRNA sequences into the new bacterial taxonomy. Appl Environ Microbiol. https://doi.org/10.1128/AEM.00062-07

Wei Z, Huang Q, Ye Q et al (2015) Thermophilic biotrickling filtration of gas-phase trimethylamine. Atmos Pollut Res 6:428–433. https://doi.org/10.5094/APR.2015.047

Xue N, Wang Q, Wang J et al (2013) Odorous composting gas abatement and microbial community diversity in a biotrickling filter. Int Biodeterior Biodegrad 82:73–80. https://doi.org/10.1016/j.ibiod.2013.03.003

Yang X, Liu L, Wu B, Liu S, Chen F (2015) Screening and ammoxidation characteristics of an ammonium oxidizing bacteria group. Wei Sheng Wu Xue Bao 55:1608–1618

Zhang C, Yuan X, Luo Y, Yu G (2018) Prediction of species concentration distribution using a rigorous turbulent mass diffusivity model for bubble column reactor simulation part I: application to chemisorption process of CO 2 into NaOH solution. Chem Eng Sci 184:161–171. https://doi.org/10.1016/j.ces.2018.03.031

Zhang T, Shao MF, Ye L (2012) 454 pyrosequencing reveals bacterial diversity of activated sludge from 14 sewage treatment plants. ISME J 6:1137–1147. https://doi.org/10.1038/ismej.2011.188
Additional information
Publisher's note
Springer Nature remains neutral with regard to jurisdictional claims in published maps and institutional affiliations.
Highlights
• The algal-bacterial photobioreactor showed a superior TMA abatement.
• Photobioreactor enhanced TMA removal by ~20% under similar operating conditions.
• Removal efficiencies > 94% were recorded in the photobioreactor at an EBRT of 1 min.
• Photosynthetic activity supported higher pH values and reduced CO2 emissions.
• Thirty percent less nitrogen was discharged in the liquid effluent of the photobioreactor.
Responsible editor: Gerald Thouand
Electronic supplementary material
About this article
Cite this article
Pascual, C., Akmirza, I., Pérez, R. et al. Trimethylamine abatement in algal-bacterial photobioreactors. Environ Sci Pollut Res (2020). https://doi.org/10.1007/s11356-019-07369-z
Received:

Accepted:

Published:
Keywords
Biodegradation

Bubble column bioreactor

Microalgae-bacteria

Odor treatment

Photobioreactor

Trimethylamine