Starch/PVA hydrogels for oil/water separation
Abstract
PVA polymers have been well-known as water-absorbing materials but their brittle nature hinders their applicability. In this study, we enhanced the strength of hydrogel and its water-absorbing capabilities by glutaraldehyde-assisted crosslinking of starch with PVA and blending BMIM-BF4 to enhance the plasticity and generate porosity within the hydrogel multiplying the swelling capacity up to 300% and understand the kinetics and mechanism of water absorption based on the structure of the hydrogel. The ability of starch/PVA hydrogel to selectively adsorb water from oil–water emulsions was determined by establishing the underwater oleophobic nature (oil contact angle ~ 153.6°), subjecting the hydrogel to oil–water emulsion to determine the water absorbed. The hydrogels' biodegradable nature was tested by an efficient in-house biotic system and mechanisms for biodegradation have been discussed. The biodegradability (~ 90%) was determined for 50% starch in PVA sample in 28 days. These properties observed in the hydrogels will find applications in irrigating arid and semi-arid areas and also in developing superabsorbent hydrogels for hygiene-related product development etc. which can be biodegraded in an economic way.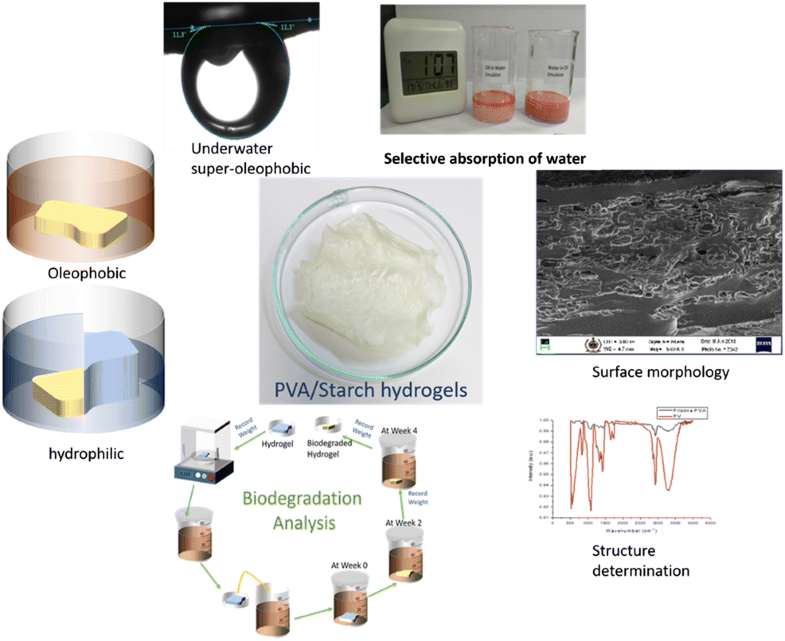 Keywords
Biodegradation 
Janus materials 
Degradation mechanism 
Superabsorbent 
Polymer blend 
Notes
Acknowledgements
The authors acknowledge Dr. C.P. Ramnarayanan, Vice Chancellor, DIAT (DU), and Prof. Santhosh Chidangil, Head, Department of Molecular Physics, MAHE, for motivation and support. the authors also thank Mr. Ramdayal Yadav, Mr. Prakash Gore, Mr. Ravi Prakash Magisetty, Mr. Ankit Malik and Mr. Swaroop Gharde for continuous technical support.
Compliance with ethical standards
Conflict of interest
The authors declare that they have no conflict of interest.
Copyright information
© Springer-Verlag GmbH Germany, part of Springer Nature 2019