Agricultural and domestic pesticides in house dust from different agricultural areas in France
Abstract
Pesticides have been associated with various pathologies, and there is growing evidence of pesticide presence in domestic environments. However, most available studies focused on a limited number of pesticides or households, and few have been conducted in Europe. We aimed to assess indoor pesticide contamination by screening the prevalence of 276 pesticides and ten pesticide metabolites, in French households from different agricultural and urban areas. We sampled indoor dust from 239 households in 2012, proximate to orchards (n = 69), cereals (n = 66) and vineyard (n = 68) crops, or from urban area (n = 36). we used cellulose wipes moistened with isopropanol and polypropylene dust traps to collect recent (7 and 30 days, respectively) and settled dust (> 6 months). Overall, 125 pesticides and piperonyl butoxide were detected at least once in households, mostly at low prevalence: 97 in recent dust, and 111 in settled dust. In recent dust, the most prevalent compounds were o-phenylphenol (168 households, 70%), pentachlorophenol (86, 36%), and piperonyl butoxide (82, 34%). In addition to agricultural pesticides, we found a high proportion of domestic and banned compounds in recent and settled house dust. Several pesticides were identified in house dust, from different pesticide groups and sources. Our results suggest that domestic usage and persistence of banned pesticides may contribute substantially to indoor pesticide contamination.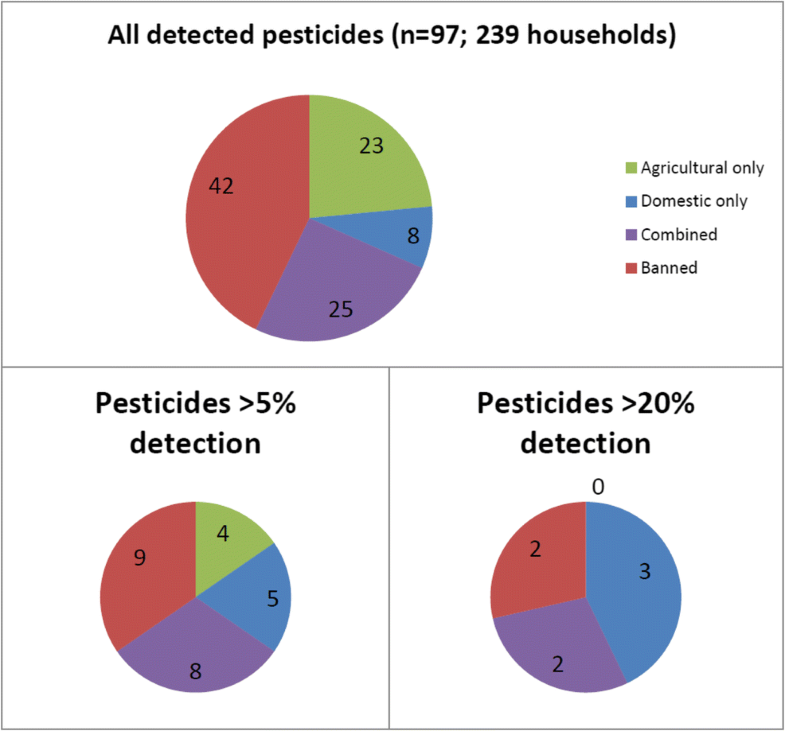 Keywords
Pesticides 
Dust 
Agriculture 
Gardening 
Airborne contamination 
Abbreviations
DAC

Departmental Agricultural Chambers

DDT

dichlorodiphenyltrichloroethane

DGDDI

General Directorate of Customs and Excise

DRAAF

Regional Directorate for Food, Agriculture and Forestry

GIS

geographic information systems

PBO

piperonyl butoxide

PCBs

polychlorinated biphenyls

PCoA

principal coordinate analyses

RDS

recent dust samples

SDS

settled dust samples

SL

surface loading
Notes
Acknowledgments
The authors acknowledge Elodie Faure (Centre Léon Bérard) for the GIS analyses, Kevin Saout for collecting part of the samples, and Helen Bailey (IARC) for proof-reading; Guy Le Henaf (IRSTEA); all the volunteers that participated to the study; and the departmental agricultural chambers, the farmers, and the pesticide vendors that participate to the study.
Authors' contribution
RB, JB, JS, and FB drafted the study protocol, with the help of JRN. RB and JB participated to the sample collection. MLB and BC supervised the laboratory analyses. EB performed the statistical analyses. MM was involved in the design and the interpretation of the results of the validation study. RB and JB interpreted the main results, with the help of TP, EB, JRN, JS, and BF. RB drafted the manuscript, under the supervision of JS and BF, and with the help of the coauthors. All authors read and approved the final manuscript.
Funding
Rémi Béranger held a doctoral grant from the Région Rhône-Alpes. This project was granted by the Fondation de France (Engt 2011-00023939) and the Région Rhône-Alpes (ref. 12-021795-01 and ref. 14-02516301-CLB001).
Compliance with ethical standards
Ethics approval and consent to participate
All participants signed informed consent. No monetary or non-monetary compensation was provided. The study was approved by relevant French authorities (French National Commission of Informatics and Freedom, CNIL—no.1560501v0).
Competing interests
The authors declare they have no competing interests.
Copyright information
© Springer-Verlag GmbH Germany, part of Springer Nature 2019