Revealing the correlation of biomethane generation, DOM fluorescence, and microbial community in the mesophilic co-digestion of chicken manure and sheep manure at different mixture ratio
Abstract
Batch co-digestion tests of chicken manure (CM) and sheep manure (SM) at different ratio (Rs/c) were conducted under mesophilic condition (35 °C). Batch kinetic analysis of bioCH4 production, excitation-emission matrix (EEM) fluorescence of dissolved organic matter (DOM), and microbial community were investigated. The well-fitted modified Gompertz model (R2, 0.98–0.99) resulted that the co-digestion markedly improved the methane production rate and shortened the lag phase time. The highest bioCH4 yield of 219.67 mL/gVSadd and maximum production rate of 0.378 mL/gVSadd/h were obtained at an optimum Rs/c of 0.4. Additionally, a significant variation of DOM was detected at the Rs/c of 0.4 with a consistent degradation of soluble microbial byproduct-like and protein-like organics. The positive synergy effects of co-digestion conspicuously enhanced the bioCH4 production efficiency. FI370 and NADH were significantly correlated to Rs/c (p < 0.05). Moreover, the correlations among process indicator, EEM-peaks and different environmental parameters were evaluated by Pearson correlation analysis. The high diversity of acetoclastic methanogens and hydrogenotrophic methanogens in the co-digestion improved the stability of process.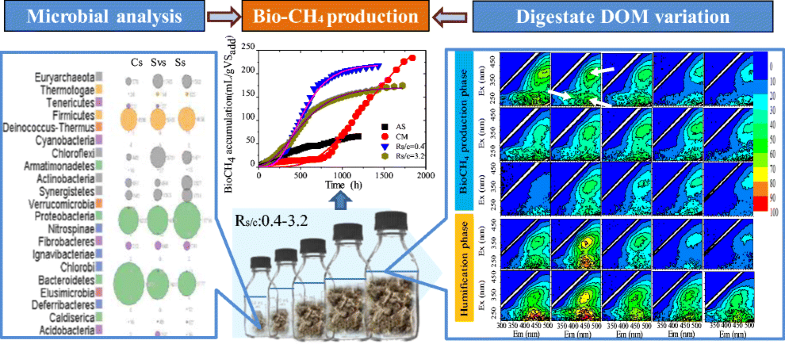 Keywords
Chicken manure 
Sheep manure 
Co-digestion 
Rs/c 
EEM 
Microbial community 
Nomenclature
CM

Chicken manure

SM

Sheep manure

Rs/c

Volatile solid ratio of sheep manure to chicken manure

SCOD

Dissolved chemical oxygen demand

TCOD

Total chemical oxygen demand

DOM

Dissolved organic matter

EEM

Three-dimensional excitation-emission matrix

Em

Emission

Ex

Excitation

TS

Total solid

VS

Volatile solid

SMP

Soluble microbial byproduct-like materials

BIX

The biological index

HIX

The humification index

NADH

Nicotinamide adenine dinucleotide (the reduced form)

NAD+

Nicotinamide adenine dinucleotide (the oxidation form)

TAN

Total ammonia nitrogen

FA

Free ammonia

FRI

Fluorescence regional integration

TP

Total phosphorus

Ss

The seed sludge

Cs

The co-digestion sludge

Svs

The sludge setting in starvation

AS

Anaerobic sludge
Notes
Funding information
The authors' research is supported by the National Natural Science Foundation of China (Grant No. 51608304 and Grant No. U1806216) and Young Scholars Program of Shandong University (2018WLJH53). Research Fund of Tianjin Key Laboratory of Aquatic Science and Technology (TJKLAST-ZD-2017-04) and Research Fund of Jiangsu Key Laboratory of Anaerobic Biotechnology (JKLAB201702) were also partly supported this work. "The Fundamental Research Funds of Shandong University" and China Postdoctoral Science Foundation (2017M622209). also supported this study.
Copyright information
© Springer-Verlag GmbH Germany, part of Springer Nature 2019