Production of eco-friendly fuel with the help of steam distillation from new plant source and the investigation of its influence of fuel injection strategy in diesel engine
Abstract
The primary intention of this experiment is to abate the harmful emissions of imported petroleum fuel by approach of novel citronella emulsified fuel. The study is emphasized by evaluating the influence of alteration in IT (injection timing) and IP (injection pressure) in diesel engine when utilizing B20 emulsion fuel of 5% water, 1% surfactant, 14% citronella oil and 80% diesel. The IT and IP are speckled in the array of 21 degCA bTDC, 23 degCA bTDC and 25 degCA bTDC and 180, 200, 220 and 240 bar correspondingly. It is found that retarding the IT and increasing the IP along with emulsified fuel lead to increase in the brake thermal efficiency by 1.16% and minimal in the brake-specific fuel consumption by 4.86% at top load state when correlated with diesel. Exhaust emissions carbon monoxide, NOx and smoke were considerably reduced by 35%, 0.8% and 34% respectively, but slight increase in HC was observed by 5.26%; heat release rate and cylinder pressure had a considerable improvement. From the determination of these values, the optimum values of IT and IP are inferred as 21° bTDC and 200 bar.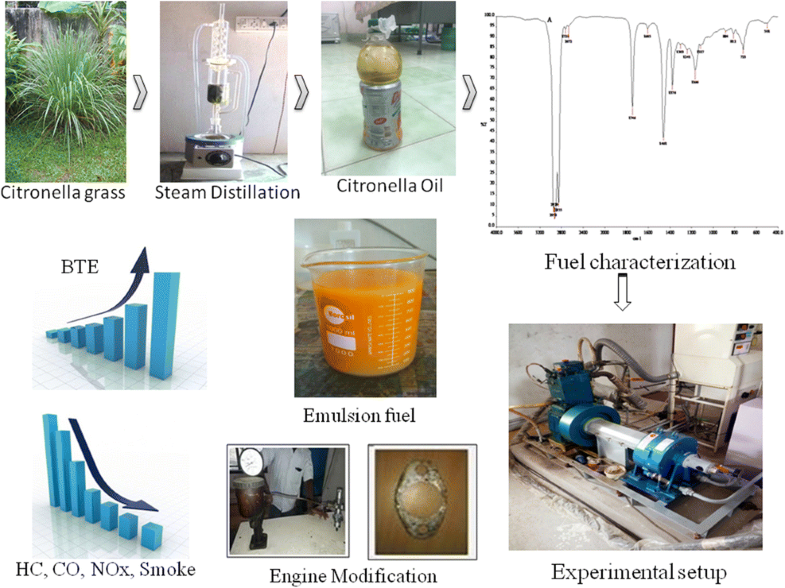 Keywords
Citronella oil 
Biofuel 
Emulsion fuels 
Diesel engine 
Emission control 
Combustion 
Abbreviation
CI

compression ignition

IT

injection timing

IP

injection pressure

NOx

oxides of nitrogen

CO

carbon monoxide

HC

hydrocarbon

BSFC

brake-specific fuel consumption

BTE

brake thermal efficiency

ID

ignition delay

CD

combustion duration

BP

brake power

PM

particulate matters

HRR

heat release rate

CP

cylinder pressure

H2O

water

HSU

Hart ridge smoke units

O2

oxygen

CA

crank angle

TDC

top dead centre

CN

cetane number

PPM

parts per million

CIME

Calophyllum inophyllum methyl ester

LHV

latent heat of vaporisation

GC-MS

gas chromatography-mass spectrometry

FT-IR

Fourier transform infrared spectroscopy

kW

kilowatts

Rpm

revaluation per minute

EGR

exhaust gas recirculation
Notes
Acknowledgements
One of the authors, Mr.R. Krishnamoorthy, state their hearty full thanks to Anna Centenary Research Fellowship for awarding fellowship and also the researchers are passing on grateful extended thanks to all the members of Automobile Engineering Department, MIT Campus, Anna University, Chromepet, Chennai 44.
Funding information
ACRF facilitated financial support to acquire the present research work.
Copyright information
© Springer-Verlag GmbH Germany, part of Springer Nature 2019