Occurrence, sorption, and transformation of free and conjugated natural steroid estrogens in the environment
Abstract
Natural steroid estrogens (NSEs), including free estrogens (FEs) and conjugated estrogens (CEs), are of emerging concern globally among public and scientific community due to their recognized adverse effects on human and wildlife endocrine systems in recent years. In this review, the properties, occurrence, sorption process, and transformation pathways of NSEs are clarified in the environment. The work comprehensively summarizes the occurrence of both free and conjugated estrogens in different natural and built environments (e.g., river, WWTPs, CAFOs, soil, and sediment). The sorption process of NSEs can be impacted by organic compounds, colloids, composition of clay minerals, specific surface area (SSA), cation exchange capacity (CEC), and pH value. The degradation and transformation of free and conjugated estrogens in the environment primarily involves oxidation, reduction, deconjugation, and esterification reactions. Elaboration about the major, subordinate, and minor transformation pathways of both biotic and abiotic processes among NSEs is highlighted. The moiety types and binding sites also would affect deconjugation degree and preferential transformation pathways of CEs. Notably, some intermediate products of NSEs still remain estrogenic potency during transformation process; the elimination of total estrogenic activity needs to be addressed in further studies. The in-depth researches regarding the behavior of both free and conjugated estrogens are further required to tackle their contamination problem in the ecosystem.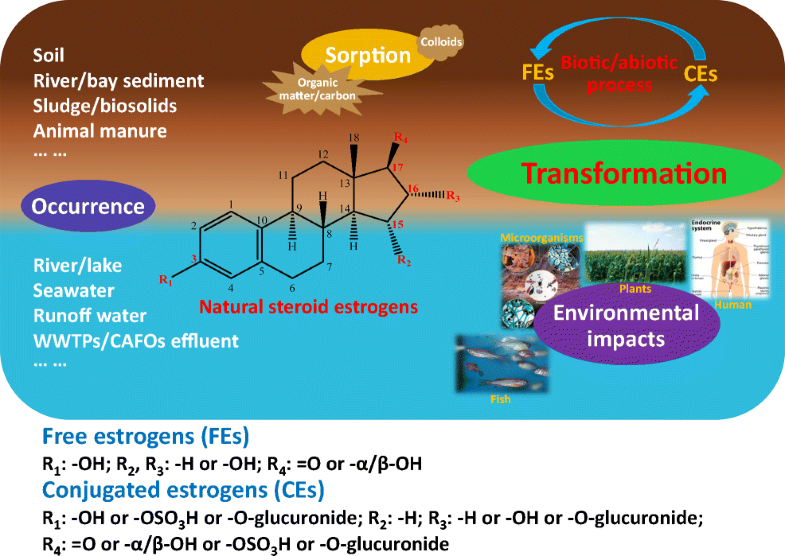 Keywords
Free estrogens 
Conjugated estrogens 
Environmental behavior 
Occurrence 
Organic compounds 
Biotic/abiotic transformation pathways 
Abbreviations
NSEs

Natural steroid estrogens

FEs

Free estrogens

CEs

Conjugated estrogens

WHO

World Health Organization

EDCs

Endocrine-disrupting chemicals

E1

Estrone

17α-E2

17α-Estradiol

17β-E2

17β-Estradiol

E3

Estriol

E4

Estetrol

CSEs

Conjugated sulfate estrogens

E1-3S

Estrone-3-sulfate

17β-E2-3S

17β-Estradiol-3-sulfate

17β-E2-17S

17β-Estradiol-17-sulfate

17β-E2-3,17-2S

17β-Estradiol-3,17-disulfate

E3-3S

Estriol-3-sulfate

CGEs

Conjugated glucuronide estrogens

E1-3G

Estrone-3-glucuronide

17β-E2-3G

17β-Estradiol-3-glucuronide

17β-E2-17G

17β-Estradiol-17-glucuronide

E3-3G

Estriol-3-glucuronide

E3-16G

Estriol-16-glucuronide

E3-17G

Estriol-17-glucuronide

CS-GEs

Conjugated sulfate-glucuronide estrogens

17β-E2-3S-17G

17β-Estradiol-3-sulfate-17-glucuronide

17β-E2-3G-17S

17β-Estradiol-3-glucuronide-17-sulfate

E3-3S-16G

Estriol-3-sulfate-16-glucuronide

WWTPs

Wastewater treatment plants

HWWTPs

Hospital wastewater treatment plants

CAFOs

Concentrated animal feeding operations

Kow

Octanol-water partition coefficient

Kd

Solid-water distribution coefficient

Koc

Organic carbon distribution coefficient

pKa

Acid dissociation constant

E-Screen

Human breast cancer cell line proliferation

YES

Yeast estrogen screen

LOQ

Limit of quantification

LOD

Limit of detection

DOM

Dissolved organic matter

SRT

Solid retention time

HRT

Hydraulic retention time

ArySTS

Arylsulfatase

GUSB

β-glucuronidase

UV

Ultraviolet

O3

Ozone

·OH

Hydroxyl radical

SSA

Specific surface area

CEC

Cation exchange capacity

HA

Humic acid

COC

Colloidal organic carbon

DOC

Dissolved organic carbon

ArySULT

Arylsulfotransferase
Notes
Acknowledgments
The authors express sincere thanks to Editor Professor Doctor Ester Heath and three anonymous reviewers for their critical and dedicated comments on the original manuscript, which greatly improved the quality of the final article.
Funding information
This work was supported by the National Natural Science Foundation of China (51608079), National Engineering Technology Research Center for Inland Waterway Regulation and Key Laboratory of Hydraulic and Waterway Engineering of the Ministry of Education Open Funding (SLK2018A04), Graduate Education Innovation Funding of School of River and Ocean Engineering, Chongqing Jiaotong University (YC2018002), and Laboratory Open Funding of Chongqing Jiaotong University (SYJ201608).
Copyright information
© Springer-Verlag GmbH Germany, part of Springer Nature 2019