Bio-removal of cadmium from aqueous solutions by filamentous fungi: Trichoderma spp. and Piriformospora indica
Abstract
Six strains of Trichoderma spp. and Piriformospora indica have been studied for cadmium tolerance and bioaccumulation capacities by the poisoned food technique. A quantitative assay for Trichoderma spp. and P. indica was conducted in broth cultures supplemented with different cadmium concentrations (0–500 mg/l). In addition, the growth pattern of P. indica was determined by growing the fungus in a solid medium amended with eight concentrations of cadmium (0–200 mg/l). Generally, an increasing cadmium gradient in the culture medium suppressed the ability of fungi for cadmium accumulation. However, a negative relation was observed between the biomass production of fungi and cadmium uptake (q: mg/g biomass). Results showed that Trichoderma spp., especially T. simmonsii [UTFC 10063], are tolerant to cadmium toxicity and have a high ability to cadmium bioaccumulation. The biomass production of T. simmonsii [UTFC 10063] was significantly stimulated and increased by 46.1% when cadmium concentration increased from 0 to 125 mg/l. Moreover, 91.7 and 31.2% of cadmium removal was observed at 10 and 500 mg/l of the cadmium concentration, respectively. P. indica, however, showed a lower tolerance and removal efficiency for cadmium as compared with Trichoderma spp. Therefore, Trichoderma spp., especially T. simmonsii [UTFC 10063], can be exploited as potent bio-removal agents in cadmium-polluted aqueous solutions.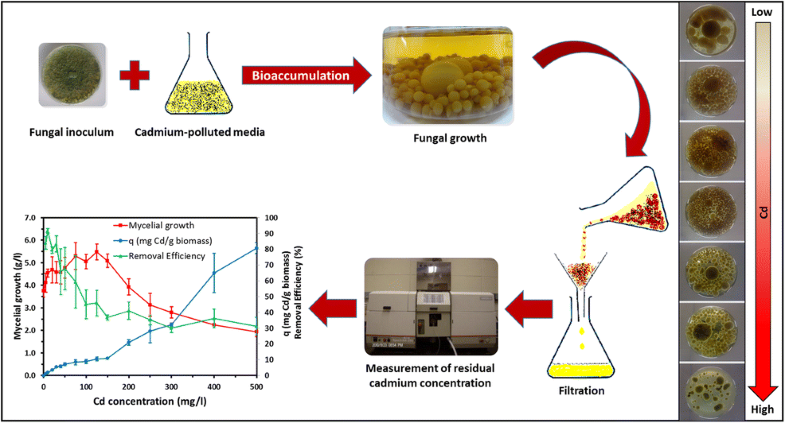 Keywords
Bioaccumulation efficacy 
Cadmium toxicity 
Growth pattern 
Removal capacities 
Spore germination 
Notes
Acknowledgements
We thank Dr. M.A. Tajick Ghanbari and Dr. V. Babaeizad for providing the fungal strains and Dr. M. Najafi and Dr. A. Alizadeh for technical assistance.
Funding information
The authors wish to acknowledge Ramin Agricultural and Natural Resources University (Ahvaz, Iran), Genetics and Agricultural Biotechnology Institute of Tabarestan (GABIT), and Sari Agricultural Sciences and Natural Resources University (Sari, Iran) for financial support of this study.
Copyright information
© Springer-Verlag GmbH Germany, part of Springer Nature 2019