Nitrate removal from groundwater using negatively charged nanofiltration membrane
Appropriate Technologies to Combat Water Pollution
Abstract
A commercial nanofiltration (NF) membrane was modified using poly(sodium 4-styrenesulfonate) (PSS) to improve the nitrate rejection from groundwater. Fourier transform infrared spectroscopy, thermogravimetric analysis, zeta potential, and water contact angle analyses were performed, showing that PSS was successfully coated onto the membrane with the surface negative charge density being enhanced. The results of nitrate removal tests showed that the best PSS concentration was 1.5 mg/L, with the nitrate rejection rate of 88.8% and the permeate flux of 27.0 L/m2 h. The effect of initial nitrate concentration and solution pH on the nitrate removal performance of the modified NF membrane was investigated. The results indicate that the modified NF membrane can improve nitrate removal from actual groundwater, with little membrane permeate flux loss.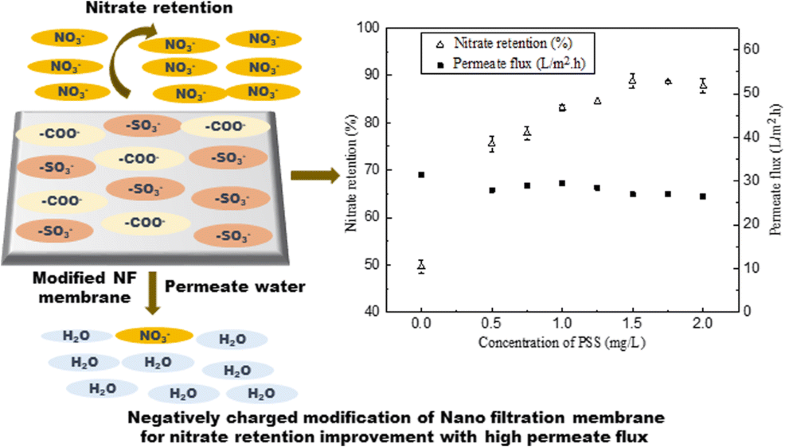 Keywords
Nanofiltration 
Negative charge density 
Sodium 4-styrenesulfonate 
Nitrate rejection rate 
Membrane permeate flux 
Notes
Funding information
This study was financially supported by the National Natural Science Foundation of China (51578329, 51778352), the Science and Technology Commission of Shanghai Municipality (16010500200, 18230710900), and Program for Innovative Research Team in University (IRT13078).
Copyright information
© Springer-Verlag GmbH Germany, part of Springer Nature 2018