Incidence and identification of microfibers in ocean waters in Admiralty Bay, Antarctica
Abstract
Antarctic pristine environment is threatened by the presence of microplastics that occur in a variety of shapes and sizes, from fibers to irregular fragments. The aim of this study is to assess the abundance, distribution, and the characterization of the microfibers in zooplankton samples found in ocean waters in Admiralty Bay, Antarctica. The samples were collected at five points in Admiralty Bay during the XXIX Brazilian Antarctic Expedition in the austral summer of 2010–2011. A total of 603 microfibers were collected in 60 samples, with an average abundance of 2.40 (± 4.57) microfibers 100 m−3. Microfiber size ranging from ca. 10 to 22 μm in diameter of various lengths and colors (blue, red, black, and clear) was collected and characterized by scanning electron microscopy (SEM) and Raman spectroscopy. Most of these microfibers were entangled in various different zooplankton species and were identified as polymers composed mostly by polyethyleneglycols, polyurethanes, polyethylene terephthalates, and polyamides. The presence of such microfibers may cause the loss of biodiversity in the Antarctic continent, and the results presented herein can contribute to a better understanding of the impact caused by them within the food chain and human health.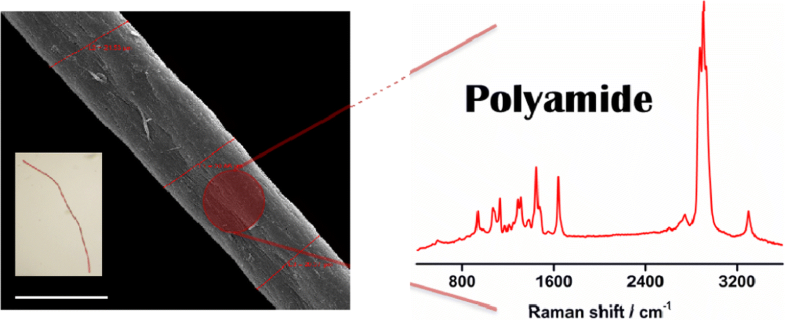 Keywords
Marine debris 
Microplastic 
Synthetic fibers 
King George Island 
Raman microscopy 
Antarctic environment 
Notes
Acknowledgements
The authors also acknowledge the support of the Brazilian Ministries of Science, Technology and Innovation (MCTI), of Environment (MMA) and Inter-Ministry Commission for Sea Resources (CIRM). We also thank the CME (Centro de Microscopia Eletrônica, UFPR) for SEM and Raman analyses. Special thanks are due to Yasmin Baddouh, A.S. from Hillsborough Community College, Florida, USA, for the English revision.
Funding information
This work is sponsored by the National Institute of Science and Technology Antarctic Environmental Research (INCT-APA) that receives scientific and financial support from the National Council for Research and Development (CNPq process: no. 574018/2008-5) and Carlos Chagas Research Support Foundation of the State of Rio de Janeiro (FAPERJ no. E-16/170.023/2008).
Copyright information
© Springer-Verlag GmbH Germany, part of Springer Nature 2018