Removal of vanadium and palladium ions by adsorption onto magnetic chitosan nanoparticles
Abstract
Chitosan (CS), synthesized from chitin chemically extracted from shrimp shells, was used for the synthesis of magnetic chitosan nanoparticles (Fe3O4-CSN), which makes the adsorbent easier to separate. Fe3O4-CSN was used for the removal of toxic metals such as vanadium (V(V)) and palladium (Pd(II)) ions from aqueous solutions. Influencing factors on the adsorption process such as pH, contact time, adsorbent dosage, and agitation speed were investigated. A competitive adsorption of V(V) and Pd(II) ions for the active sites was also studied. The monolayer maximum adsorption capacities (Qm) of 186.6 and 192.3 mg/g were obtained for V(V) and Pd(II) ions, respectively. The pseudo-second-order equation gave the best fit for the kinetic data, implying that chemisorption was the determining step. Freundlich model yielded a much better fit than the other adsorption models assessed (Langmuir, Temkin and Dubinin-Radushkevich). Thus, the adsorption of V(V) and Pd(II) ions onto Fe3O4-CSN is a combination of physical and chemical adsorption, as based on the kinetics and equilibrium study. Generally, physical adsorption is the mechanism that governs the system, while chemical adsorption is the slowest adsorption step that takes place. Thermodynamic studies displayed that the adsorption process was exothermic and spontaneous. Removal efficiencies of 99.9% for V(V) and 92.3% for Pd(II) ions were achieved, implying that Fe3O4-CSN adsorbent had an excellent ability for the removal of the metal ions from real industrial wastewaters without remarkable matrix effect.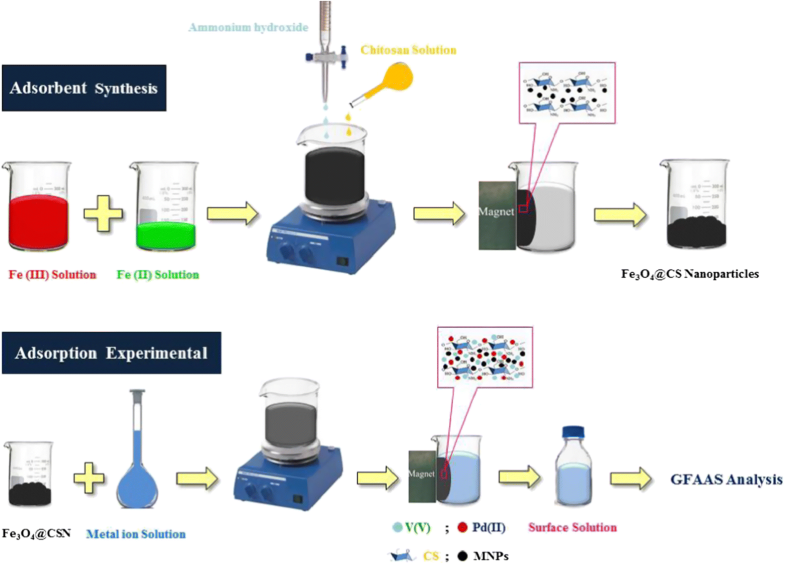 Keywords
Vanadium 
Palladium 
Chitin 
Chitosan coated magnetic iron oxide nanoparticles 
Shrimp shell 
Notes
Funding information
We are sincerely thankful to the Environmental Technologies Research Center, Ahvaz Jundishapur University of Medical Sciences (Project number: ETRC-9434) for the financial and academic supports of the present research.
Compliance with ethical standards
Competing interests
The authors declare that they have no conflict of interest.
Copyright information
© Springer-Verlag GmbH Germany, part of Springer Nature 2018