Lead exposure from households and school settings: influence of diet on blood lead levels
Abstract
Lead is known as a potent toxicant to human health, particularly for children while their central nervous system is developing. The aim of this study was to investigate the associations between blood lead levels (BLLs) and lead exposure in the children's diet, home, and school environments. A cross-sectional study was conducted with 153 children aged 1–4 years, in four day care centers (DCCs), where a high prevalence of lead exposure was previously found. Lead determination by graphite furnace atomic absorption spectrometry (GF-AAS) was performed for venous blood, drinking water collected in the DCCs, and the 24-h diet (n = 64). Environmental screenings were conducted to evaluate lead concentrations in the tableware, buildings, and playground items in all DCCs and children's homes (n = 18) by using a field-portable X-ray fluorescence analyzer (FP-XRF). The BLL mean was 2.71 μg dL−1. Means for 24-h lead concentrations in the diet were 1.61 and 2.24 μg kg−1 of body weight (BW) in two DCCs. Lead concentrations in the water supply were lower than 2 μg L−1. More than 11% of the DCCs' environmental analyses presented lead concentrations higher than or equal to 1 mg cm−2, as defined by the USEPA. The diet was not found to be a risk factor for lead exposure, but households and DCC settings raised concern. Children's exposure to lead in DCC environments, where they spend the most part of their weekdays, appeared to be relevant.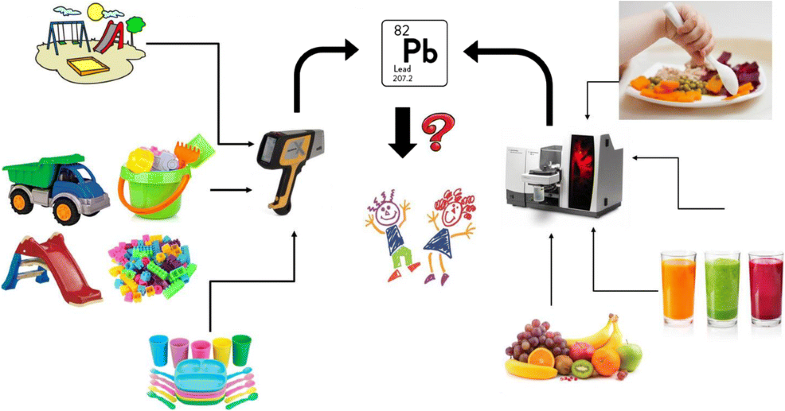 Keywords
Children's health 
Lead exposure 
Diet and environments 
Blood lead levels 
Notes
Acknowledgments
The authors acknowledge the valuable collaboration of all directors and teachers of the day care centers and the volunteers and their families involved in this investigation.
Funding
This study was funded by Fundação de Amparo à Pesquisa do Estado de São Paulo FAPESP (Grants 2011/23272-0, 2012/21840-4, 2014/20945-2, 2014/22118-6, 2015/01395-4) and Conselho Nacional de Desenvolvimento Científico e Tecnológico CNPq (Grant: #441996/2014-0).
Compliance with ethical standards
This study was reviewed and approved by the Ethics Committee of the School of Public Health of the University of Sao Paulo, Brazil (Protocol #1.127.698).
Conflict of interest
The authors declare that they have no conflicts of interest.
Copyright information
© Springer-Verlag GmbH Germany, part of Springer Nature 2018