Application of magnesium peroxide (MgO2) nanoparticles for toluene remediation from groundwater: batch and column studies
Abstract
In the present study, magnesium peroxide (MgO2) nanoparticles were synthesized by electro-deposition process and characterized by X-ray diffraction (XRD) and field emission scanning electron microscopy (FESEM). The batch experiments were conducted to evaluate the MgO2 half-life (600 mg/L) in groundwater under various temperatures (4, 15, and 30 °C) and initial pH (3, 7, and 12). The effect of Fe2+ ions (enhanced oxidation) on the toluene remediation by MgO2 was also investigated. Nanoparticles were injected to sand-packed continuous-flow columns, and toluene removal (50 ppm) was studied within 50 days at 15 °C. The results indicated that the half-life of MgO2 at pH 3 and 12 were 5 and 15 days, respectively, in comparison to 10 days at the initial pH 7 and 15 °C. The nanoparticles showed 20 and 7.5 days half-life at 4 and 30 °C temperatures, respectively. Injection of Fe2+ ions indicated an impressive effect on toluene removal by MgO2, and the contaminant was completely removed after 5 and 10 days, in the batch and column experiments, respectively. Confocal laser scanning microscope (CLSM) analysis indicated that the attached biofilm had a significant role in the decontamination of groundwater. Comparison of bioremediation and enhanced oxidation resulted in a considerable insight into the application of magnesium peroxide in groundwater remediation.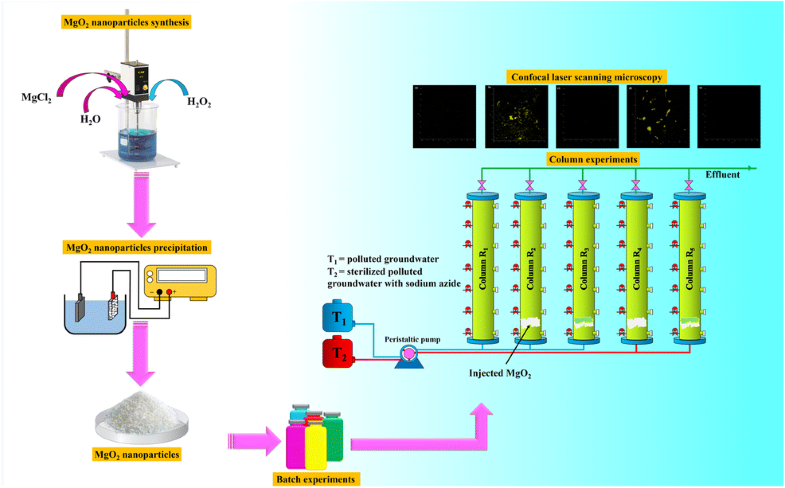 Keywords
Enhanced oxidation 
Bioremediation 
Toluene removal 
Magnesium peroxide 
Groundwater treatment 
Notes
Acknowledgments
We are also grateful to Mr. Vahid Samimi and Ms. Azam Falsafi for performing the HPLC analysis.
Funding information
This work was financially supported by a research grant from National Iranian Oil Company (NIOC) Directorate of Research and Technology.
Copyright information
© Springer-Verlag GmbH Germany, part of Springer Nature 2018