Using unmanned aerial vehicles for vegetation mapping and identification of botanical species in wetlands
Abstract
High-resolution aerial photographs have important applications in vegetation mapping, especially in environments, such as wetlands, which are not easily accessible by ground operators. Unmanned aerial vehicles (UAVs), equipped with cameras capable of taking photographs of < 1 cm pixel resolution, are promising not only for the vegetation mapping but also for the identification of plant species. This paper illustrated the results of three different flight heights (5 m = 3.5126 mm/pixel; 10 m = 7.0252 mm/pixel; 25 m = 17.5630 mm/pixel), using 12MP images and their magnification, on the identification of vegetation and botanical species in a rewetted peatland populated mainly by Phragmites australis and Myriophyllum aquaticum within the Massaciuccoli Lake basin (Northern Tuscany, Italy). Among the obtained images, we selected the best flight height for the vegetation mapping and the botanical identification of the plant species using both visual and automated image analyses. Images taken from flights at 25 m of height proved to be useful for a sufficiently detailed mapping, while those from 10 m of height were more suitable for the detection of plant microcommunities. However, the most accurate identification of the species (at the taxonomic level of genus/species) was possible only with the images taken from 5 m of height.
Keywords
UAVs 
Aerial photos 
Vegetation map 
Wetland 
Phragmites
Myriophyllum
Tuscany 
Introduction
Wetlands provide important ecosystem services, such as biodiversity and habitat conservation, flood protection (De Groot 1992; Carpenter and Cottingham 1997; Keddy 2000; Davies et al. 2008) and carbon sequestration (Zedler and Kercher 2005), from which we derive the importance of their conservation and restoration (Klimkowska et al. 2010; Verhoeven 2014). Moreover, the significant role of wetland plant species in water phytotreatment and the use of aquatic vegetation as an indicator of the environmental conditions of the aquatic systems have been widely studied (Vymazal 2007; Penning et al. 2008; Zak et al. 2014).
In this regard, monitoring wetland plant communities and hydro-hygrophilous flora plays a fundamental role in their management, conservation and/or restoration (Klötzli and Grootjans 2001; Oertli et al. 2002; Schmidt and Skidmore 2003; Yabe and Nakamura 2010).
Enhancing the detection of plants and plant communities in wetlands is a crucial information to assess the species occurrence and abundance at the species level. In particular, aerial photos could represent a good tool for vegetation mapping and the identification of plant communities in wetlands, thus improving field surveys (Howland 1980; Fitzgerald et al. 2005; Yichun et al. 2008; Fujimura et al. 2013). Moreover, the most recent systems of automated image classification can guarantee a consistent support (Adam et al. 2010). Nevertheless, until now, the availability of data at the appropriate spatial scale to detect some types of within-wetland community and botanical species has been limited (Henderson and Lewis 2008; Rebelo et al. 2009; Muro et al. 2016). Imageries from unmanned aerial vehicles (UAVs) are a relatively new source of data that can be profitably used in ecology or geobotany and, more broadly, in natural resource management (Watts et al. 2010; Shahbazi et al. 2014; Marcaccio et al. 2016). UAVs can provide imagery with the appropriate resolution (< 10 to < 2 cm pixel) not only for community level classification but also for the identification of a single botanical species (Getzin et al. 2012; Kaneko and Nohara 2014).
The perspective of using these tools becomes more feasible everyday from an economic perspective as the costs are decreasing with technological improvement (Anderson and Gaston 2013), although social impacts should be further investigated (Sandbrook 2015).
The purpose of this research was to identify the flight height and the image resolution fitting better with: (i) mapping a mature hydro-hygrophilous phytocoenoses and (ii) detecting botanical species otherwise invisible from the ground.
Materials and methods
The study was carried out in 2017 on a 2.7 ha rewetted peatland (Natural Wetland System—NWS) located in a larger phytotreatment pilot experimental (15 ha) set in Migliarino, San Rossore, Massaciuccoli Regional Park (Pisa, Italy—43°49′59.5″N; 10°19′50.7″E) (Ciccolini et al.
2013
; Giannini et al.
2017
) (Fig. 
1
).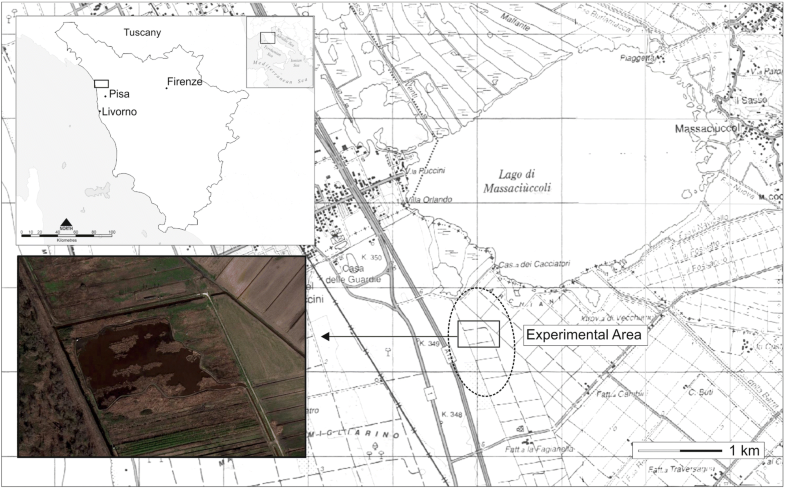 In particular, the pilot experimental field is located in a reclamation district of the coastal plain of the west-central Italy, characterized by large-scale, intensive agriculture and the presence of a vulnerable receiving water body constituted by the Massaciuccoli Lake. The natural vegetation landscape nearby the pilot experimental field is similar to that present in the surrounding of the Massaciuccoli Lake, where vegetation landscape is mainly formed by a mosaic of Phragmites australis (Cav.) Trin. ex Steud., Cladium mariscus (L.) Phol, Typha latifolia L. and T. angustifolia L. groupments (Phragminion communis Koch 1926), with patches of hydrophitic species such as Myriophyllum verticillatum L., Nymphea alba L., Lemna minor L. and a large spread of microwoods of hygrophilous phanerophytes such as Alnus glutinosa (L.) Gaertn, Frangula alnus Mill., and Salix sp.pl. (Alnion glutinosae Malcuit 1929, Salicion cinereae Müller and Görs 1958) (Bertacchi et al. 2015; Lastrucci et al. 2017).
The soils of the area can be classified as Histosol according to the USDA system and as Rheic Histosol according to the FAO system (Pellegrino et al. 2015). The climate is classified as Mediterranean (Csa) according to Köppen–Geiger climate classification map (Kottek et al. 2006). Summers are dry and hot, while rainfall is mainly concentrated in autumn and spring (mean annual rainfall = 910 mm), and mean air temperature at 2 m ranges from 6.6 to 21.8 °C (mean = 14.6) (http://www.sir.toscana.it/).
After rewetting, NWS evolved naturally, thus allowing the recolonization from spontaneous vegetation. The NWS was periodically monitored from 2013 to 2016 by ground surveys and aerial photos taken by a UAV, every summer (Giannini et al. 2018). In the final step of the experiment (spring–summer 2017), a UAV flying at 5, 10 and 25 m, with respective different flight paths, was used. The drone was an IRIS quadrotor controlled by a PX4 autopilot board and equipped with a GoPro camera set in a gimbal stabilizer. It was driven by four 850 kV brushless motors and powered by a 3S LiPo battery (11.1 V, 5.5 Ah). The total weight was approximately 1.3 kg. To compensate for rotation errors and keep the camera always aligned toward a specified direction, a gimbal stabilizer with two brushless motors was used. The GoPro camera was used at 12 MP (focal length = 2.92 mm, equivalent to 16.21 mm of 35 mm format; F-stop = f/2.8, Iso 100; 1/580 exposure; FOV = 122.6°) equipped by a panchromatic sensor. The PX4 board runs the open-source APM Ardupilot. In all the flights, the camera was set to shoot at every second. The 25-m flight took about 7 min with a flight speed of 7 m/s. The resulting overlap between two consecutive photos was 81%. The 10-m flight took about 15 min with a flight speed of 5 m/s. The resulting overlap between two consecutive photos was 66%. Finally, the 5-m flight took about 30 min (over 3 flights) with a flight speed of 5 m/s. The resulting overlap between two consecutive photos was 33%.
At the given altitudes, the obtained resolutions were, respectively, 5 m = 3.5126 mm/pixel; 10 m = 7.0252 mm/pixel and 25 m = 17.5630 mm/pixel.
Adobe Photoshop CC was used to remove distortion and correct the image back to a rectilinear lens projection, while Agistoft PhotoScan Professional Edition was used for mosaicking. Aerophotos were imported in GIS environment using Map Info® 10.1 for calibration, georeferencing and mapping. The orthomosaic of the 25-m flight has been created by composing 340 pictures, with a resulting reprojection error varying between 0.81 pixels and 8.43 pixels, with an average error equal to 2.47435 pixels.
For the vegetation mapping, an automated image classification based on object-based image analysis (OBIA) was tested (eCognition essential® software), jointly to the visual interpretation and the manual drawing in GIS Map Info.
To verify the effectiveness of the drone photos in the species identification, 24 frames taken, respectively, from flights at 25 m, 10 m, and 5 m of height along a transversal transect within the NWS have been selected. Obviously, the photos of the 5-m series corresponded to the original dimensions, while those of 10-m and 25-m series, which covered much larger areas, were cut at the same spatial dimensions as those at 5 m. The photos have been observed on the screen by three different botanists each of whom has been asked, by different frame and height, to identify the different species. At the same time, along the same transect and for each plot corresponding to the frame, the floristic census was carried out using both the ground survey and the survey by a boat.
With ground surveys, phytocenotic diversity was detected using the Braun-Blanquet (1983) method and this was compared with what was identified from aerial photos taken by a UAV. The images were interpreted assigning each digitized area to a specific phytocoenotic community. Flora has been randomly detected by field surveys, but also from UAV images that made possible the individuation of specimens that were previously hidden or unattainable. The floristic inventory was conducted over 5 ha, thus including also a part of the neighbouring land while the vegetation mapping was carried out exclusively within the NWS.
Results and discussion
Although the image elaboration proved to be much faster and more accurate than the human operator on the edge tracing, it revealed a low accuracy in identifying the different phytocoenoses and, even more so, the single specimen. In addition, the long time required for the image processing (e.g., segmentation settings, merging, etc.) was not functional for the purpose of this study. Thus, the relatively small surface of the investigated area and the need of a high accuracy in the detection drove toward the visual analysis and the vegetation mapping by manual drawing in GIS Map Info.
The accurate visual analysis of the photos taken from 25 m of height revealed the ability to locate the different phytocenoses in the site with good accuracy. Furthermore, these frames had the undoubtable benefit of faster execution and assembly times, and in much larger areas, they may prove to be better utilized.
Remote sensing based on the use of UAVs is a fast, non-intrusive and supplementary method to ground-based approaches for mapping vegetation of wetlands, swamps, and bogs (Klemas 2013). Although with drones it is possible to identify very small objects even from higher flight altitudes than those we used (Martin et al. 2012), the detection and identification of herbaceous species grown in areas not visible from the ground require a higher spatial resolution, even lower than 1 cm (Ishihama et al. 2012). From the results we obtained, the flight at 5 m can be occasionally used in microareas previously identified as an integration for the vegetation interpretation and the individuation of unclear specimens. However, often at this extremely low height, the UAV showed a higher risk of crash against the fronds of shrubs/trees. Therefore, by these results, drone images can be extremely useful and exhaustive for mapping the main vegetation components and coverage into wetlands at 25- to 10-m flight altitude.
In cases of limited surfaces and for precise botanical classification, the photo interpretation by an expert human operator seemed preferable to those by image processing. Although automated analysis is a robust way to deal with image heterogeneity, until now it seems to be more functional for large homogenous areas, like rangelands or sparse forest or, more generically, landform (Bryson et al. 2010; Blaschke 2010; Laliberte and Rango 2011); while, in environments physiognomically complex like wetlands, visual analysis is still preferable (Husson et al. 2014). The uniform chromatism resulting from the panchromatic images of these types of habitats often makes the pre-treatment of the image for the analysis process excessively long and laborious. In addition, often differences in illumination (e.g., sun angle, water glitter, shadows) can determine gross mistake and high misclassification by automated analysis. The photo interpreter uses both colour and form differences among the leaves' shape and the plant structure for the individuation of the different species. Anyhow this choice is justified by the necessity of a botanist expert in field investigation and in the determination of botanical species. Therefore, ultimately, in our opinion, the unmanned aerial system, and more generally remote sensing, should be better interpreted only as a powerful integrative but not as exhaustive methods of investigation in the floristic and phytosociological studies, where the exact identification of species or subspecies is required and, in any case, field survey is always necessary.
Notes
Acknowledgements
This work was supported by the "Consorzio di Bonifica Versilia—Massaciuccoli" later "Consorzio di Bonifica 1 Toscana Nord" and funded by the "Regione Toscana".
Copyright information
© International Consortium of Landscape and Ecological Engineering and Springer Japan KK, part of Springer Nature 2019