Effects of resistance training on oxidative stress-related biomarkers in metabolic diseases: a review
Abstract
Social and behavioral patterns of physical activity and diet have contributed to the increased incidence of obesity, due to high caloric intake associated to low physical activity. This metabolic impairment can give rise to the occurrence of oxidative stress, which is a key factor in pathogenesis of several metabolic diseases such as metabolic syndrome or type 2 diabetes mellitus (T2DM). Previous studies have reported reduced blood levels of oxidative stress biomarkers and related clinical parameters in obesity, T2DM and metabolic syndrome, following endurance exercise. However, similar studies about the effects of resistance exercise are still lacking. The aim of the present review was to present an update of available evidence about the relationship between resistance training, exercise and oxidative stress biomarkers. Therefore, this knowledge could provide the basis suggesting potential clinical benefits of resistance training as an adjunct therapy for obesity and other metabolic diseases.
Keywords
Resistance training 
Oxidative stress 
Obesity 
Metabolic diseases 
Oxidative stress and obesity-related metabolic diseases
Several clinical settings have been related to chronic elevation in levels of blood oxidative stress-related parameters. Recent evidence suggests that malnutrition behavior such as excessive intake of macronutrients [1, 2], or poor consumption of fruits and vegetables rich in antioxidants [3] create a pro-oxidant redox state, resulting in the generation of oxidative stress. Likewise, it has been suggested that long-term sedentarism can provoke an environment leading to the generation of higher levels of superoxide (O 2 ·− ) in basal conditions [4]. According to this, there is a strong relationship between levels of systemic biomarkers of oxidative stress and pathologies associated with malnutrition and sedentarism such as hypertension [5], T2DM [6, 7], metabolic syndrome [8, 9], cancer [10] and obesity [11].
Obesity is considered a major etiological factor responsible for metabolic pathologies such as T2DM [12] or metabolic syndrome [9, 13]. Interestingly, chronically elevated reactive oxygen species (ROS) levels have been observed in obese subjects [9, 11, 14, 15, 16, 17]. It has been proposed that adipocytes are an important source of ROS in obesity conditions. In fact, the main ROS sources in this cell type are mitochondrial activity, uncoupled endothelial nitric oxide synthase (eNOS), xanthine oxidase and in NADPH oxidase 4 (NOX4) activity [18]. Hypertrophy experienced by adipocytes of visceral adipose tissue induces an excessive release of pro-inflammatory cytokines such as interleukin-6 (IL-6) and tumor necrosis factor alpha (TNF-α). This, in turn, would provoke an attraction by monocytes to these cells of visceral adipose tissue—a process that promotes further ROS release. In addition, these monocytes can be differentiated into macrophages, which have the capacity to increase IL-6 and TNF-α release, thus constituting a chronic low-level inflammatory process [19] and a chronic oxidative stress status [15, 16, 18]. Finally, elevated ROS levels can affect other physiological functions such as insulin secretion by pancreatic β cells and insulin signaling in peripheral tissues, thus contributing to insulin resistance [6, 20, 21, 22, 23]. Taking into account the evidence here exposed, oxidative stress in obesity is a key factor involved in the development of other metabolic pathologies. Nevertheless, these arguments should be considered as part of the multifactorial and complex pathways interaction observed in obesity.
Resistance training recommended for obesity-related metabolic diseases
Exercise training has been widely recommended for prevention and/or treatment of several obesity-related metabolic diseases [24, 25, 26]. Among diverse exercise training modalities, resistance training (RT) has been proposed as an important meant for prevention and treatment of obesity and its related metabolic diseases [27, 28].
According to the American College of Sports Medicine, RT is a form of physical activity designed to improve muscular fitness by exercising a muscle or a muscle group against external resistance. To determine the intensity of exercises in RT, one-repetition maximum (1RM) must be assessed, which is the maximum amount of force that can be generated in one maximal contraction for a given exercise [29].
Planning a program of RT using 1RM can be done in two ways: (1) calculating percentages of 1RM (%1RM) or performing exercises based on repetition maximum (RM). This means performing an exercise with a load that allows to do only the planned repetitions, for instance, when working 10RM is understood that the load used allows a maximum of 10 repetitions until muscular failure [30].
There are different methodologies for RT, the most popular are high-intensity resistance training (or maximum strength training), hypertrophy training and low-intensity resistance training (Table 
1
).
Table 1
Resistance training methods summary
| Resistance training method | General characteristics | Work intensity | Pause time |
| --- | --- | --- | --- |
| Maximum Strength exercises or High intensity exercises | It has a high neuromuscular component because it requires a high level of intra and inter muscular coordination [30], plus a high level of recruitment of slow and fast muscle fibers [24, 25, 26] | 3–8 RM [30] | |
| Hypertrophy exercises | Most health organizations recommend workloads from this training method for the treatment of metabolic diseases [25]. The loads used are those recommended for muscle fibers size increasing [24, 25, 26] | | |
| Low intensity  exercises | This type of exercises has mainly a metabolic component above a high level of neuromuscular recruitment, increasing the amount of recruited fibers as slow fibers are depleted [30, 33]. In this method of training is important to do as maximum repetitions as possible, regardless of the load [24, 25, 26, 30] | > 20 RM, or series of exercises with a duration of 30 s to 60 s [24, 25, 26, 30] | 30 s to 2 min pause time |
Exercise programs for health worldwide generally recommend performing exercises with loads similar to those used for hypertrophy training (between 12 and 15RM) [25]. In general terms, it has been established that in between every series of resistance exercises, a 2-min pause must be taken. This is because that is the minimum phosphocreatine recovery time. However, in fast RT methods in which a great stress and fatigue is generated, a 30–60 s rest time has been established, similar to the super-series method in bodybuilding [30].
Regarding the effects of RT in obese patients, a recent randomized-clinical trial compared the effects of endurance training (ET), RT, and a combination of the two (RT + ET) to determine the optimal mode of exercise for obesity reduction. Results shown that even when no changes in body mass were observed, RT produces changes in body composition characterized by a significative reduction in fat mass and an increase in lean mass [31].
In addition, RT induces an improved glycemic control and blood lipid profiles, which are important for reducing microvascular and macrovascular complications in people with metabolic risk. On this basis, RT is considered a potential adjunct in the treatment of metabolic diseases by decreasing known major risk factors for metabolic syndromes [32].
Exercise-induced ROS production
In the following section the main sources of reactive oxygen species during exercise are discussed.
Even though during RT there is an increase in the blood flow to the muscles [33], they may present brief moments of hypoxia, and reperfusion afterwards. This is because muscle contraction causes vascular occlusion in contractions with strength of over 50% of the functional muscle capacity [24]. Furthermore, the increased metabolism, and oxygen consumption of the active muscles generates an increased amount of ROS produced by mitochondria since it acts as an oxygen sensor during exercise and it would generate O 2 ·− in a controlled fashion in the third complex of the electron transport chain [34]. In this way, the mitochondrial activity as a source of ROS production, remains as one of the most important, and superoxide production may count up to 2–5% of the total oxygen consumption [35].
Another source of ROS is the enzymes such as xanthine oxidase (XO). Activated during this process, playing an important role in the production of energy during moments of hypoxia, especially on high-intensity exercises [36], which leads to an increased O 2 ·− production. The participation of xanthine oxidase is proposed due the presence of this enzyme in the endothelial layer, and due its implications in ROS formation in other scenarios of oxidative stress increase [37]. This enzyme catalyzes the oxidation of hypoxanthine to xanthine and ultimately to uric acid using NAD+ as an electron acceptor. During decrease of oxygen supply, xanthine dehydrogenase could turns into xanthine oxidase, and remain with its ability to convert hypoxanthine to uric acid but with the reduction of molecular oxygen [38] resulting in superoxide formation.
Meanwhile, NADPH oxidase 2 (NOX2) is the largest source of production of ROS during skeletal muscles contractions [39, 40, 41]. NADPH oxidases are proteins that transfer electrons across biological membranes [42], like sarcoplasmic reticulum, transverse tubules, and plasma membrane [37]. These ROS act as intracellular signals involved in the increased glucose captation of active muscles [43, 44] and in the increased sensitivity of the ryanodine channel, causing an increased release of Ca2+ from the sarcoplasmic reticulum within the muscle fibers, producing higher tension contractions both in the myocardial fibers and the skeletal muscle [45].
Finally, during the recovery time, there is a reperfusion period in the active muscles [46] as well as the development of post-exercise inflammatory processes, leading to the generation of ROS, process that would be mediated in part by the XO and the activation of leukocytes that generate O 2 ·− through NADPH oxidase [47]. Therefore, ROS production will depend on the intensity of the exercise, its duration, and recovery times between exercises bouts.
ROS produced in response to a single bout of resistance exercise, mainly H
2
O
2
, may act as a second messenger within skeletal muscle, being capable to activate many different intracellular signaling pathways associated to genomic regulation processes. These ROS-activated signaling pathways converge on the activation of transcriptional factors such as the nuclear factor kappa B (NF-ĸB) [
48
], activator protein 1 (AP-1) [
49
], and nuclear factor erythroid 2-related factor 2 (Nrf2) [
50
]. Once activated, these transcriptional factors are able to induce gene expression associated with antioxidant proteins [
51
,
52
,
53
]. Through this mechanism, exercise-induced ROS production act as modulatory factors and not as pathologic ones. Therefore, it is thought that following a resistance exercise-based training period will be an enhancement of the antioxidant capacity [
54
,
55
,
56
] (Fig. 
1
).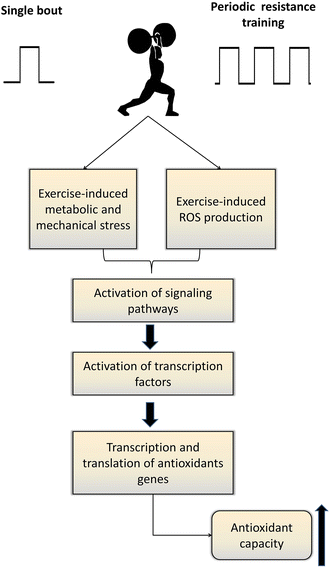 Resistance exercise-induced adaptations over oxidative stress in obesity-related metabolic diseases
Multiple studies have shown improvements in the antioxidant defenses in blood, in addition to the reduction of oxidative stress damage biomarkers following a RT program. For instance there was an increase in erythrocyte SOD activity and plasma SOD and GPX activity at rest after an 8 week RT protocol with three sessions per week, performed by 22-year-old healthy untrained men [55, 57]. Cakir-Atabek et al. also reported an increase in erythrocyte GSH levels at rest and post-exercise in a group of 16 healthy untrained men of 20–28 years who performed a 6 week RT program with three sessions per week. On the other hand, a decrease in MDA plasma levels at rest and post-exercise was observed in untrained healthy subjects, independently of exercise intensity [55, 56, 57]. However, in 55-years-old subjects with insulin resistance who performed a 12 week RT program with three sessions per week, oxidative stress biomarkers did not change significantly [58]. Something similar was observed in a group of 55-year-old men and women previously diagnosed with T2DM who performed a 12 week RT program with three sessions per week [59].
It is interesting to note that those protocols worked well in terms of improving oxidative stress markers in healthy young participants, but performed poorly on older people with metabolic diseases. There are a number of reasons why such protocols may fail to produce significant improvements.
In regards to age, Nrf-2 activation, a key regulator of antioxidant defense, is impaired with aging, as shown in a murine model [48], which could explain why older individuals would be less responsive to RT. Another study by Suh et al. shows the same lesser activation of Nrf-2, which is caused by a dysregulation of the antioxidant response element (ARE), and that it results in a diminished synthesis of glutathione [60].
Studies have also shown that sex plays an important role in the expression of antioxidant defenses. For example, Baghaiee et al. performed an experiment with active young men and women who were submitted to graded exercise tests followed by taking blood samples. The results showed that women had a significantly higher gene expression of antioxidant enzymes than men [61], a mechanism that may be regulated by estrogen, which may especially upregulate the expression of MnSOD and ecSOD [62]. These results are in accordance with a murine model in which female rats had higher liver mitochondrial MnSOD concentrations than their male counterparts [63].
Alterations of antioxidant mechanism expression and higher baseline oxidative stress levels have also been noted under circumstances of obesity-related metabolic diseases. MDA, for example, can be found in high concentrations in T2DM. One study noted that Nrf-2 levels were significantly decreased in patients with T2DM, possibly mediated by hyperglycemia. This result is interesting because Nrf-2 levels should be high under high oxidative stress conditions such as in T2DM [64]. Lastly, curcumin—a Nrf-2 activator—has been shown to decrease the progression to T2DM in prediabetic patients, and it also improved beta cell overall function [65].
Therefore, age, sex and presence of a metabolic disease may alter the results after a RT protocol, and consequently, the minimum amount of time a RT protocol should last to generate significant positive results on oxidative stress parameters in different patient subgroups may widely vary, and prompts the creation of more RT based protocols that last longer than just 6–12 weeks, especially on the old male with metabolic disease subgroup.
Clinical benefits of regular resistance training
Resistance training has many potential health benefits for a variety of obesity-related metabolic diseases. In the cardiometabolic sphere, there is evidence suggesting that regular RT causes a lowering of the systolic blood pressure: this improvement can be seen on T2DM in elderly patients [66] and even normotensive young people [67], although there is evidence suggesting the opposite [68]. The combination of RT with aerobic training has a positive effect on lowering resting blood pressure in patients with hypertension [69, 70] as well as an increase on insulin sensitivity and B-cell function in obese and sedentary men [71]. There is also a study showing that RT could be useful for treating peripheral arterial disease objectified by an improvement on treadmill walking performance, quality of life and stair climbing ability [72]. RT, when combined with a diet with a restricted amount of calories improves altered metabolic parameters (such as body mass index, plasma VLDL and triglycerides levels, resting blood pressure and abdominal obesity) on patients with metabolic syndrome [73], total plasma cholesterol and LDL levels has also been shown to decrease in obese hypertrygliceridemic women participating in a RT only program [74]. There have also been promising results regarding non-alcoholic fatty liver disease (NAFLD), in which RT was comparable with aerobic exercise training in terms of the reduction in hepatic steatosis, but with the added benefit of its lesser energy consumption, and therefore, higher feasibility for use in these patients which often have poorer cardiometabolic fitness that cannot tolerate aerobic exercise [75]. Another group that was greatly benefited by RT was nonelderly, nondiabetic chronically disabled stroke patients, in which it improved hyperglycemia and dyslipidemia with the same added benefit of requiring less amount of motion and energy consumption than aerobic exercise [76]. There is also a review concluding that low-to-medium intensity RT improves nearly all lipid profile parameters in healthy patients with no added benefit for high-intensity RT [77]. Another review concludes that it has positive effects on insulin sensitivity on both healthy and T2DM individuals [78].
Conclusion and future prospectives
It is well known that exercise could give rise to increased oxidative stress—a phenomenon that needs to be further studied in resistance exercise. Therefore, beneficial adaptations, such as increase activity of the antioxidant defense system should be expected from regular resistance training. Accordingly, it seems reasonable to achieve an improvement in the clinical outcome of patients with oxidative stress-related metabolic pathologies, such as T2DM, hypertension, among others, following a training exercise program. However, it is still necessary to design specific protocols with this purpose, as well as its duration to account for the best adaptation to reduce oxidative stress biomarkers levels in the related pathologies. These achievements could be suitable once the relationship between the oxidative stress-related biomarkers and these metabolic derangements have been established.
Notes
Acknowledgements
Supported by FONDEF ID15I10285.
Compliance with ethical standards
Conflict of interest
The authors declare that they have no conflict of interest.
Ethical approval
This article does not contain any studies with human participants or animals performed by any of the authors.
Informed consent
For this type of study formal consent is not required.
Copyright information
© Springer-Verlag Italia S.r.l. 2017