Abstract
Purpose
Intraoperative molecular imaging (IMI) utilizes optical dyes that accumulate within tumors to assist with detection during a cancer operation. IMI can detect disease not visualized preoperatively, as well as positive margins. However, these dyes are limited by autofluorescence, signal reflection, and photon-scatter. We hypothesize that a novel dye with a wide separation between excitation and emission spectra, SS180, would help overcome these obstacles.
Procedures
Two targeted molecular contrast agents, OTL38 and SS180, were selected for this study. Both dyes had the same targeting ligand to folate receptor alpha (FRα). OTL38, a well-annotated IMI agent in human trials, has a Stokes shift of 22 nm, whereas SS180, the new dye, has a Stokes shift of 129 nm. Cell lines were tested for FRα expression and incubated with dyes to demonstrate receptor-dependent binding. Cells were incubated in various concentrations of the dyes to compare dose- and time-dependent binding. Finally, cells tagged with the dyes were injected subcutaneously in a murine model to estimate tumor burden necessary to generate fluorescent signal.
Results
Cellular studies demonstrated that SS180 binds cells in a dose-, receptor-, and time-dependent manner and exhibits higher mean fluorescence intensities by flow cytometry when compared with OTL38 for each time point and concentration. In an in vivo flank tumor model, SS180 had a higher tumor-to-background ratio (TBR) than OTL38, though not statistically significant (p = 0.08). Ex vivo, OTL38 had a higher TBR than SS180 (p = 0.02). The subcutaneous model revealed that SS180 had a higher TBR at 5 × 106 cells than OTL38 (p = 0.05). No toxicity was observed in the animals.
Conclusions
SS180 exhibits greater TBRs in vivo, but not ex vivo. These findings suggest that SS180 may have weaker fluorescence, but superior contrast. Studies in large animal models and clinical trials may better elucidate the clinical value of a long Stokes shift.
This is a preview of subscription content, log in to check access.
Access options
Buy single article
Instant access to the full article PDF.
US$ 39.95
Price includes VAT for USA
Subscribe to journal
Immediate online access to all issues from 2019. Subscription will auto renew annually.
US$ 99
This is the net price. Taxes to be calculated in checkout.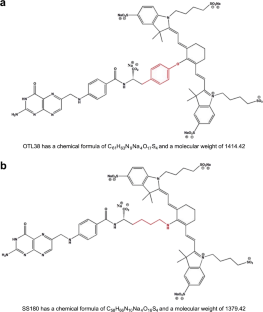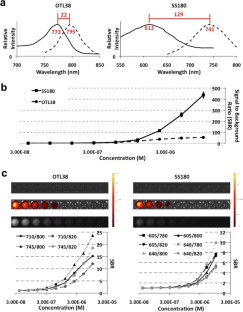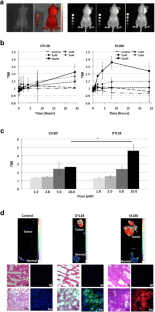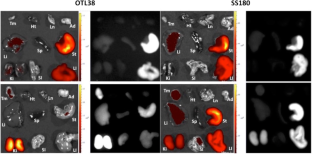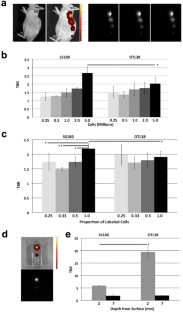 References
1.

Siegel RL, Miller KD, Jemal A (2019) Cancer statistics, 2019. CA Cancer J Clin 69:7–34

2.

Cronin KA, Lake AJ, Scott S, Sherman RL, Noone AM, Howlader N, Henley SJ, Anderson RN, Firth AU, Ma J, Kohler BA, Jemal A (2018) Annual report to the nation on the status of cancer, part I: national cancer statistics. Cancer 124:2785–2800

3.

Aliperti LA, Predina JD, Vachani A, Singhal S (2011) Local and systemic recurrence is the Achilles heel of cancer surgery. Ann Surg Oncol 18:603–607

4.

Orosco RK, Tapia VJ, Califano JA et al (2018) Positive surgical margins in the 10 most common solid cancers. Sci Rep 8:5686

5.

Frangioni JV (2008) New technologies for human cancer imaging. J Clin Oncol 26:4012–4021

6.

Erdi YE (2012) Limits of tumor detectability in nuclear medicine and PET. Mol Imaging Radionucl Ther 21:23–28

7.

Newton AD, Kennedy GT, Predina JD et al (2016) Intraoperative molecular imaging to identify lung adenocarcinomas. J Thorac Dis 8(Suppl 9):S697–S704

8.

Hungerhuber E, Stepp H, Kriegmair M et al (2007) Seven years' experience with 5-aminolevulinic acid in detection of transitional cell carcinoma of the bladder. Urology 69:260–264

9.

Schaafsma BE, Mieog JS, Hutteman M et al (2011) The clinical use of indocyanine green as a near-infrared fluorescent contrast agent for image-guided oncologic surgery. J Surg Oncol 104:323–332

10.

Newton AD, Predina JD, Nie S, Low PS, Singhal S (2018) Intraoperative fluorescence imaging in thoracic surgery. J Surg Oncol 118:344–355

11.

O'Shannessy DJ, Yu G, Smale R, Fu YS, Singhal S, Thiel RP, Somers EB, Vachani A (2012) Folate receptor alpha expression in lung cancer: diagnostic and prognostic significance. Oncotarget 3:414–425

12.

Elnakat H, Ratnam M (2004) Distribution, functionality and gene regulation of folate receptor isoforms: implications in targeted therapy. Adv Drug Deliv Rev 56:1067–1084

13.

Iwakiri S, Sonobe M, Nagai S, Hirata T, Wada H, Miyahara R (2008) Expression status of folate receptor alpha is significantly correlated with prognosis in non-small-cell lung cancers. Ann Surg Oncol 15:889–899

14.

Boogerd LS, Boonstra MC, Beck AJ, Charehbili A, Hoogstins CE, Prevoo HA, Singhal S, Low PS, van de Velde C, Vahrmeijer AL (2016) Concordance of folate receptor-alpha expression between biopsy, primary tumor and metastasis in breast cancer and lung cancer patients. Oncotarget 7:17442–17454

15.

De Jesus E, Keating JJ, Kularatne SA et al (2015) Comparison of folate receptor targeted optical contrast agents for intraoperative molecular imaging. Int J Mol Imaging 2015:469047

16.

Keating JJ, Okusanya OT, De Jesus E et al (2016) Intraoperative molecular imaging of lung adenocarcinoma can identify residual tumor cells at the surgical margins. Mol Imaging Biol 18:209–218

17.

Okusanya OT, DeJesus EM, Jiang JX et al (2015) Intraoperative molecular imaging can identify lung adenocarcinomas during pulmonary resection. J Thorac Cardiovasc Surg 150(28–35):e21

18.

Predina JD, Newton AD, Keating J et al (2017) Intraoperative molecular imaging combined with positron emission tomography improves surgical management of peripheral malignant pulmonary nodules. Ann Surg 266:479–488

19.

Keating J, Newton A, Venegas O, Nims S, Zeh R, Predina J, Deshpande C, Kucharczuk J, Nie S, Delikatny EJ, Singhal S (2017) Near-infrared intraoperative molecular imaging can locate metastases to the lung. Ann Thorac Surg 103:390–398

20.

Predina JD, Newton AD, Xia L, Corbett C, Connolly C, Shin M, Sulyok LF, Litzky L, Deshpande C, Nie S, Kularatne SA, Low PS, Singhal S (2018) An open label trial of folate receptor-targeted intraoperative molecular imaging to localize pulmonary squamous cell carcinomas. Oncotarget 9:13517–13529

21.

Predina JD, Newton AD, Keating J, Dunbar A, Connolly C, Baldassari M, Mizelle J, Xia L, Deshpande C, Kucharczuk J, Low PS, Singhal S (2018) A phase I clinical trial of targeted intraoperative molecular imaging for pulmonary adenocarcinomas. Ann Thorac Surg 105:901–908

22.

Predina JD, Newton A, Corbett C, Xia L, Sulyok LF, Shin M, Deshpande C, Litzky L, Barbosa E, Low PS, Kucharczuk JC, Singhal S (2018) Localization of pulmonary ground-glass opacities with folate receptor-targeted intraoperative molecular imaging. J Thorac Oncol 13:1028–1036

23.

Seok J, Warren HS, Cuenca AG, Mindrinos MN, Baker HV, Xu W, Richards DR, McDonald-Smith G, Gao H, Hennessy L, Finnerty CC, López CM, Honari S, Moore EE, Minei JP, Cuschieri J, Bankey PE, Johnson JL, Sperry J, Nathens AB, Billiar TR, West MA, Jeschke MG, Klein MB, Gamelli RL, Gibran NS, Brownstein BH, Miller-Graziano C, Calvano SE, Mason PH, Cobb JP, Rahme LG, Lowry SF, Maier RV, Moldawer LL, Herndon DN, Davis RW, Xiao W, Tompkins RG, Inflammation and Host Response to Injury, Large Scale Collaborative Research Program (2013) Genomic responses in mouse models poorly mimic human inflammatory diseases. Proc Natl Acad Sci U S A 110:3507–3512
Acknowledgments
CC was supported by the National Center for Advancing Translational Sciences of the National Institutes of Health under award number TL1TR001880. SS and PL were supported by the National Institutes of Health Biomedical Research Partnership, R01 CA193556. The content is solely the responsibility of the authors and does not necessarily represent the official views of the National Institutes of Health.
Ethics declarations
Conflicts of Interest
Philip Low is on the Board of Directors at On Target Laboratories, the manufacturers of all the study drugs utilized in this report. The remaining authors declare that they have no conflict of interest.
Additional information
Publisher's Note
Springer Nature remains neutral with regard to jurisdictional claims in published maps and institutional affiliations.
Electronic Supplementary Material
About this article
Cite this article
Corbett, C.J., Frenzel Sulyok, L.G., Predina, J.D. et al. Comparison of a Short Versus Long Stokes Shift Near-Infrared Dye During Intraoperative Molecular Imaging. Mol Imaging Biol 22, 144–155 (2020). https://doi.org/10.1007/s11307-019-01434-2
Key words
Oncology

Surgery

Imaging

Fluorescence

Small molecule

Dye