Abstract
Purpose
Hepatocellular carcinoma (HCC) remains one of the most challenging diseases worldwide. Glypican-3 (GPC-3) is a cell surface proteoglycan that is overexpressed on the membrane of HCC cells. The purpose of this study was to develop a target-specific radiofluorinated peptide for positron emission tomography (PET) imaging of GPC3 expression in hepatocellular carcinoma.
Procedures
New GPC3-binding peptides (GP2076 and GP2633) were radiolabeled with F-18 using Al[18F]F labeling approach, and the resulting PET probes were subsequently subject to biological evaluations. A highly hydrophilic linker was incorporated into GP2633 with an aim of reducing the probe uptake in liver and increasing tumor-to-liver (T/L) contrast. Both GP2076 and GP2633 were radiolabeled using Al[18F]F chelation approach. The binding affinity, octanol/water partition coefficient, cellular uptake and efflux, and stability of both F-18 labeled peptides were tested. Tumor targeting efficacy and biodistribution of Al[18F]F-GP2076 and Al[18F]F-GP2633 were determined by PET imaging in HCC-bearing mice. Immunohistochemistry analyses were performed to compare the findings from PET scans.
Results
Al[18F]F-GP2076 and Al[18F]F-GP2633 were rapidly radiosynthesized within 20 min in excellent radiochemical purity (> 97 %). Al[18F]F-GP2633 was determined to be more hydrophilic than Al[18F]F-GP2076 in terms of octanol/water partition coefficient. Both Al[18F]F-GP2076 and Al[18F]F-GP2633 demonstrated good in vitro and in vivo stability and binding specificity to GPC3-positive HepG2 cells. For PET imaging, Al[18F]F-GP2633 exhibited enhanced uptake in HepG2 tumor (%ID/g 3.37 ± 0.35 vs. 2.13 ± 0.55, P = 0.031) and reduced accumulation in liver (%ID/g 1.70 ± 0.26 vs. 3.70 ± 0.98, P = 0.027) at 60 min post-injection (pi) as compared to Al[18F]F-GP2076, resulting in significantly improved tumor-to-liver (T/L) contrast (ratio 2.00 ± 0.18 vs. 0.59 ± 0.14, P = 0.0004). Higher uptake of Al[18F]F-GP2633 in GPC3-positive HepG2 tumor was observed as compared to GPC3-negative McA-RH7777 tumor (%ID/g 3.37 ± 0.35 vs. 1.64 ± 0.03, P = 0.001) at 60 min pi, confirming GPC3-specific accumulation of Al[18F]F-GP2633 in HepG2 tumor.
Conclusion
The results demonstrated that Al[18F]F-GP2633 is a promising probe for PET imaging of GPC3 expression in HCC. Convenient preparation, excellent GPC3 specificity in HCC, and favorable excretion profile of Al[18F]F-GP2633 warrant further investigation for clinical translation. PET imaging with a GPC3-specific probe would provide clinicians with vital diagnostic information that could have a significant impact on the management of HCC patients.
This is a preview of subscription content, log in to check access.
Access options
Buy single article
Instant access to the full article PDF.
US$ 39.95
Price includes VAT for USA
Subscribe to journal
Immediate online access to all issues from 2019. Subscription will auto renew annually.
US$ 99
This is the net price. Taxes to be calculated in checkout.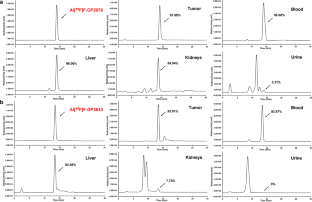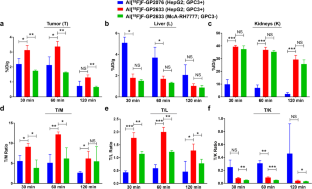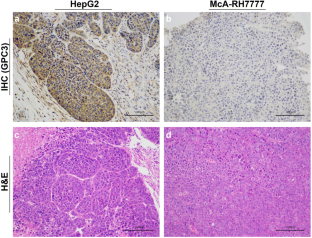 References
1.

Bray F, Ferlay J, Soerjomataram I, Siegel RL, Torre LA, Jemal A (2018) Global cancer statistics 2018: GLOBOCAN estimates of incidence and mortality worldwide for 36 cancers in 185 countries. CA Cancer J Clin 68:394–424

2.

Llovet JM, Zucman-Rossi J, Pikarsky E, Sangro B, Schwartz M, Sherman M, Gores G (2016) Hepatocellular carcinoma. Nat Rev Dis Primers 2:16018

3.

Siegel RL, Miller KD, Jemal A (2018) Cancer statistics, 2018. CA Cancer J Clin 68:7–30

4.

McGlynn KA, Petrick JL, London WT (2015) Global epidemiology of hepatocellular carcinoma: an emphasis on demographic and regional variability. Clin Liver Dis 19:223–238

5.

Golabi P, Fazel S, Otgonsuren M, Sayiner M, Locklear CT, Younossi ZM (2017) Mortality assessment of patients with hepatocellular carcinoma according to underlying disease and treatment modalities. Medicine 96:e5904

6.

Waghray A, Murali AR, Menon KN (2015) Hepatocellular carcinoma: from diagnosis to treatment. World J Hepatol 7:1020–1029

7.

Wagner HN Jr, Conti PS (1991) Advances in medical imaging for cancer diagnosis and treatment. Cancer 67:1121–1128

8.

Dulku G, Dhillon R, Goodwin M, Cheng W, Kontorinis N, Mendelson R (2017) The role of imaging in the surveillance and diagnosis of hepatocellular cancer. J Med Imaging Radiat Oncol 61:171–179

9.

Yang K, Zhang XM, Yang L, Xu H, Peng J (2016) Advanced imaging techniques in the therapeutic response of transarterial chemoembolization for hepatocellular carcinoma. World J Gastroenterol 22:4835–4847

10.

Kornberg A, Schernhammer M, Friess H (2017) 18F-FDG-PET for assessing biological viability and prognosis in liver transplant patients with hepatocellular carcinoma. J Clinic Transl Hepatol 5:224–234

11.

Capurro MI, Shi W, Sandal S, Filmus J (2005) Processing by convertases is not required for glypican-3-induced stimulation of hepatocellular carcinoma growth. J Biol Chem 280:41201–41206

12.

Filmus J, Capurro M, Rast J (2008) Glypicans. Genome Biol 9:224

13.

Capurro M, Wanless IR, Sherman M, Deboer G, Shi W, Miyoshi E, Filmus J (2003) Glypican-3: a novel serum and histochemical marker for hepatocellular carcinoma. Gastroenterology 125:89–97

14.

Nakatsura T, Yoshitake Y, Senju S, Monji M, Komori H, Motomura Y, Hosaka S, Beppu T, Ishiko T, Kamohara H, Ashihara H, Katagiri T, Furukawa Y, Fujiyama S, Ogawa M, Nakamura Y, Nishimura Y (2003) Glypican-3, overexpressed specifically in human hepatocellular carcinoma, is a novel tumor marker. Biochem Biophys Res Commun 306:16–25

15.

Qi XH, Wu D, Cui HX et al (2014) Silencing of the glypican-3 gene affects the biological behavior of human hepatocellular carcinoma cells. Mol Med Rep 10:3177–3184

16.

Zhou F, Shang W, Yu X, Tian J (2017) Glypican-3: a promising biomarker for hepatocellular carcinoma diagnosis and treatment. Med Res Rev 38:741–767

17.

Wu Y, Liu H, Ding H (2016) GPC-3 in hepatocellular carcinoma: current perspectives. J Hepatocell Carcinoma 3:63–67

18.

Yang X, Liu H, Sun CK, Natarajan A, Hu X, Wang X, Allegretta M, Guttmann RD, Gambhir SS, Chua MS, Cheng Z, So SK (2014) Imaging of hepatocellular carcinoma patient-derived xenografts using 89Zr-labeled anti-glypican-3 monoclonal antibody. Biomaterials 35:6964–6971

19.

Sham JG, Kievit FM, Grierson JR, Miyaoka RS, Yeh MM, Zhang M, Yeung RS, Minoshima S, Park JO (2014) Glypican-3-targeted 89Zr PET imaging of hepatocellular carcinoma. J Nucl Med 55:799–804

20.

Sham JG, Kievit FM, Grierson JR, Chiarelli PA, Miyaoka RS, Zhang M, Yeung RS, Minoshima S, Park JO (2014) Glypican-3-targeting F(ab')2 for 89Zr PET of hepatocellular carcinoma. J Nucl Med 55:2032–2037

21.

Lee YL, Ahn BC, Lee Y, Lee SW, Cho JY, Lee J (2011) Targeting of hepatocellular carcinoma with glypican-3-targeting peptide ligand. J Pept Sci 17:763–769

22.

Chen K, Conti PS (2010) Target-specific delivery of peptide-based probes for PET imaging. Adv Drug Deliv Rev 62:1005–1022

23.

Chen K, Chen X (2010) Design and development of molecular imaging probes. Curr Top Med Chem 10:1227–1236

24.

Li G, Wang X, Zong S, Wang J, Conti PS, Chen K (2014) MicroPET imaging of CD13 expression using a 64Cu-labeled dimeric NGR peptide based on sarcophagine cage. Mol Pharm 11:3938–3946

25.

Chen K, Ma W, Li G, Wang J, Yang W, Yap LP, Hughes LD, Park R, Conti PS (2013) Synthesis and evaluation of 64Cu-labeled monomeric and dimeric NGR peptides for MicroPET imaging of CD13 receptor expression. Mol Pharm 10:417–427

26.

Wang Z, Han YJ, Huang S, Wang M, Zhou WL, Li HS, Wang QS, Wu HB (2018) Imaging the expression of glypican-3 in hepatocellular carcinoma by PET. Amino Acids 50:309–320

27.

McBride WJ, Sharkey RM, Karacay H et al (2009) A novel method of 18F radiolabeling for PET. J Nucl Med 50:991–998

28.

Chatalic KL, Franssen GM, van Weerden WM et al (2014) Preclinical comparison of Al18F- and 68Ga-labeled gastrin-releasing peptide receptor antagonists for PET imaging of prostate cancer. J Nucl Med 55:2050–2056

29.

Dijkgraaf I, Franssen GM, McBride WJ et al (2012) PET of tumors expressing gastrin-releasing peptide receptor with an 18F-labeled bombesin analog. J Nucl Med 53:947–952

30.

Li ZB, Wu Z, Chen K, Ryu EK, Chen X (2008) 18F-labeled BBN-RGD heterodimer for prostate cancer imaging. J Nucl Med 49:453–461

31.

Chen K, Sun X, Niu G, Ma Y, Yap LP, Hui X, Wu K, Fan D, Conti PS, Chen X (2012) Evaluation of 64Cu labeled GX1: a phage display peptide probe for PET imaging of tumor vasculature. Mol Imaging Biol 14:96–105

32.

Gao W, Kim H, Feng M, Phung Y, Xavier CP, Rubin JS, Ho M (2014) Inactivation of Wnt signaling by a human antibody that recognizes the heparan sulfate chains of glypican-3 for liver cancer therapy. Hepatology 60:576–587

33.

Lee HC, Kim M, Wands JR (2006) Wnt/Frizzled signaling in hepatocellular carcinoma. Front Biosci 11:1901–1915

34.

Ma Y, Yang M, Gao H, Niu G, Yan Y, Lang L, Kiesewetter DO, Chen X (2012) Evaluation of fluorine-labeled gastrin-releasing peptide receptor (GRPR) agonists and antagonists by LC/MS. Amino Acids 43:1625–1632

35.

Niedermoser S, Chin J, Wangler C, Kostikov A, Bernard-Gauthier V, Vogler N, Soucy JP, McEwan AJ, Schirrmacher R, Wangler B (2015) In vivo evaluation of 18F-SiFAlin-modified TATE: a potential challenge for 68Ga-DOTATATE, the clinical gold standard for somatostatin receptor imaging with PET. J Nucl Med 56:1100–1105

36.

Hosseinimehr SJ, Tolmachev V, Orlova A (2012) Liver uptake of radiolabeled targeting proteins and peptides: considerations for targeting peptide conjugate design. Drug Discov Today 17:1224–1232

37.

Yang M, Gao H, Zhou Y, Ma Y, Quan Q, Lang L, Chen K, Niu G, Yan Y, Chen X (2011) 18F-labeled GRPR agonists and antagonists: a comparative study in prostate cancer imaging. Theranostics 1:220–229
Acknowledgements
The authors thank Penghui Sun and Meng Wang for their helpful technical assistance.
Funding
This work was supported by the USC Research Center for Liver Diseases Pilot Funding (NIH Grant No. P30 DK048522), the National Natural Science Foundation of China (81371591 and 81873905), and the Natural Science Foundation of Guangdong Province (2014A030313311).
Ethics declarations
All animal studies were approved by the Nanfang Hospital Animal Ethics Committee at the Southern Medical University, and in accordance with its guidelines.
Conflict of Interest
The authors declare that they have no conflict of interest.
Additional information
Publisher's Note
Springer Nature remains neutral with regard to jurisdictional claims in published maps and institutional affiliations.
Electronic Supplementary Material
About this article
Cite this article
Li, Y., Zhang, J., Gu, J. et al. Radiofluorinated GPC3-Binding Peptides for PET Imaging of Hepatocellular Carcinoma. Mol Imaging Biol 22, 134–143 (2020). https://doi.org/10.1007/s11307-019-01356-z
Key words
GPC3

Hepatocellular carcinoma

PET imaging

F-18 labeled peptides

Hydrophilic linker