Abstract
Purpose
Expression of CXCR4 in cancers has been correlated with poor prognosis and increased metastasis. Quantifying CXCR4 expression non-invasively might aid in prognostication and monitoring therapy. We evaluated a radiolabeled antagonist of CXCR4, 64Cu-AMD3100, as a positron-emitting imaging agent.
Procedures
CXCR4-transfected or non-transfected cell lines were injected into mice to form xenografts. Accumulation of 64Cu-AMD3100 in tumors was analyzed by small-animal PET and biodistribution assays.
Results
64Cu-AMD3100 accumulated in CXCR4-expressing, but not CXCR4-negative, tumors. For CXCR4-expressing tumors, tumor-to-blood and tumor-to-muscle ratios were 23–41 and 50–59, respectively, depending on tumor type. Excess of unlabeled Cu-AMD3100 or AMD3100 significantly reduced 64Cu-AMD3100 accumulation in CXCR4-expressing tumors. Human-absorbed dose calculations predicted a dose limit of 444 MBq.
Conclusions
CXCR4 can be imaged in tumors using 64Cu-AMD3100. Dosimetry studies suggest that imaging in humans is feasible. We conclude that 64Cu-AMD3100 should be investigated as a potential agent for imaging and quantifying CXCR4 in tumors.
This is a preview of subscription content, log in to check access.
Access options
Buy single article
Instant unlimited access to the full article PDF.
US$ 39.95
Price includes VAT for USA
Subscribe to journal
Immediate online access to all issues from 2019. Subscription will auto renew annually.
US$ 99
This is the net price. Taxes to be calculated in checkout.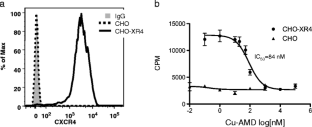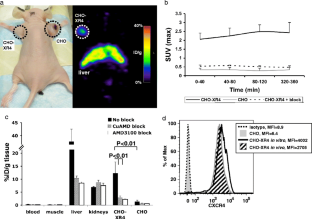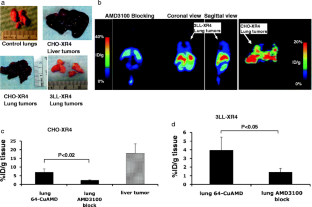 References
1.

Klein RS, Rubin JB (2004) Immune and nervous system CXCL12 and CXCR4: parallel roles in patterning and plasticity. Trends Immunol 25:306–314

2.

Lapidot T, Dar A, Kollet O (2005) How do stem cells find their way home? Blood 106:1901–1910

3.

Muller A, Homey B, Soto H, Ge N, Catron D, Buchanan ME, McClanahan T, Murphy E, Yuan W, Wagner SN et al (2001) Involvement of chemokine receptors in breast cancer metastasis. Nature 410:50–56

4.

Redjal N, Chan JA, Segal RA, Kung AL (2006) CXCR4 inhibition synergizes with cytotoxic chemotherapy in gliomas. Clin Cancer Res 12:6765–6771

5.

Balkwill F (2004) The significance of cancer cell expression of the chemokine receptor CXCR4. Semin Cancer Biol 14:171–179

6.

Tanaka T, Bai Z, Srinoulprasert Y, Yang BG, Hayasaka H, Miyasaka M (2005) Chemokines in tumor progression and metastasis. Cancer Sci 96:317–322

7.

Taichman RS, Cooper C, Keller ET, Pienta KJ, Taichman NS, McCauley LK (2002) Use of the stromal cell-derived factor-1/CXCR4 pathway in prostate cancer metastasis to bone. Cancer Res 62:1832–1837

8.

Vicari AP, Caux C (2002) Chemokines in cancer. Cytokine Growth Factor Rev 13:143–154

9.

Rubin JB, Kung AL, Klein RS, Chan JA, Sun Y, Schmidt K, Kieran MW, Luster AD, Segal RA (2003) A small-molecule antagonist of CXCR4 inhibits intracranial growth of primary brain tumors. Proc Natl Acad Sci USA 100:13513–13518

10.

Azab AK, Runnels JM, Pitsillides C, Moreau AS, Azab F, Leleu X, Jia X, Wright R, Ospina B, Carlson AL et al (2009) CXCR4 inhibitor AMD3100 disrupts the interaction of multiple myeloma cells with the bone marrow microenvironment and enhances their sensitivity to therapy. Blood 113:4341–4351

11.

Kurtova AV, Tamayo AT, Ford RJ, Burger JA (2009) Mantle cell lymphoma cells express high levels of CXCR4, CXCR5, and VLA-4 (CD49d): importance for interactions with the stromal microenvironment and specific targeting. Blood 113:4604–4613

12.

Staller P, Sulitkova J, Lisztwan J, Moch H, Oakeley EJ, Krek W (2003) Chemokine receptor CXCR4 downregulated by von Hippel–Lindau tumour suppressor pVHL. Nature 425:307–311

13.

Helbig G, Christopherson KW 2nd, Bhat-Nakshatri P, Kumar S, Kishimoto H, Miller KD, Broxmeyer HE, Nakshatri H (2003) NF-kappa B promotes breast cancer cell migration and metastasis by inducing the expression of the chemokine receptor CXCR4. J Biol Chem 278:21631–21638

14.

Tomescu O, Xia SJ, Strezlecki D, Bennicelli JL, Ginsberg J, Pawel B, Barr FG (2004) Inducible short-term and stable long-term cell culture systems reveal that the PAX3-FKHR fusion oncoprotein regulates CXCR4, PAX3, and PAX7 expression. Lab Invest 84:1060–1070

15.

Castellone MD, Guarino V, De Falco V, Carlomagno F, Basolo F, Faviana P, Kruhoffer M, Orntoft T, Russell JP, Rothstein JL et al (2004) Functional expression of the CXCR4 chemokine receptor is induced by RET/PTC oncogenes and is a common event in human papillary thyroid carcinomas. Oncogene 23:5958–5967

16.

Lee HJ, Kim SW, Kim HY, Li S, Yun HJ, Song KS, Kim S, Jo DY (2009) Chemokine receptor CXCR4 expression, function, and clinical implications in gastric cancer. Int J Oncol 34:473–480

17.

Oda Y, Tateishi N, Matono H, Matsuura S, Yamamaoto H, Tamiya S, Yokoyama R, Matsuda S, Iwamoto Y, Tsuneyoshi M (2009) Chemokine receptor CXCR4 expression is correlated with VEGF expression and poor survival in soft-tissue sarcoma. Int J Cancer 124:1852–1859

18.

Zeng Z, Samudio IJ, Munsell M, An J, Huang Z, Estey E, Andreeff M, Konopleva M (2006) Inhibition of CXCR4 with the novel RCP168 peptide overcomes stroma-mediated chemoresistance in chronic and acute leukemias. Mol Cancer Ther 5:3113–3121

19.

Gelmini S, Mangoni M, Serio M, Romagnani P, Lazzeri E (2008) The critical role of SDF-1/CXCR4 axis in cancer and cancer stem cells metastasis. J Endocrinol Investig 31:809–819

20.

Wu XS, Lonsdorf AS, Hwang ST (2009) Cutaneous T-cell lymphoma: roles for chemokines and chemokine receptors. J Investig Dermatol 129:1115–1119

21.

Furusato B, Mohamed A, Uhlen M, Rhim JS (2010) CXCR4 and cancer. Pathol Int 60:497–505

22.

Bridger GJ, Skerlj RT, Thornton D, Padmanabhan S, Martellucci SA, Henson GW, Abrams MJ, Yamamoto N, De Vreese K, Pauwels R et al (1995) Synthesis and structure–activity relationships of phenylenebis(methylene)-linked bis-tetraazamacrocycles that inhibit HIV replication. Effects of macrocyclic ring size and substituents on the aromatic linker. J Med Chem 38:366–378

23.

Bridger GJ, Skerlj RT, Padmanabhan S, Martellucci SA, Henson GW, Struyf S, Witvrouw M, Schols D, De Clercq E (1999) Synthesis and structure–activity relationships of phenylenebis(methylene)-linked bis-azamacrocycles that inhibit HIV-1 and HIV-2 replication by antagonism of the chemokine receptor CXCR4. J Med Chem 42:3971–3981

24.

DiPersio JF, Uy GL, Yasothan U, Kirkpatrick P (2009) Plerixafor. Nat Rev Drug Discov 8:105–106

25.

Porvasnik S, Sakamoto N, Kusmartsev S, Eruslanov E, Kim WJ, Cao W, Urbanek C, Wong D, Goodison S, Rosser CJ (2009) Effects of CXCR4 antagonist CTCE-9908 on prostate tumor growth. Prostate 69:1460–1469

26.

Singh B, Cook KR, Martin C, Huang EH, Mosalpuria K, Krishnamurthy S, Cristofanilli M, Lucci A (2010) Evaluation of a CXCR4 antagonist in a xenograft mouse model of inflammatory breast cancer. Clin Exp Metastasis 27:233–240

27.

Jacobson O, Weiss ID, Szajek L, Farber JM, Kiesewetter DO (2009) 64Cu-AMD3100—a novel imaging agent for targeting chemokine receptor CXCR4. Bioorg Med Chem 17:1486–1493

28.

Lee B, Sharron M, Montaner LJ, Weissman D, Doms RW (1999) Quantification of CD4, CCR5, and CXCR4 levels on lymphocyte subsets, dendritic cells, and differentially conditioned monocyte-derived macrophages. Proc Natl Acad Sci USA 96:5215–5220

29.

Burger JA, Peled A (2009) CXCR4 antagonists: targeting the microenvironment in leukemia and other cancers. Leukemia 23:43–52

30.

Boswell CA, Sun X, Niu W, Weisman GR, Wong EH, Rheingold AL, Anderson CJ (2004) Comparative in vivo stability of copper-64-labeled cross-bridged and conventional tetraazamacrocyclic complexes. J Med Chem 47:1465–1474

31.

Misra P, Lebeche D, Ly H, Schwarzkopf M, Diaz G, Hajjar RJ, Schecter AD, Frangioni JV (2008) Quantitation of CXCR4 expression in myocardial infarction using 99mTc-labeled SDF-1alpha. J Nucl Med 49:963–969

32.

Hanaoka H, Mukai T, Tamamura H, Mori T, Ishino S, Ogawa K, Iida Y, Doi R, Fujii N, Saji H (2006) Development of a 111In-labeled peptide derivative targeting a chemokine receptor, CXCR4, for imaging tumors. Nucl Med Biol 33:489–494

33.

Nimmagadda S, Pullambhatla M, Pomper MG (2009) Immunoimaging of CXCR4 expression in brain tumor xenografts using SPECT/CT. J Nucl Med 50:1124–1130

34.

Nimmagadda S, Pullambhatla M, Stone K, Green G, Bhujwalla ZM, Pomper MG (2010) Molecular imaging of CXCR4 receptor expression in human cancer xenografts with [64Cu]AMD3100 positron emission tomography. Cancer Res 70:3935–3944

35.

Li W, Gomez E, Zhang Z (2007) Immunohistochemical expression of stromal cell-derived factor-1 (SDF-1) and CXCR4 ligand receptor system in hepatocellular carcinoma. J Exp Clin Cancer Res 26:527–533

36.

Mavier P, Martin N, Couchie D, Preaux AM, Laperche Y, Zafrani ES (2004) Expression of stromal cell-derived factor-1 and of its receptor CXCR4 in liver regeneration from oval cells in rat. Am J Pathol 165:1969–1977

37.

Hatch HM, Zheng D, Jorgensen ML, Petersen BE (2002) SDF-1alpha/CXCR4: a mechanism for hepatic oval cell activation and bone marrow stem cell recruitment to the injured liver of rats. Cloning Stem Cells 4:339–351

38.

Wald O, Weiss ID, Galun E, Peled A (2007) Chemokines in hepatitis C virus infection: pathogenesis, prognosis and therapeutics. Cytokine 39:50–62
Acknowledgement
This work was supported by the intramural research programs of the National Institute of Allergy and Infectious Diseases and the National Institute of Biomedical Imaging and Bioengineering. We wish to thank Dr. David McDermott from NIAID, NIH, for providing reagents and advice.
Conflict of Interest Statement
The authors declare that they have no conflict of interest.
Electronic supplementary material
Below is the link to the electronic supplementary material.
About this article
Cite this article
Weiss, I.D., Jacobson, O., Kiesewetter, D.O. et al. Positron Emission Tomography Imaging of Tumors Expressing the Human Chemokine Receptor CXCR4 in Mice with the Use of 64Cu-AMD3100. Mol Imaging Biol 14, 106–114 (2012) doi:10.1007/s11307-010-0466-y
Key words
CXCR4

AMD3100

PET

Tumor

Imaging