Abstract
Modified technique to produce circular polarization for square, nearly square microstrip antenna using diagonal slots of different shapes, slits, stub at corners of antenna is proposed. Diagonally embedded slots are perpendicular to stubs which yield orthogonal modes to give circular polarization. In-depth explanation for orthogonal mode degeneration using different slots shape, its impact on various antenna parameters and sense of rotation is discussed. VSWR, axial ratio bandwidth greater than 38% and 4.1% is obtained respectively. Resultant gain and cross polar level is 8 and 23 dBi. Antenna parameters are compared for square, nearly square microstrip antenna for different slot shapes. Major contribution of paper is empirical formulation of resonant frequencies corresponding to orthogonal modes from its surface current distribution. Close agreement is observed between simulated and calculated resonant frequency from proposed formulations.
This is a preview of subscription content, log in to check access.
Access options
Buy single article
Instant access to the full article PDF.
US$ 39.95
Price includes VAT for USA
Subscribe to journal
Immediate online access to all issues from 2019. Subscription will auto renew annually.
US$ 199
This is the net price. Taxes to be calculated in checkout.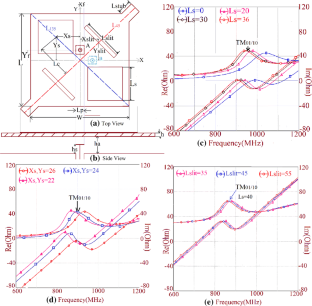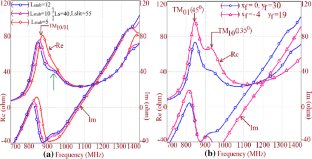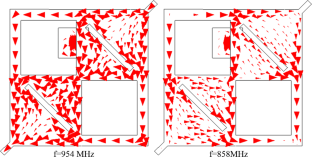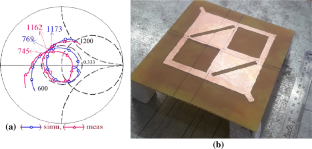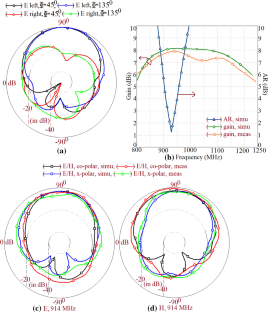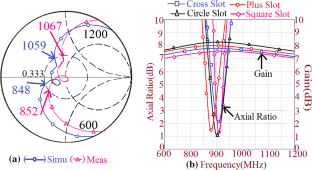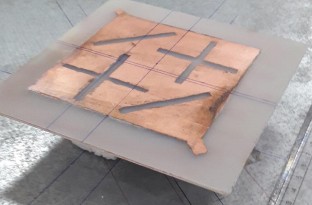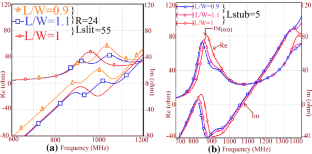 References
1.

Kumar, G., & Ray, K. P. (2003). Broadband microstrip antennas (1st ed.). Norwood: Artech House.

2.

Nakano, H., Nogami, K., Arai, S., Mimaki, H., & Yamauchi, J. (1986). A spiral antenna backed by a conducting plane reflector. IEEE Transactions on Antennas and Propagation,34(6), 791–796.

3.

Tian, C., Jiao, Y.-C., & Liang, W. (2014). A broadband circular polarized square slot antenna. Progress in Electromagnetic Research Letters,50, 29–34.

4.

Nasimuddin, N., Qing, X., & Chen, Z. N. (2010). Slits loaded microstrip antennas for circular polarization. Microwave and Optical Technology Letters,52(9), 2043–2049.

5.

Deshmukh, A. A., Singh, D., & Verma, P. (2016). Analysis and design of circular slot cut corner truncated rectangular microstrip antenna. In AEEICB16, 978-1-4673-9745-2©2016 IEEE.

6.

Tong, K.-F., & Wong, T.-P. (2007). Circularly polarized U-slot antenna. IEEE Transactions on Antennas and Propagation,55(8), 2382–2385.

7.

Nasimuddin, Chen, Z. N., & Qing, X. (2013). Slotted microstrip antennas for circular polarization with compact size. IEEE Antennas and Propagation Magazine,55(2), 124–137.

8.

Wong, K.-L., & Wu, J.-Y. (1997). Single feed small circularly polarized square microstrip antenna. Electronic Letters,33(22), 1833–1834.

9.

Deshmukh, A. A., Odhekar, A. A., Doshi, A., & Kamble, P. (2018). Modified circular shape microstrip antenna for circularly polarized response. In Proceedings of international conference on wireless communication (Vol. 17). https://doi.org/10.1007/978-981-10-8339-6_23
Additional information
Publisher's Note
Springer Nature remains neutral with regard to jurisdictional claims in published maps and institutional affiliations.
About this article
Cite this article
Odhekar, A.A., Deshmukh, A.A. Variations of Slot Cut and Stub Loaded Square Microstrip Antenna for Circular Polarization. Wireless Pers Commun 111, 661–677 (2020). https://doi.org/10.1007/s11277-019-06878-x
Keywords
Slot cut circular polarized microstrip antenna

Resonant length formulation

Axial ratio bandwidth

Proximity feed