Response Surface Methodology Approach Applied to the Study of Arsenic (V) Migration by Facilitated Transport in Polymer Inclusion Membranes
Abstract
The present study provides an alternative view of the applications of response surface methodology (RSM) coupled to the Derringer's desirability function (DF) to analyze and optimize system's composition to target different environmental applications related to the transport of As (V) through polymer inclusion membranes (PIMs). In this case, membranes contained cellulose triacetate (CTA), as support, trioctylmethylammonium chloride (Aliquat 336 = A336), as carrier, and tris(2-ethylhexyl) phosphate (TEHP), as plasticizer. A four-factor Doehlert design (variables: CTA weight, A336 and TEHP content, and HCl concentration) was employed. Statistical data analyses showed that A336, TEHP, CTA, and different kinds of interactions among them determined As (V) migration, depending on the measured response (PFeed, PStripping, ΔpH, or PIM thickness). For instance, an efficient system able to maximize the permeabilities, without altering the pH of feed solution, is obtained using as composition 22% CTA, 48% A336, and 30% TEHP and 0.1 mol/L HCl solution in the strip phase. If the change of pH is not relevant, 40% CTA and 60% A336 lead to a higher transport when the strip solution conditions are maintained. Furthermore, the composition 46% CTA, 35% A336, and 20% TEHP is suggested for passive sampling devices with speciation capabilities.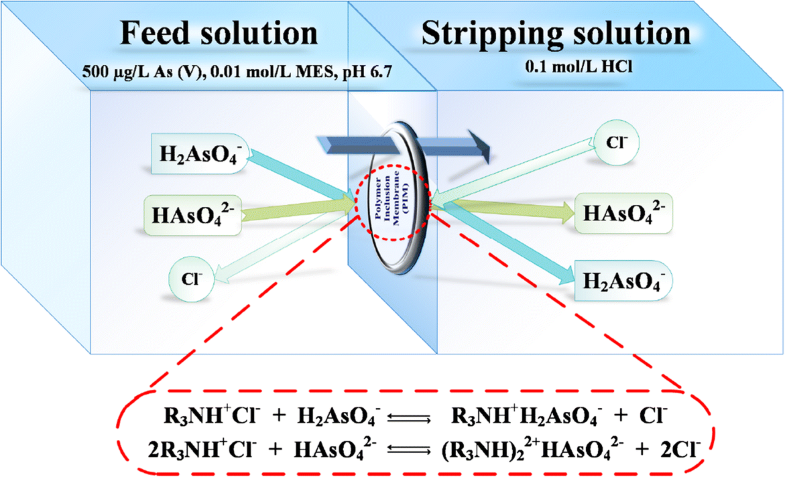 Keywords
Arsenic 
Doehlert design 
Polymer inclusion membrane (PIM)  
Response surface methodology (RSM) 
Notes
Acknowledgments
The authors also acknowledge Q. Nadia Marcela Munguía Acevedo and Q.F.B. María Guadalupe Espejel Maya for technical services.
Funding Information
Y. Rojas-Challa acknowledges DGAPA-UNAM for her postdoctoral grant. Financial support from DGAPA-UNAM (PAPIIT IN229219) is gratefully acknowledged.
Copyright information
© Springer Nature Switzerland AG 2020