Removal of Diclofenac from Aqueous Phase by Birnessite: Effects of pH and Common Ions
Abstract
In this study, the removal of diclofenac (DCF) from aqueous phase by birnessite, a layered manganese oxide, was investigated by batch experiments. The results indicated that 90% of DCF was removed by birnessite within 4 h in different initial concentrations of DCF, and the kinetic experiment data were well fitted with pseudo-first-order kinetic model (R2 > 0.98). The removal of DCF by birnessite was pH-dependent, and low pH was beneficial to the reaction. The presence of Fe2+ and Mn2+ strongly inhibited the removal of DCF. However, Ca2+, Mg2+, Zn2+, Cu2+, and humic acid (HA) promoted the reaction and following the order: Cu2+ > Zn2+ > HA > Mg2+ ≈ Ca2+. In addition, some typical anions, such as NO3−, PO43−, and SO42−, had slight effects on the reaction. Electrochemical results demonstrated that the adsorption of DCF on birnessite was reaction rate-limiting step.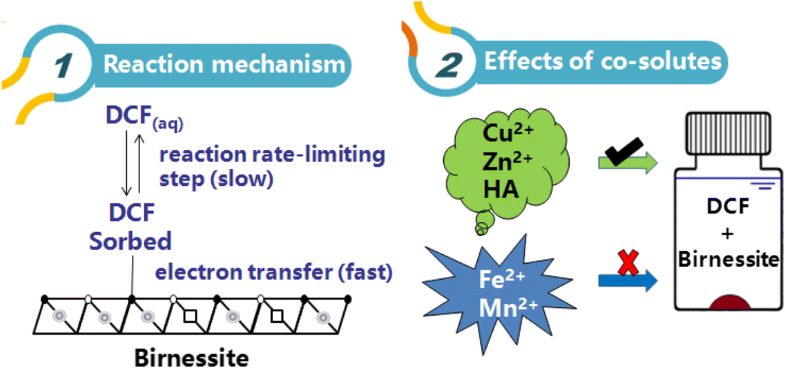 Keywords
Birnessite 
Diclofenac 
Removal 
Adsorption 
Ionic composition 
Notes
Acknowledgements
We thank Jiayu Yang, Xiaoli Wu, and Cui Ren for their help in some experiments.
Funding Information
This research was supported by the National Key R&D Program of China (2017YFF0205804) and the Natural Science Foundation of China (41731282).
Copyright information
© Springer Nature Switzerland AG 2019